NTID PLAY Lab initiates new research on cognitive development in infants and children
NTID-sponsored research lab at Rochester School for the Deaf officially opens this winter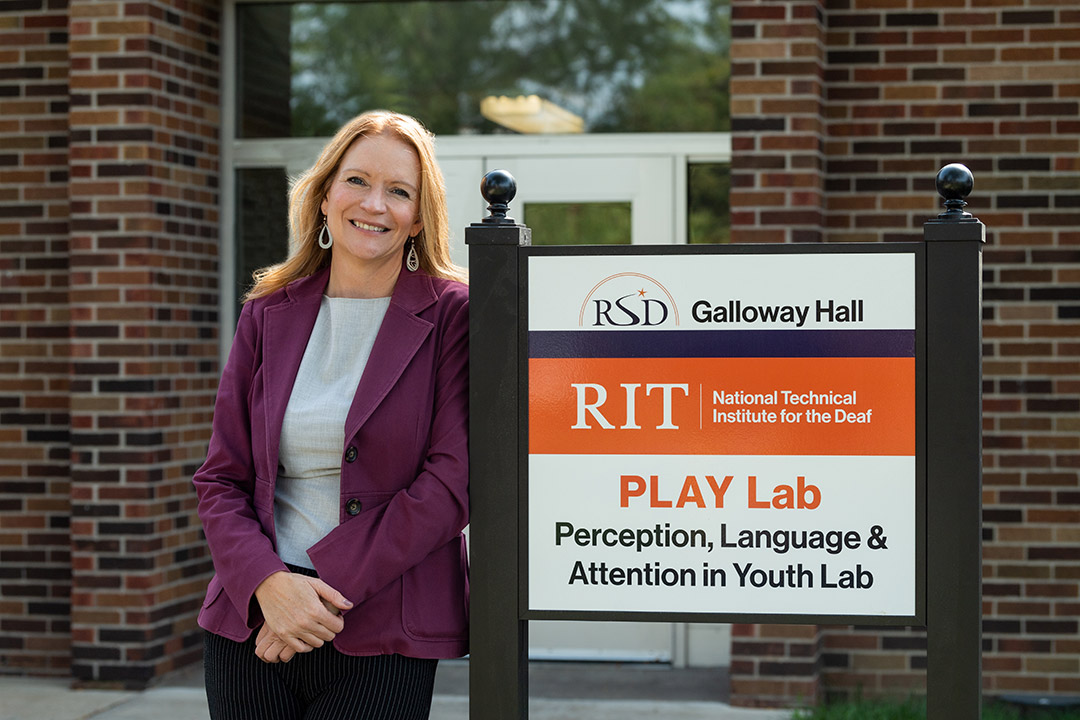 A new research lab, sponsored by Rochester Institute of Technology's National Technical Institute for the Deaf, will soon open to help scientists learn more about cognition, language, and perception in infants and young children.  
NTID's PLAY (Perception, Language, and Attention in Youth) Lab, which officially opens on the campus of Rochester School for the Deaf this winter, will provide parents and educators with valuable information about how deafness and sign language impact cognition. The goal is to improve the way deaf and hard-of-hearing children are taught, according to Rain Bosworth, assistant professor and experimental psychologist at NTID who leads research at the lab.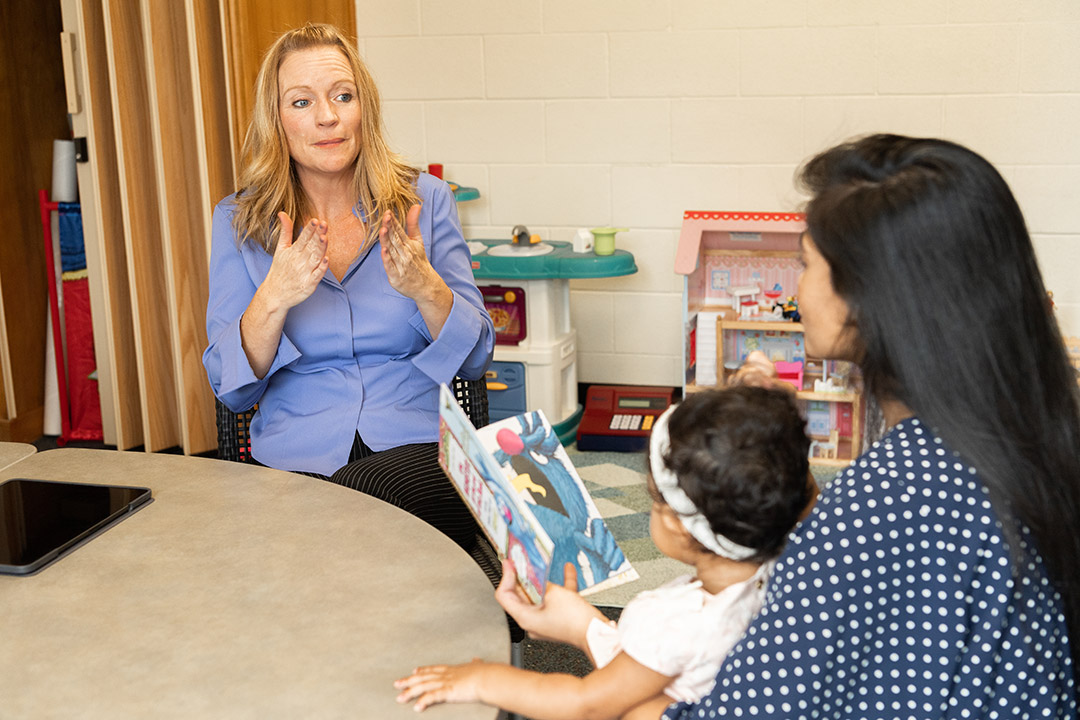 Mike Guinto
Bosworth's research focuses mainly on deaf, hard-of-hearing, and hearing children ages 5 months to 5 years old. She and her team will gather behavioral measurements through offering the children enjoyable tasks such as toy assembly, game play, fine motor skill testing, American Sign Language (ASL) story watching, and word knowledge. Bosworth is also an expert in eye tracking, which she says allows researchers to study a child's visual attention through measurement of eye movements and duration of eye gaze.
"All of these methods together may help us determine what deaf and hard-of-hearing children know and understand," explains Bosworth. "If they don't know or understand something, they may not look directly at it for very long. Measuring what objects or images on a screen capture their attention tells us about what the child is thinking."
Bosworth has always loved the field of visual cognition, a branch of experimental psychology. Her early work studied deaf adults who were fluent in ASL and who had never used assistive devices such as hearing aids. Bosworth was curious if these adults had enhanced vision because of their reliance on vision and not sound.
"I wondered if the brain truly adapts to the loss of one sense by enhancing another, also known as cross modal plasticity," she said. "I learned that the brain will compensate and develop particular strengths that work best in an individual's environment. These don't always manifest as 'enhanced' vision, but rather 'different' visual abilities."
As a postdoctoral research fellow, she worked with babies with congenital eye disorders to access the functional visual abilities of the children.
"This impacted doctors' medical decisions about whether further treatment, even surgery, was needed. Some infants were just a few weeks old and some patients had very little functional vision, and my job was to isolate whether this had an ocular, retinal, or neural cause."
Coming full circle, she now aims to study deaf babies where she strives to understand how deafness and sign language impact visual cognition during development.
"All babies are born with visual strengths that help them automatically attend to the important language cues in their environment," she said. "Babies also have an innate desire to develop relationships with other people. Language comes from that.
"I grew up deaf from birth with a wonderful, loving hearing family. But I wasn't diagnosed until I was 3 ½ years old. That baffles me. How did I acquire language when I couldn't even hear my family for nearly four years? So, that mystery really set me on the path to study visual cognition in deaf people."
The PLAY lab, which is funded by NTID and the James S. McDonnell Foundation, is part of NTID's Sensory, Perceptual, and Cognitive Ecology (SPaCE) Center. The SPaCE Center brings together scientists who study the sensory, perceptual, and cognitive abilities of deaf individuals over the lifespan, from infancy to adulthood. 
Matthew Dye, director of the SPaCe Center, is enthusiastic about the addition of the new lab. 
"The lab marks the expansion of the SPaCE Center at NTID, which is home to a growing number of deaf, hard-of-hearing, and hearing scientists who work together," said Dye. "The NTID SPaCE Center believes that being deaf has value as a positive and transformative experience, yielding new ways of interacting with and changing the world around us. The NTID PLAY Lab fits perfectly with that vision by looking at how deaf children interact with their world through sight and touch and how they create their own experiences and representations as they engage in play and exploration."
As to the partnership between RIT/NTID and Rochester School for the Deaf, Bosworth said that she is hoping to give back to the school and the larger community by finding ways to assist teachers and parents. She is also providing training opportunities to research assistants and postdoctoral students. In fact, two graduate research assistants, Adrita Arefin, a master's degree student studying human-computer interaction at RIT, and Eric Pollard, a student in the Master of Science in Secondary Education (MSSE) program at NTID, are already working in the lab.
"The PLAY Lab is an amazing place and space where we can not only engage teachers and students who are eager to learn, but also parents, who have been fascinated by the research thus far," said Bosworth.
Topics