RIT alumna leads U.S. Election Assistance Commission during unique election
EAC executive director Mona Harrington focuses on cybersecurity and encourages voters to make a plan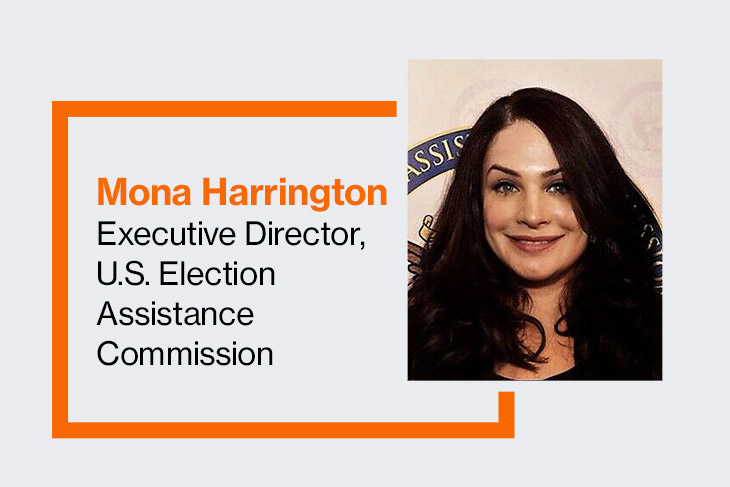 Three weeks before Election Day, every eligible voter should already have a voting plan.
That's the advice of Mona Harrington, an RIT alumna who was appointed executive director of the U.S. Election Assistance Commission (EAC) in June 2020.
"The key items for this upcoming election are voter education and making sure people avoid misinformation and disinformation that could impact their ability to vote," said Harrington '08 MS (professional studies). "You have to make sure people know what their options are, where to vote, when to vote, what are the deadlines and any state regulations on what they can and can't do."
As leader of the EAC, Harrington has revamped the agency and spearheaded a series of initiatives to ensure COVID-19 and cybersecurity challenges don't harm the election process. Her past jobs in cybersecurity, 18 years of federal government experience and a degree from RIT all helped get her to this critical role.
The Election Assistance Commission is an independent bipartisan agency created by the Help America Vote Act of 2002. The commission serves as a national clearinghouse and resource of information regarding election administration. It also has the responsibility to administer the Election Administration and Voting Survey, oversee testing and certification of voting systems, administer grant funding to the states, and administer the National Voter Register Form.
Harrington was unanimously voted—by two Democrat and two Republican presidential appointees—to a four-year appointment as executive director of the EAC. She served as acting executive director since October 2019.
"With Ms. Harrington leading our staff, the EAC is better positioned to add value to the elections community and help election officials in the lead up to November and for years to come," said EAC Chairman Ben Hovland, in a news release.
Under Harrington's leadership, the agency has been strategically reorganized and undergone a series of critical and strategic changes, including a hiring initiative to recruit talent and fill key positions. She has also directed the distribution of more than $425 million in security grant funds and $400 million in CARES Act COVID-19 response funds to states. Partnering with the Centers for Disease Control and Prevention (CDC), she developed online resources and guidelines around safety measures for physical polling places.
One of her most recent accomplishments was the launch of National Poll Worker Recruitment Day, on Sept. 1. As the U.S. faces a critical shortage of poll workers — who are traditionally over the age of 60 — the EAC decided to encourage more people to sign up to become election workers for the November election.
"Our campaign went viral – it was shared by former-presidents' wives, celebrities, and other prominent figures on social media, as well as businesses that are encouraging their employees to sign up," said Harrington. "We drove more than 150,000 people to our site for voters to sign up to be poll workers, and it's still going."
Election cybersecurity has also been a key initiative for Harrington.
She assembled a new cyber-team to assist EAC stakeholders leading up to the 2020 election. The EAC partnered with the Department of Homeland Security (DHS) to release a risk profile tool that allows states and local jurisdictions to identify their risks. Harrington then partnered with FireEye to release white papers and webinars on what election officials can do to respond to those risks.
"Another one of the projects that I've worked on every day, is to move the Voluntary Voting System Guidelines forward to version 2.0, aimed at enhancing voting systems" Harrington said. "This more modern set of certification standards will allow voting machine vendors to build more secure, accessible, usable, modern, and robust machines."
Putting cybersecurity into focus
Harrington's first experience with cybersecurity in the real world was eliminating a computer virus at the U.S. Court of Appeals for the Federal Circuit in the early-2000s. She had been working in IT for several years and was brought on as a specialty contractor to eradicate the virus and recover the court's network.
"This led to a permanent position with the court, because they realized they needed someone to monitor cyber activities," said Harrington. "There wasn't much of an appreciation and understanding of cybersecurity back then, other than the fact that it 'infringed' on people's usability and efficiency."
She wanted to boost her skills in cybersecurity and learned about a master's program at RIT that focused on cybersecurity, computer forensics, and counterterrorism. The program was a partnership between RIT and the Center for Advanced Defense Studies in Washington, D.C. Today, students can take part in a similar customizable master's program in RIT's School of Individualized Study.
She worked at the Court of Appeals during the day and studied at night to complete the graduate degree in a year-and-a-half.
"I learned so much because the hybrid program covered everything from physical security to cybersecurity to nuclear warfare and other terrorist threats," Harrington said. "It also allowed me to apply my skills in a practical manner, not just theoretical."
In 2008, several security incidents began to stress the importance of cybersecurity management. As a result, the court wanted someone to launch a security program and Harrington became the U.S. Court of Appeals' first information security officer, serving in a dual position as the director of information and technology.
"I was working for Article III judges who were doing a lot of international travel," said Harrington. "I came up with the first international travel cybersecurity guidelines for our judges and had numerous other circuits throughout the country asking for my guidance."
She set up policies, procedures and an awareness campaign to educate and train people to get cultural buy-in on the importance of cybersecurity. In 2018, she became Chief Information and Security Officer at the EAC.
"Who knew that what I learned from RIT in 2008 would help me every day on the job as the executive director managing an entire agency dealing with election matters," said Harrington.
Election Day 2020
Leading up to Nov. 3, Harrington and the EAC are working to support and assist voters with contacting their local jurisdictions.
"This is a very unique election for a lot of reasons," said Harrington. "We don't know what we don't know — but based on what we do know and can predict, we're deploying resources to assist the hard working election officials with the challenges in this space. Voters should check their registration information for accuracy and ensure they are ready to vote."
Voters planning to mail in a ballot should follow postal service recommendations and "mail their ballots at least one week before the due date and contact local election officials for information about specific deadlines," advises Harrington. Also, check to see if your state offers ballot tracking, so you can ensure your vote is counted.
For those planning to vote in person, she recommends checking your polling place location, relevant dates, and procedures on voting in advance of Election Day to avoid lines. Also, plan early so you have a back-up plan for if you don't feel well on Election Day.
"Contact your local jurisdiction and state to see what they offer and use only trusted sources,   including state or local jurisdiction websites, to obtain accurate information," Harrington said. "Make a plan and be patient, as things are different this year."
For more information about contacting local jurisdictions and the EAC, go to eac.gov.
Topics