RIT alumnus Justin Copie behind newly named Innovative Field in downtown Rochester
Innovative Solutions CEO and owner takes over naming rights for ballpark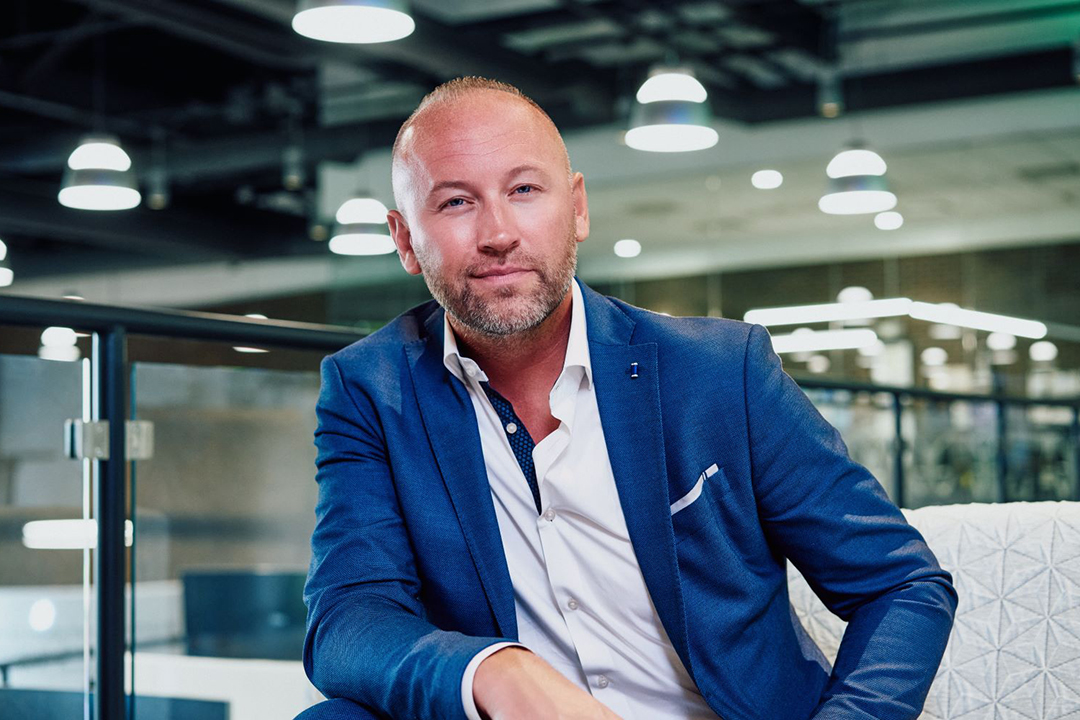 RIT alumnus Justin Copie '05 (information technology) is the person behind the ingenious new name for downtown Rochester's baseball stadium.
The Rochester Red Wings Minor League Baseball team starts its season March 31 at Innovative Field, which was formerly known as Frontier Field. The name comes from Innovative Solutions, a Premier Amazon Web Services (AWS) partner headquartered in Henrietta, N.Y. The company helps to optimize more than 750 small- and mid-sized businesses by migrating and managing their IT infrastructure in the cloud.
Innovative Solutions is owned by Copie, who is also the CEO. For the RIT alumnus, his company is not only one of the most valuable tech companies in the Rochester region—it's also an opportunity to showcase the innovative things coming out of his hometown.
"I believe that Innovative Field will not only be a great venue for baseball fans, but also a symbol of our city's commitment to innovation and excellence," said Copie. "The name is a little edgier and it's a good opportunity to change the perception of what we do here."
Copie has climbed the full career ladder at Innovative Solutions. In 2004—as a student at RIT—he applied for an inside sales representative co-op position at the company. He didn't get the job—at first.
"I was persistent, I kept calling, and luckily the position opened back up for me," said Copie. "With that co-op, I was meeting with businesses to discuss the tech problems they were facing. I was addicted. I remember thinking that I could do this for the rest of my career."
As the company evolved and grew, Copie's role did, too. In 2016, after several years working with the former owner on a succession plan, Copie purchased Innovative Solutions.
Under his leadership, the company has pivoted from being an IT service provider to going all-in on the growing platforms of AWS. For many businesses, the pandemic became the tipping point for a needed switch to cloud-based services.
"We help usher our customers into the future, with technology that is easier to manage, cheaper, and with more opportunities to add value," he said. "For example, we've developed ways to use existing data and artificial intelligence to help businesses better serve their customers."
Innovative Solutions is modernizing and optimizing a wide range of businesses—from Ferrari Financial Services to the Parkleigh gift shop in Rochester. The company now has about 130 employees in offices across the U.S. and Canada. About a quarter of those employees are RIT alumni—and they do hire co-ops.
Copie credits some of the company's success and employee loyalty to a few unique perks that he's brought in. Remote workers have the ability to fly into Rochester anytime, no questions asked. The main office also caters free lunches every day and offers a weekly onsite barber shop and salon services.
"I'm a firm believer that if you treat your employees right, then your customers will get that same treatment downstream," said Copie. "I also want to show that same commitment to the hometown where this company grew up. That's why we created Innovative Field."
Copie said he got the idea to sponsor the renaming of Frontier Field when his out-of-state friend thought that the Rochester baseball field was named after Frontier Airlines. In 2022, the naming rights change for Innovative Field was announced.
"I hope this inspires other entrepreneurs to help change the face of Rochester," said Copie.
Topics