RIT researchers explore how to improve emergency management for the Deaf community
Researchers earn NSF grant to partner with community in bridging resource and service gaps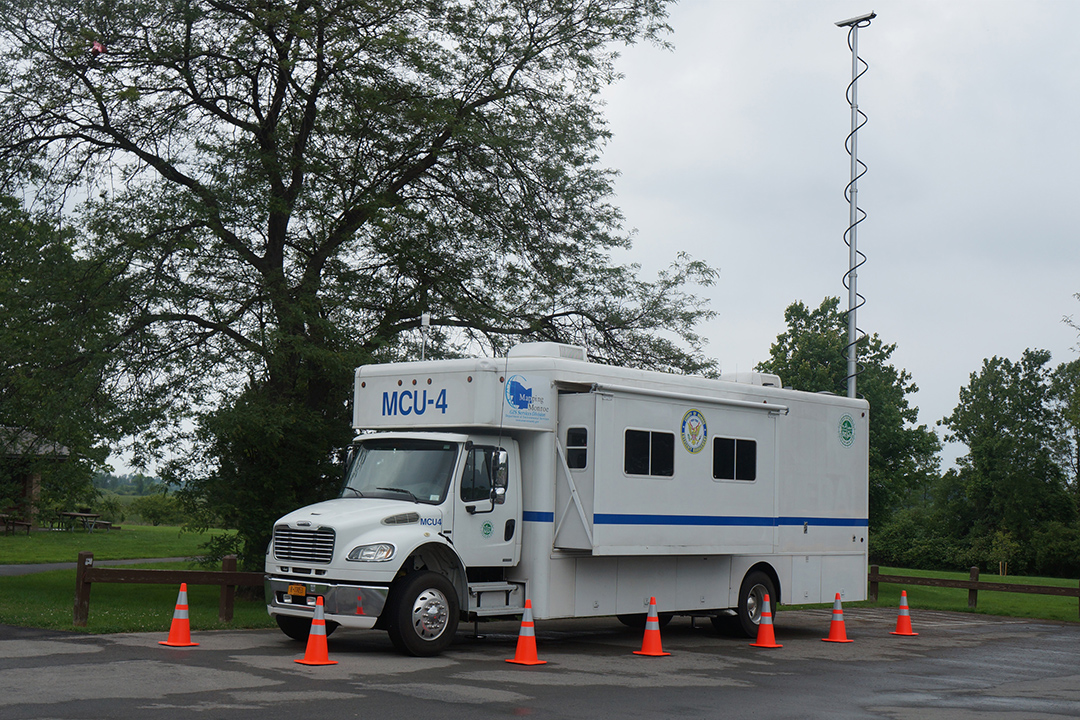 Essential emergency services play a key role in saving lives when snowstorms blanket the Northeast or a wildfire erupts out West. However, many communities are still being left out and face communication barriers during emergencies.
At Rochester Institute of Technology and the National Technical Institute for the Deaf, a team of researchers is studying how to identify and bridge gaps in emergency management resources and services for the Deaf and Hard-of-Hearing community. Supported by a grant from the National Science Foundation Civic Innovation Challenge, the project is bringing together academic and civic partners to address the needs of this community.
About 1 in 8 Americans have some degree of hearing loss. Rochester, N.Y., is home to the largest population of Deaf and Hard-of-Hearing people in the U.S., per capita.
Over several months, the RIT/NTID researchers will partner with the Monroe County Office of Emergency Management and the Rochester Recreation Club for the Deaf on Stage 1 of their planning grant. In early 2023, the team will resubmit to Stage 2, for the opportunity to fund and implement the pilot project.
The project is led by Principle Investigator Brian Tomaszewski, professor of geographic information systems, and co-PI James Fugate, assistant professor in NTID's Department of Engineering Studies.
"Issues related to the Deaf and Hard-of-Hearing community and the emergency management cycle have received little attention from emergency management researchers and discussion in the academic literature," said Tomaszewski. "Whatever the emergency might be, it's important that governments and services are able clearly communicate with all people."
The researchers will assess the messaging and communication needs of the community during all phases of an emergency. One goal is to create and evaluate useful Deaf and Hard-of-Hearing emergency communication tools.
"We may need to have plans in place for people who don't have smartphones, people who are Deaf and blind, and refugees who may not use English or ASL," said Fugate. "This is about connecting people and overcoming communication barriers."
Student researchers will be hired to build prototypes and conduct focus groups. They plan to use geospatial technologies to better understand where certain populations might be in relation to a hazard and create simulations to determine the best locations for signs and markers.
Another objective of the project is to analyze how emergency management practitioners are taught about needs of the Deaf and Hard-of-Hearing community during all phases of the emergency management cycle. Additionally, the researchers will identify pathways for people in the Deaf and Hard-of-Hearing community to become part of the emergency management STEM workforce and volunteer efforts.
"The Rochester Recreation Club for the Deaf (RRCD) believes that our members should have access to this information through ASL, especially when it involves an emergency so the Deaf and Hard-of-Hearing community will be able to prepare themselves on what to do during an emergency," said Sara Smania, president of RRCD. "We are excited to learn more about emergency management, and many thanks to RIT/NTID for providing this access."
The Civic Innovation Challenge is a partnership between the NSF, the U.S. Department of Energy, and U.S. Department of Homeland Security. The challenge is supporting 56 planning grants aimed at funding ready-to-implement, research-based pilot projects that have the potential for scalable, sustainable, and transferable impact on community-identified priorities.
The researchers said that their results can have broader national impact and legacy. The project results will be generalizable to other community contexts with special needs populations beyond Monroe County, N.Y.
Topics