Students Attend Capitol Hill Event to Present iPad App for the Visually Impaired
RIT undergraduate research project chosen from nationwide pool of proposals to be showcased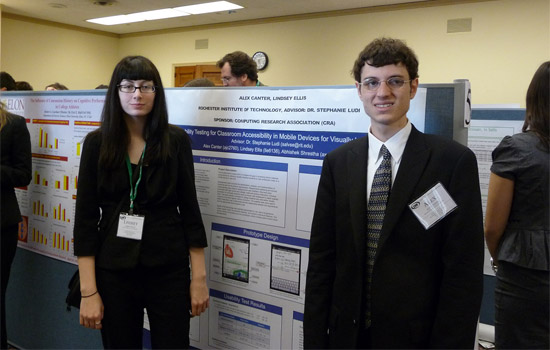 Imagine trying to understand a calculus or physics lecture solely from listening to what the instructor is saying. Grasping math and science concepts without visual representations can be difficult, so RIT students Lindsey Ellis and Alex Canter are conducting research and working to develop the AccessLecture iPad application. The app will make these lectures more understandable for the visually impaired.
Ellis and Canter were selected to participate in the 15th annual Council for Undergraduate Research's "Posters on the Hill" event on April 13. Their project was among 70 showcased at the event, chosen from a record 774 proposals submitted.
Posters on the Hill is designed to help members of Congress understand the importance of undergraduate research by talking directly with the students whom these programs impact. During the poster presentation, the RIT pair discussed the value of their undergraduate research experiences with several politicians, including Reps. Louise Slaughter's and Tom Reed's staff members.
"The project started because our advisor, Stephanie Ludi, who is legally blind, wanted to use technology to allow visually impaired students to follow along with a teacher's notes and figures on a white board," says Canter, a fourth-year computer science major.
"Teachers will simply place their dry erase marker in a special sleeve that senses how and when things are being written. The hardware detects the images and sends them wirelessly to the iPad," explains Ellis, a second-year software engineering major.
The application will utilize accessibility features, including different methods of zooming, navigation and color inversion, all of which affect what different people can and cannot see.
"Going to Capitol Hill was a great experience for us to learn the non-technical side of our programming field," say Canter. "We got to explain why our research was important and deserves to be funded."
"Alex and Lindsey have conducted interviews and users studies on potential user interfaces for the application," says Ludi, graduate program coordinator and associate professor in software engineering. "The goal is to create a useful, usable, low-cost system that students can easily take with them from class to class."
Ludi intends to move the project forward after this year by seeking additional funding. Ellis and Canter will continue programming this summer with the help of software engineering graduate student Abhishek Shrestha. The AccessLecture project is funded by the Computing Research Association's Collaborative Research Experiences for Undergraduates program.
Topics