World's brightest cybersecurity students will clash at global competition finals Jan. 13-15
RIT's Collegiate Penetration Testing Competition prepares students for cybersecurity careers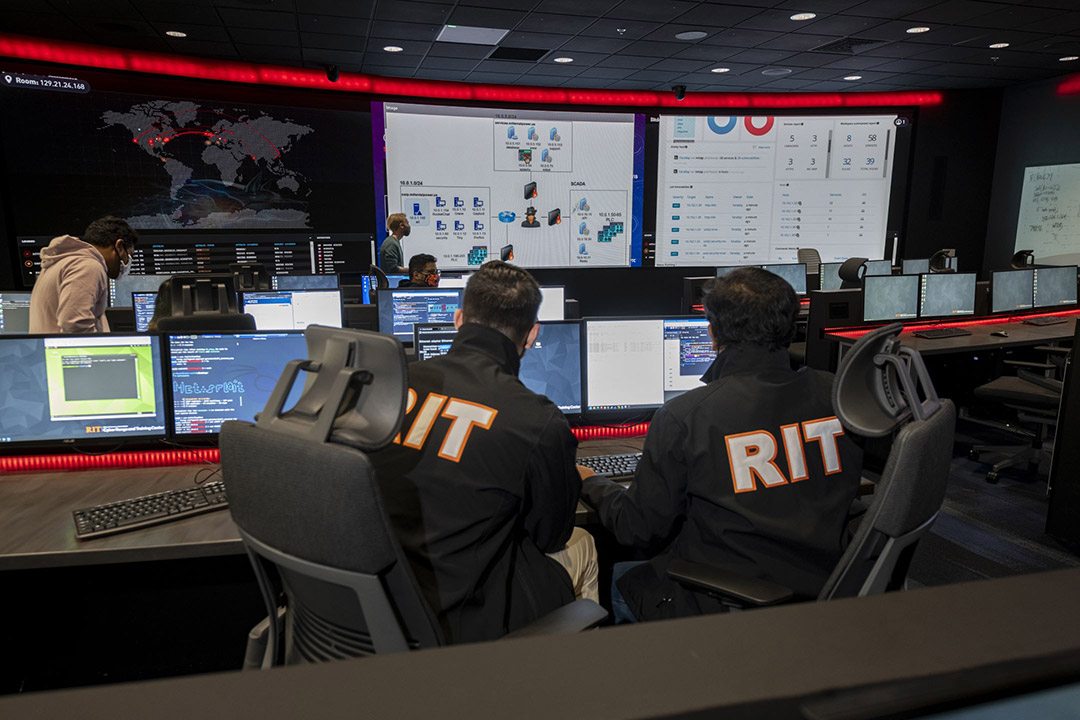 The best white hat cybersecurity students will work to phish and exploit their way to a championship trophy at the Collegiate Penetration Testing Competition (CPTC) global finals Jan. 13–15.
The event is the culmination of the world's largest offense-based collegiate cybersecurity competition, which is hosted by Rochester Institute of Technology. Throughout the fall, hundreds of elite cybersecurity students from 70 schools gathered at regional events across the world to compete in the CPTC regionals.
The top 15 collegiate teams have moved on and will face off in the weekend-long global finals at RIT in Rochester, N.Y. Participating teams are:
American University of Sharjah (United Arab Emirates)
Brigham Young University
California State University, Fullerton
California Polytechnic University, Pomona
Indiana Institute of Technology
Liberty University
Princess Sumaya University for Technology (Jordan)
Rochester Institute of Technology
Rochester Institute of Technology, Dubai
Stanford University
University of Central Florida
University of Massachusetts Amherst
University of Texas at Austin
University of Texas at San Antonio
University of Tulsa
CPTC has become the premier offense-based collegiate computing security event, after starting at RIT eight years ago. CPTC is a counterpart to the Collegiate Cyber Defense Competition (CCDC), which is the premier defense-based event for college students. The events help students build and hone the skills needed for a job in the cybersecurity industry—an industry that has a severe shortage of qualified professionals.
"Cybersecurity competitions can be an ultimate training tool for students looking to start a career in the industry," said Justin Pelletier, director of CPTC and director of RIT's ESL GCI Cyber Range and Training Center. "This competition is not only deeply technical—it's also about communicating well and explaining the risks in a language that executives can understand."
For the competition, teams of up to six students spend two days interrogating a mock company's network. They then create and present a report to the judges on their findings, while offering suggestions for mitigating risk in the future. The competition allows students to experience a day in the life of a penetration tester—the security professionals hired to test and evaluate an organization's computer systems and networks to ensure that malicious hackers can't get in.
In this year's scenario, students will conduct a security assessment and penetration test for a mock hotel and tourist destination. Competitors might have the chance to assess hotel management software, try to phish employees, and evaluate the public Wi-Fi or shared desktop computing environments—all while ensuring that their cybersecurity work does not jeopardize the confidentiality, integrity, or availability of the hotel's systems.
Judges and sponsors from the security industry will evaluate the performance of the competitors while under fire. Students will have the opportunity to meet experts, hand out résumés, and do a virtual job fair and interviews with potential employers. Sponsors include IBM Security, Paperclip, and Black Hills Information Security, among others.
The competition environment is run through RIT's ESL Global Cybersecurity Institute (GCI) Cyber Range and Training Center, which is capable of hosting more than 5,000 virtual machines for immersive scenarios.
More information about CPTC is available on the Collegiate Penetration Testing Competition website.
Topics