Celebrating new leadership announced at The Alumni Futures Summit 2023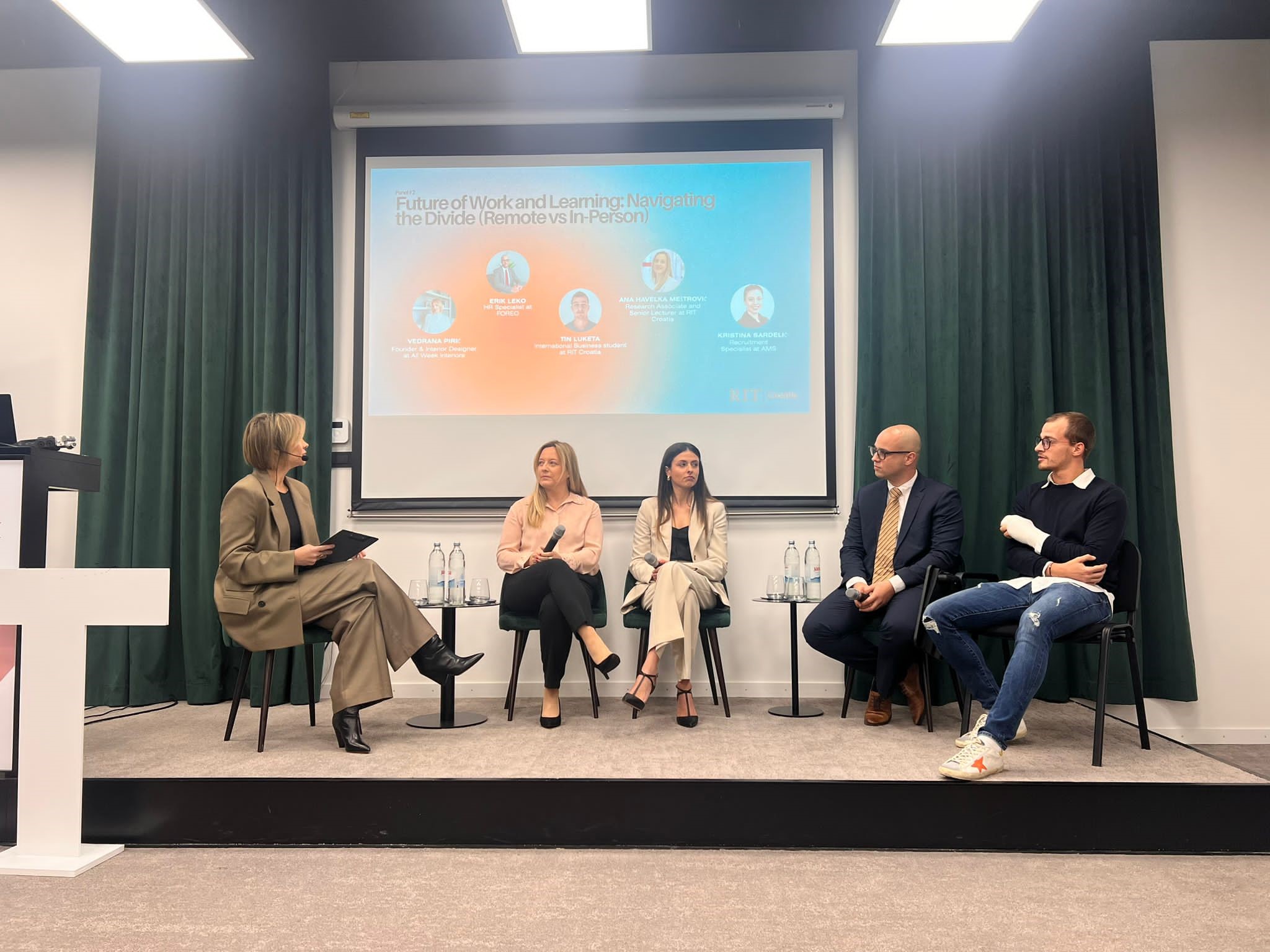 The RIT Croatia's Alumni Summit held yesterday in Zagreb brought together a diverse group of industry leaders and experts, RIT Croatia's esteemed alumni, creating a platform for former students to not only reconnect and reminisce but also to exchange valuable ideas, experiences, and knowledge.
With panel discussions focusing on the integration of technology and human interaction, a deep dive into the future of work and learning, and an enriching alumni networking session, the event addressed various topics of interest. Moreover, the summit announced new leadership of the RIT Alumni Association that will lead the association into a new era of collaboration and engagement.
Panel discussions reveal the impact of technology on human interactions
The summit began with two engaging panel discussions that shed light on the evolving dynamics of the digital world.
The first panel, titled "The Balance of Tech and Touch: Are LLMs Eroding the Human Element?" featured industry experts such as Zoran Pejović, Izet Ždralović, Tana Zimmermann, Marija Lončarević, Lovro Čulina, and Dragan Mrkajić. The session delved into the impact of technology on human interactions across various sectors, exploring challenges and opportunities arising from AI-driven services and virtual engagements in today's digitized world.
The second panel, addressing the "Future of Work and Learning: Navigating the Divide (Remote vs In-Person)," provided insights into the changing landscape of education and employment. Notable industry experts including Vedrana Pirić, Ana Havelka Meštrović, Kristina Sardelić, Erik Jakov Leko, and Tin Luketa, shared their unique perspectives on how organizations and educational institutions are adapting to the shift toward remote learning and work from home trends.
Introduction of new Alumni Association leadership
During a special segment of the event, Angela Josipa Krčelić was introduced as the new President of the RIT Alumni Association, alongside Niko Katušić, the newly elected Vice President. Congratulations were extended to both, highlighting their pivotal roles in encouraging greater collaboration and engagement among the alumni, and fostering a strong connection between former students and the university!
Concluding the summit on a lively note, the alumni mingling session provided a platform for former students to reconnect, share experiences, and build new professional relationships.
---
Recommended News
November 27, 2023

November 10, 2023

November 10, 2023

November 2, 2023