Welcoming New Faculty to the Academic Year 2023/24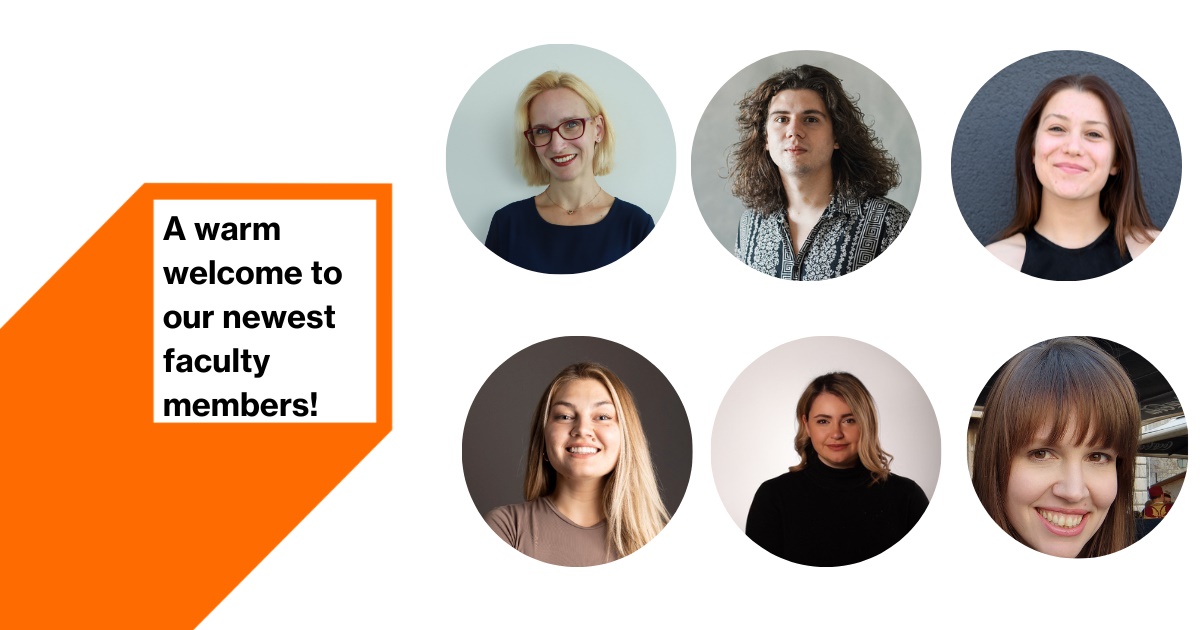 As each year, we cannot wait to see familiar faces of our current students and employees. However, we are also super excited about welcoming freshmen students – and employees! Like every year, we are fortifying our ranks with talented individuals who contribute to the benefit of our students' educational experience. This year we are happy to introduce eight new faculty members, five of whom are RIT alumni, who will be shaping the educational experiences of our students across various undergraduate programs and areas
Dr. Danijel Carev - Advertising and Promotion Management
Being an RIT Alumni (Class of 2002), Dr. Carev is looking forward to the opportunity to transfer professional and personal experience to the next generation of students. He has over 13 years long career in education and more than 20 years in the business environment, particularly in the tourism industry. During this time, he managed Marketing and Sales Departments for a number of companies. Also, he published a number of scientific papers as well as two books titled Hotel Sales and Front Office Operations. Students can expect a pleasant working environment, broader insights into the global business environment, and accessibility to open different topics that will spark constant progress. He will dedicate his teachings to providing constructive feedback and fostering student professional and personal growth. And, finally – a fun fact about Danijel – he was the second Croatian to ever study at RIT's Rochester campus!
Stefanie Hudspeth mag.art - Drawing I
Stefanie Hudspeth mag.art, a proud RIT alumna with a BFA from RIT and an MFA from the Art Academy, University of Zagreb, is set to guide students in the New Media Design program through Drawing I. Stefanie's works are sold through commissions and galleries in Zagreb and Dubrovnik. In addition, she facilitates team-building activities at Croatia's leading Paint and Wine studio. Her passion lies in painting, drawing, and digital art, utilizing acrylics, ink, and charcoal. Stefanie's passion for art and her diverse skill set make her an inspiring instructor. With a focus on creating a comfortable and collaborative environment, Stefanie aims to help students build a strong foundation in drawing, fostering creative expression and skill development.
Angela J. Krčelić - Digital Marketing:
Angela J. Krčelić joins our faculty as alumna of RIT Croatia and Vice President of the RIT Croatia Alumni Association. With a Master's degree in Marketing and Sales from the Rome Business School, Angela has a wealth of experience in Marketing and Social Media. In 2022, she founded Laval Digital Marketing Service, offering social media solutions for individuals and companies. Angela's course in Digital Marketing promises hands-on, experiential learning, equipping students with valuable insights into various digital marketing tools, strategies, and techniques. We eagerly anticipate her contributions in the upcoming Spring semester!
Vali Marszalek - Business Ethics and Corporate Social Responsibility
As a Sustainability / ESG Professional with experience working with companies on setting and implementing ESG policies and practices, Vali's expertise lies in social impact as well as in good governance. Hence, In the realm of extremely important Business Ethics and Corporate Social Responsibility, Vali Marszalek brings a wealth of experience as an ESG Director at Mazars, an audit and consultancy firm. Her knowledge, expertise, and experience will undoubtedly enrich the academic journey of our students. Through engaging discussions and case studies, Vali aims to provoke thoughtful consideration of ethical business practices. Students will find a space to share their views, fostering a deeper understanding of the role businesses play in society.
Tomas Martinčić - Foundations of Wearable & Ubiquitous Computing
Tomas Martinčić, an RIT Croatia graduate, brings a unique blend of technical expertise and a passion for teaching to our Web and Mobile Computing program. He has journeyed through the realms of the business world since he started his studies. He started as backend developer intern, quickly progressed to mid developer before even graduating and early on found a hidden passion of sharing knowledge and tutoring others. Tomas invites students to embark on an exhilarating ride of discovery and innovation. Brace yourselves for dynamic lessons that bridge theory and practice, as Tomas harnesses his diverse experiences to spark a flame of curiosity. With a student-centric approach, he pledges to nurture individual growth, cultivate critical thinking, and ignite a passion for pushing technological boundaries.
Ana Mimica - College Algebra and Discrete Mathematics
Ana Mimica is a great addition to our mathematics department on the Dubrovnik campus. Ana holds a degree in Mathematics from the University of Split and is currently finalizing her dissertation defense in mathematics. With a decade of teaching experience under her belt, spanning various departments including mathematics, economics, and computer science, Ana is poised to bring her passion and knowledge to the classroom. Ana's commitment to fostering student growth and providing support in their pursuit of knowledge promises to be an asset to our academic community.
Ines Miščević - New Media Design 3D
Ines Miščević, an RIT Croatia alumna, has an interesting and diverse background. She earned her BS degree in business at RIT Croatia and started her career in sales. Soon she realized that her passion lies in – design and decided to pursue another degree, a 3D design degree, blending creativity and passion! Hence, she is set to teach the New Media Design 3D course. Ines's dedication to nurturing creativity and supporting students' growth is evident. Her enthusiasm for encouraging innovative thinking and her friendly demeanor will undoubtedly make her a valuable addition to our faculty team.
Dr. Iva Šarčević - 2D Design I
Dr. Iva Šarčević is a graphic designer and postdoctoral researcher at the University of Zagreb Faculty of Graphic Arts. Her main activities and responsibilities include research and teaching activities at the Department of Bookbinding and Packaging. She was an official presenter for Adobe programs (Photoshop, Illustrator, and InDesign) for Croatia. Her expertise in Adobe programs and her commitment to teaching will undoubtedly benefit students in the 2D Design I course. Through this course, students will explore the power of composition and color theory, which will give them the ability to manipulate visual elements, communicate messages effectively, and develop problem-solving skills.
As we welcome these esteemed faculty members to our community, we look forward to a semester filled with growth, learning, and collaboration. Their diverse backgrounds, expertise, and dedication to education will undoubtedly contribute to the success of our students. Here's to a productive and inspiring 2023/24!
Topics
commitment to goodness
---
Recommended News
September 27, 2023

September 22, 2023

September 15, 2023

September 5, 2023