RIT researcher brings together cybersecurity experts from U.S., Ireland, and Northern Ireland
ESL GCI Professor S. Jay Yang helps develop partnership to improve global cyber resilience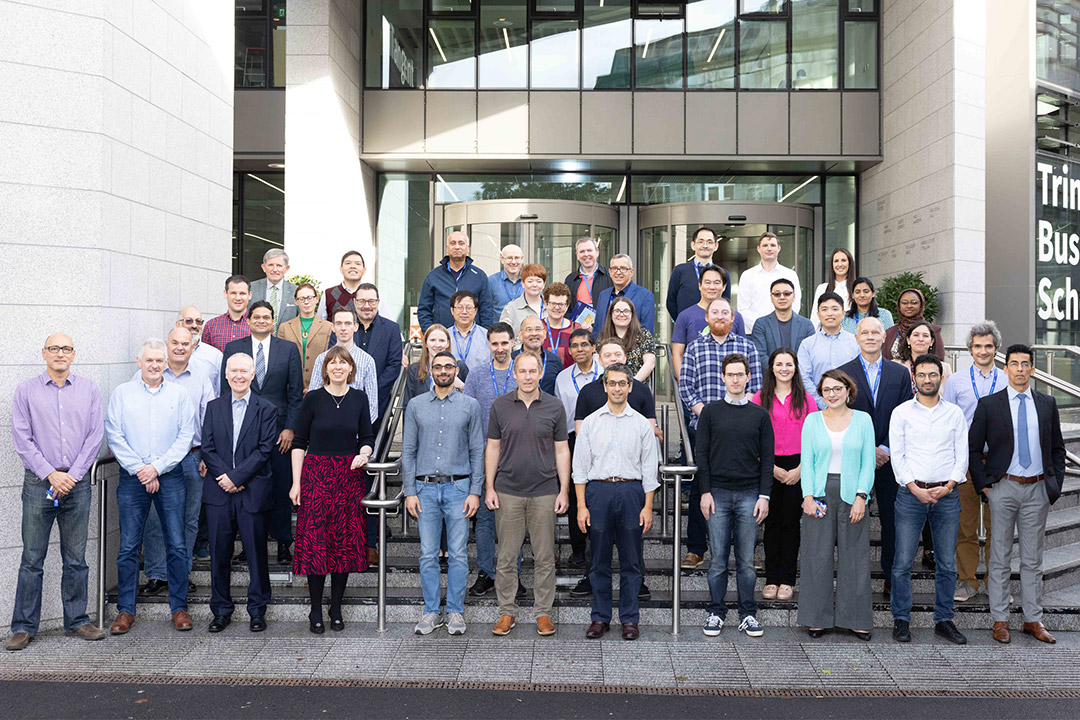 Computer Engineering Professor S. Jay Yang sees collaboration as the key to combating international cybersecurity threats. That's why the director of global outreach for RIT's ESL Global Cybersecurity Institute is helping lead an alliance of cybersecurity researchers from the U.S., Northern Ireland, and the Republic of Ireland.
With rapid digitalization and the post-COVID hybrid nature of work, cybersecurity is becoming an increasingly complex international threat landscape. The alliance aims to ensure that advances in cybersecurity research can be applied to improve the resilience and security of U.S. and Ireland's digital economies. The partnership is sponsored by the National Science Foundation (U.S.), Science Foundation Ireland (Ireland), and Department for the Economy (Northern Ireland).
"Cyberattacks do not respect geographical boundaries," said Yang. "To defend our countries, critical infrastructure, and data, we need work together across country and disciplinary boundaries. It's a global threat."
The partnership stems from the NSF's Secure and Trustworthy Cyberspace (SaTC) program, which supports research addressing cybersecurity and privacy. When the idea for a partnership between the three countries to increase the level of collaborative R&D among researchers was created, Yang was selected to lead it.
"International collaboration is crucial to science—not all of the great ideas and expertise exist in the U.S., and there are differences in laws, public policy, and culture that affect many areas within cybersecurity and privacy," said Jeremy Epstein, program director in the NSF Division of Computer and Network Systems, which houses SaTC. "Programs like this can bring new perspectives to scientific problems, as well as making available facilities, equipment, and data that doesn't exist in the United States. Cybersecurity and privacy are worldwide concerns, but with many variations—SaTC is starting this program to get additional perspectives."
This is the first three-way partnership that the NSF SaTC program has participated in. Previously, SaTC created U.S. partnerships with Israel, the Netherlands, and Brazil.
In October, Yang led the partnership's first in-person workshop—the Transatlantic Workshop on IoT/CPS Cybersecurity Research at Trinity College Dublin, in Ireland. As principal investigator of the workshop, Yang received NSF funding to support U.S. travelers attending the workshop. About 50 cybersecurity researchers from 20 universities attended, including researchers from six universities in Ireland, two universities in Northern Ireland, Virginia Tech, University of Notre Dame, University of Utah, and others. RIT's Department of Computing Security Chair Matthew Wright also attended.
"Cybersecurity is one of the highest risks facing our digitally enabled economies," said Bashar Nuseibeh, professor of software engineering at University of Limerick, Ireland, and Chief Scientist of Lero, the Science Foundation Ireland Research Centre for Software. "Its impact is extending even more deeply into the physical and social spaces in which we live and work. This partnership will enable U.S. and Irish researchers to work together to give key sectors of our economies the confidence to adopt and benefit from new technologies."
Yang said that the workshop allowed him to better understand the strengths, needs, and opportunities of the unique cybersecurity landscapes in each country. He expects several collaboration teams to form and propose government-funded research projects to advance the security postures for cyber-physical systems and Internet of Things. He also foresees a strengthened partnership between RIT's ESL Global Cybersecurity Institute and universities and research centers in Ireland regions.
Both the U.S. and Ireland have expressed interest in tackling cybersecurity issues. In 2021, President Joe Biden released an Executive Order on improving the nation's cybersecurity. In the first "State of the Cyber Security Sector in Ireland 2022" report, officials recommended international partnerships as a way to achieve the nation's cyber potential.
For more information about the U.S.-Ireland partnership, contact Yang.
Topics