November 28, 2022
by Luke Auburn
Alumna uses film to teach diversity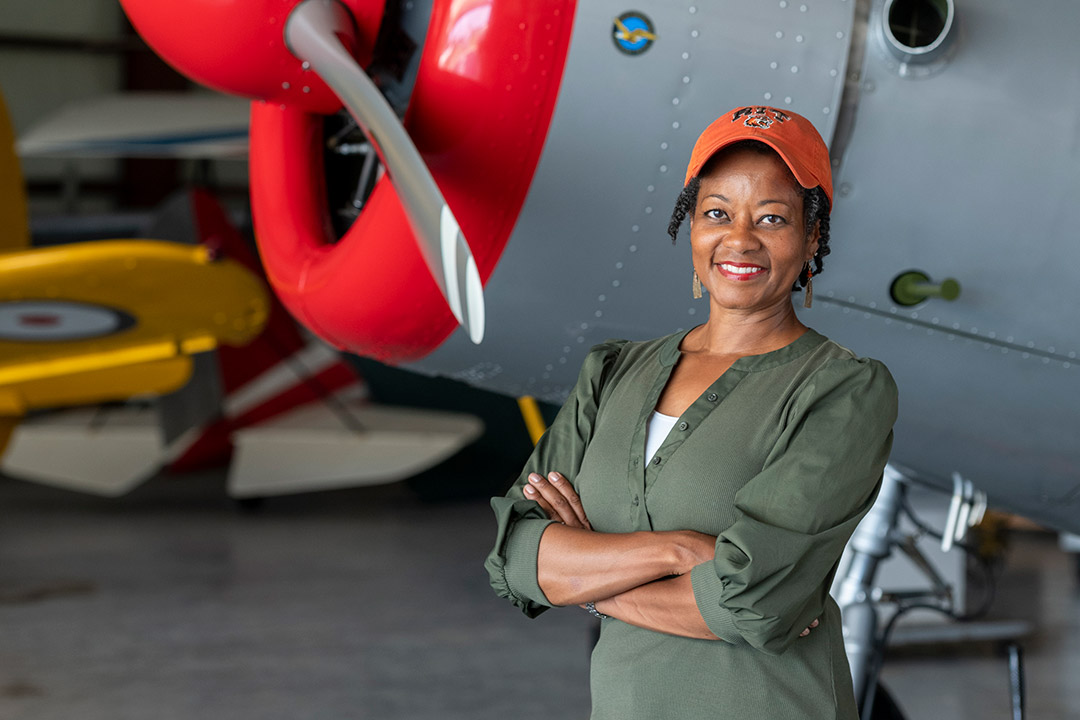 Tina Cannaday Chapman DaCosta '04 MS (product development), '14 MFA (film and animation) is using her parents' life stories to teach important lessons about diversity, equity, and inclusion. In fall 2022, the director of RIT's Diversity Theater program released Dear Eleanor, her second short film based on her parents' lives.
DaCosta wrote, directed, and produced Dear Eleanor, which chronicles her mother and father's blossoming but distant romance while her father served as a plane mechanic in Dayton, Ohio, and later in Tuskegee, Ala., during World War II. The short film follows the award-winning Brick by Brick, and both short films are based on a feature-length film screenplay DaCosta wrote for her MFA thesis.
DaCosta's career at RIT began in 2002, when she left her job as an engineer at IBM to join the faculty at the Golisano College of Computing and Information Sciences and help start the information technology program. She said that while the change put her on a more rewarding path, her father's untimely death ultimately inspired her to make the leap to pursue her true dream.
"I was in my office in 2006 preparing to teach my cybersecurity lab when my sister called with the news of our father's leukemia diagnosis," said DaCosta. "He was hospitalized in Cleveland, and I couldn't race home to be at his side. I found myself really reflecting on all these stories that he told me and started writing them down. I faxed a copy to the hospital, hoping someone would read them to him and make him smile until I arrived. He passed six weeks later."
This was a pivotal time for DaCosta career-wise. She decided to give up her tenure track position and take on a path of storytelling and performing arts.
DaCosta has served as founder and director of Diversity Theater since 2015, where she uses sketches and theatrical presentations, Playback Theatre workshops, and her films to explore diversity and inclusion themes. Brick by Brick and Dear Eleanor are now integrated into the curriculum for RIT 365, the university's experiential learning course for first-year students.
Even the production of DaCosta's short films has been a teaching opportunity. She taught a special topics course in film preproduction for Brick by Brick—both short films were produced primarily with crew help from RIT students and alumni, and Dear Eleanor was developed in full partnership with MAGIC Spell Studios.
DaCosta said she ultimately hopes to produce a feature-length version of her screenplay. But she said turning her parents' love story into a positive force for change in the world has already been a dream come true.
"I find that love conquers all, breaks down barriers, disproves myths and stereotypes, and brings people together," said DaCosta. "So I devote everything I do toward community building. It means the world to me to share the stories of ordinary people who had magnanimous impacts."
Topics