East meets West: Hira Abid heads to Istanbul to continue biotechnology studies
Chemical engineering student will begin graduate work at one of Turkey's prestigious universities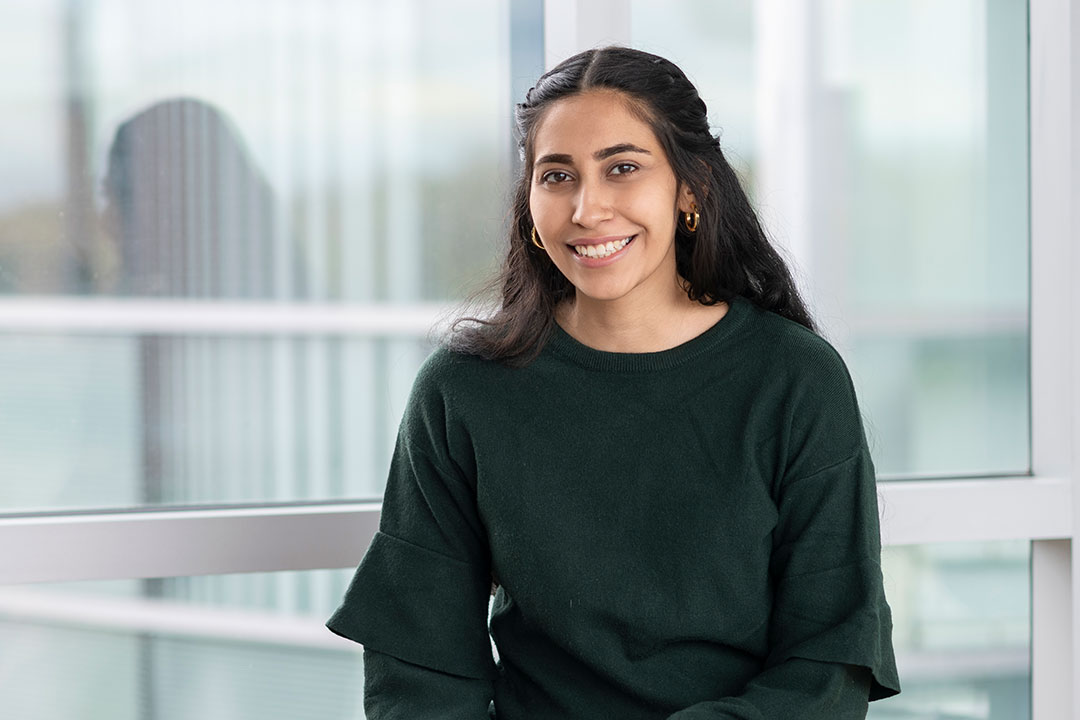 Hira Abid crossed continents to come to RIT.
The chemical engineering student from Pakistan will make another global connection when she begins graduate school in Turkey as one of RIT's newest Fulbright awardees.
Abid will begin orientation this summer at Koç University in Istanbul, taking classes in the Biomedical Sciences and Engineering program in the Graduate School of Sciences and Engineering. It is an adventure, a challenge and the next step toward a career in biotechnology to problem-solve some of the global health challenges today.
Working with Regeneron Pharmaceuticals during her first co-op, she saw first-hand how R & D can contribute finding cures for diseases. She worked with the company's R & D team to assess antibody test reliability and on another team developing a new electrophoresis, or lab on chip, device.
"I never expected that this is the field I would be going into after only my first co-op, but by the time I had left, I realized that is what I wanted to do," she said. "It was a really big deal and it felt like my work really mattered."
As a research assistant with Poornima Padmanabhan, assistant professor of chemical engineering in RIT's Kate Gleason College of Engineering, Abid acquired experience in the areas of polymers and nanomaterials. Abid wanted to learn even more about biotechnology and also bolster her growing interest in gene therapies. She is excited about pursuing the new coursework and it is no surprise that she is moving to Istanbul, considered the crossroad of Asia and Europe.
Fascinated with Turkey from a young age, she remembers watching Turkish dramas on television, dubbed in Urdu, the national language of Pakistan. Even then, she imagined herself in Turkey, enjoying the culture and its people. Learning Turkish? It will be her sixth language.
"I've always noticed that Turkey was a mix of East and West together. That's what I feel I am more comfortable with and that is how I see myself," she said, adding she felt the same way when she first came to RIT. "I feel like if I can move to another country, not even speak the language and still be able to succeed, I feel like I can do anything in the world."
About the Fulbright program
RIT students have had a banner year in securing awards from the prestigious Fulbright U.S. Student Program. RIT has a record four Fulbright finalists plus three alternates for the 2021-2022 academic year. Students from the Kate Gleason College of Engineering, College of Science, College of Health Sciences and Technology, College of Liberal Arts, and School of Individualized Study will travel to Germany, Nigeria, and Turkey for immersive global learning experiences in the coming months. Read more about the finalists.
The Fulbright program provides students funding to study for a master's degree, complete an independent research project, or teach English for up to a year outside the U.S. During their grant period, Fulbright students meet, work, live with, and learn from the people of their host country.
Topics