Professor Santosh Kurinec honored with IEEE distinguished service award
RIT faculty member is recognized for teaching, research and for promoting workforce development initiatives of the semiconductor industry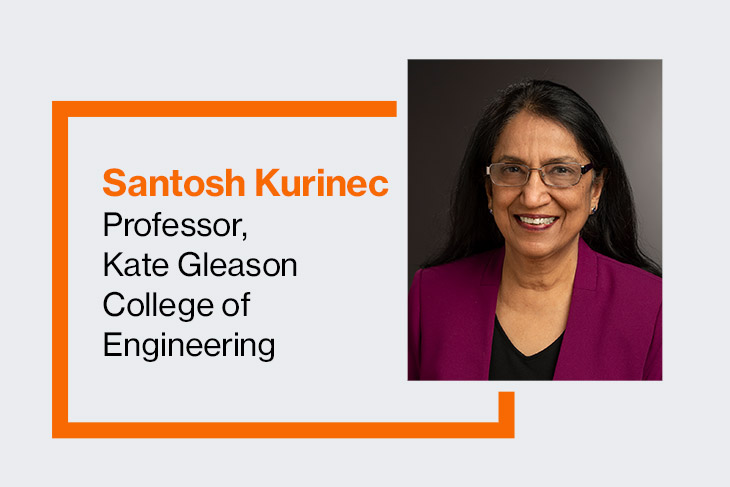 RIT microelectronic engineering Professor Santosh Kurinec was recently honored as the IEEE's 2022 William Terry Distinguished Service awardee. Given to a member of the IEEE's Northeast Region 1, the award highlights an individual's dedication and service to the engineering profession.
Kurinec, a longtime and distinguished member of the IEEE, is an expert in advanced integrated circuit devices, materials, and photovoltaics, all essential elements of semiconductor technologies. She was recognized for her extensive research in these areas and for leading workforce development initiatives to train both students and new professionals in the growing computer chip field.
The regional IEEE award is among many recent acknowledgements for Kurinec's contributions to the computer chip industry. Career highlights for the professor of electrical and microelectronic engineering in RIT's Kate Gleason College of Engineering include serving as a visiting scholar at the IBM T. J. Watson Research Center in New York state, honors for her research with national corporations and academic institutions as a Fellow of the IEEE, Electron Device Society Distinguished Lecturer, and, in 2018, as a member of the Women in Technology Hall of Fame.
As the computer chip industry has been in the national spotlight over the last few years, the Biden Administration has developed the American Semiconductor Academy—an extensive, national consortia being established to meet the challenges of computer chip shortages. Kurinec is RIT's representative and will be among academic, corporate, and government agency representatives from across the country tasked with improving manufacturing processes and increasing a skilled workforce.
Topics