College of Engineering Technology designates new Calvary Robotics Laboratory at RIT
Donation of funding and expertise from the Rochester-based company will enhance robotics and automation degree programs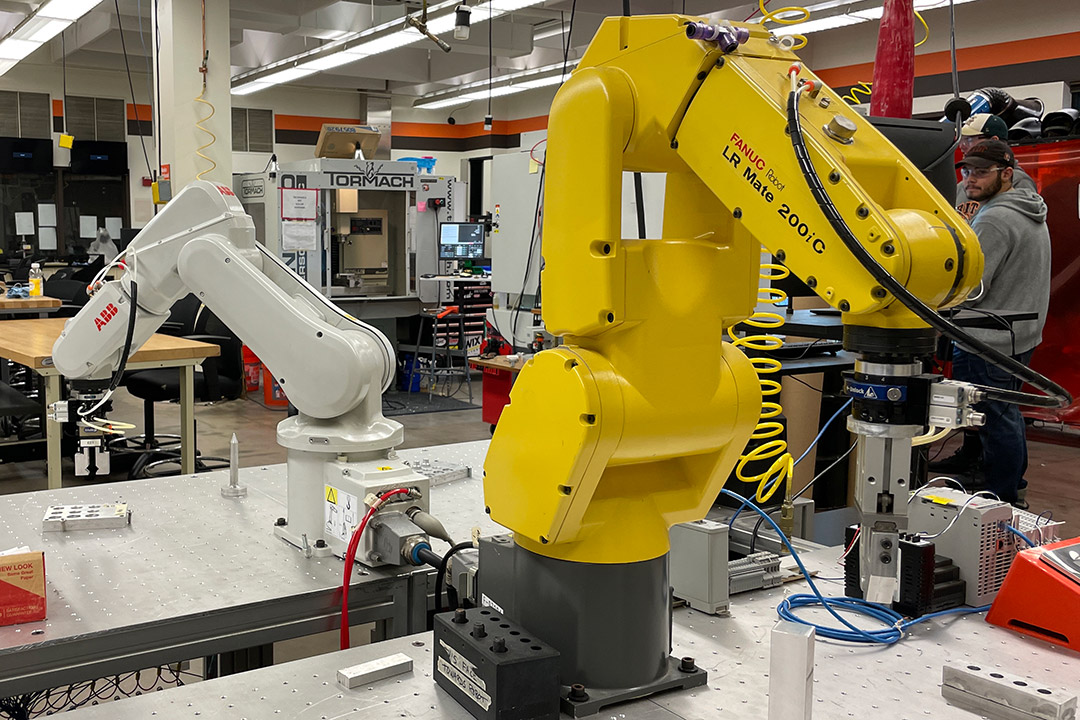 Calvary Robotics recently donated more than $250,000 in funding and expertise to support the growing robotics programs in the College of Engineering Technology at Rochester Institute of Technology. One of the college's facilities will be designated the Calvary Robotics Laboratory and will showcase state-of-the-art robotics technology and current trends in manufacturing and engineering careers.
"With the establishment of the new lab, our students will have the opportunity to learn from, and work with, industry experts in a cutting-edge facility," said Robert Garrick, professor and department chair of CET's manufacturing and mechanical engineering technology (MMET) department. "Hands-on experience and connections to professionals leading the robotics industry will prepare students for careers in the growing, and in-demand, fields of robotics and automation."
The company will donate $250,000 for the lab and will provide industry expertise to determine machining and robotics needs for the facility as well as other labs within the MMET department. Professional engineering staff from Calvary Robotics will also be involved throughout the academic year to contribute to course curricula and faculty research as well as to provide co-op experiences for students and mentoring for varied projects.
"Calvary is growing at a rapid pace, and we highly depend on hiring engineering students from our community," said Mark Chaney, chief executive officer of the company, which is based in Webster, N.Y. Named one of Rochester's Top 100 businesses, Calvary provides custom automation solutions for the automotive, medical, electronics, and consumer goods markets. 
"Collaborating with RIT is an excellent way for us to fill much-needed positions and provide innovative advancements and beneficial opportunities to both partners," Chaney said. "RIT students, graduates, and faculty offer the right blend of learning studies that enable real-world technology and application experiences that align perfectly for Calvary and RIT in order to meet our mutual goals and objectives in both the robotics business and in the community."
CET has expanded its robotics offerings over the past several years within the manufacturing engineering technology program. Coursework involves programming, control systems, advanced sensor technology, and artificial intelligence/machine learning in robotics and automation. Complementary programming and research experiences in electronics manufacturing are also available to students.
The gift to the university and its College of Engineering Technology is part of Transforming RIT: The Campaign for Greatness. In 2018, RIT launched the blended campaign, which seeks support from a variety of investors, including alumni, government and corporate partners, and research foundations and agencies. The $1 billion campaign is bringing RIT's strategic plan to life. Campaign priorities include investing in student success, creating world-class facilities, advancing research and discovery, and innovating careers of the future. The campaign has surpassed its $1 billion goal funding scholarships, research, and facilities.