RIT faculty create live virtual play on life with coronavirus
'The Canadian Wiggler' will feature VR and be streamed live on Twitch TV June 25-28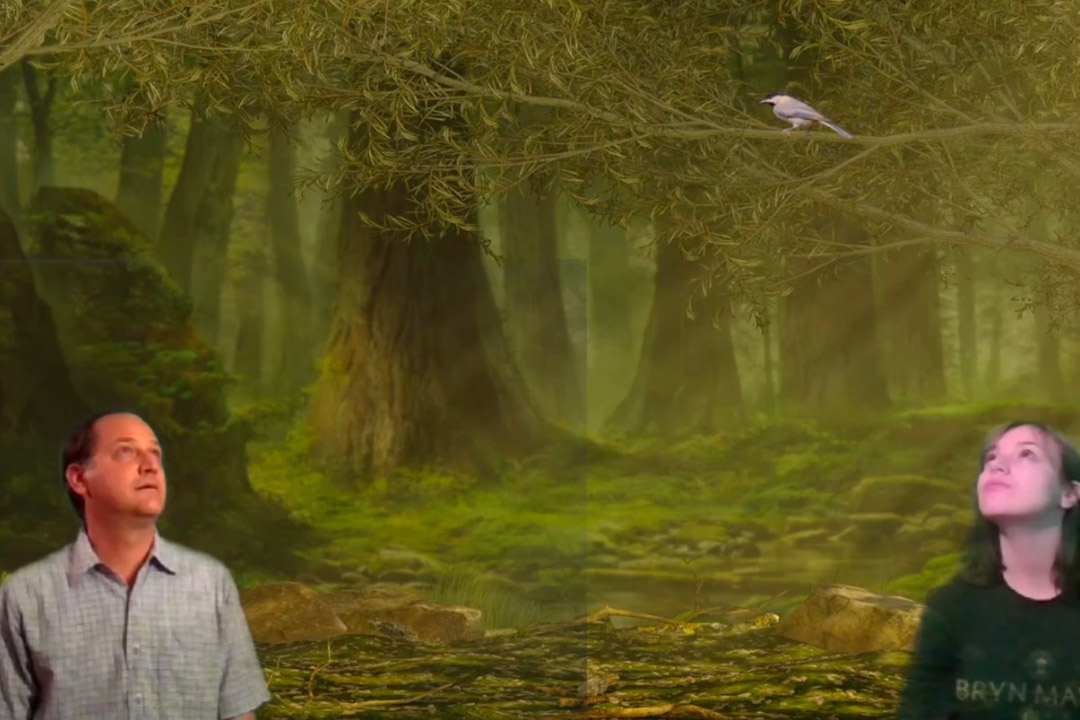 It doesn't take long for art to imitate life, as evidenced with virtual live productions of life amid COVID-19 scheduled this week on Twitch TV.
The Canadian Wiggler, written, directed and produced by David Munnell, senior lecturer in theatre arts at Rochester Institute of Technology, uses virtual reality and actors in a live webcast. It is set in May 2020, when the coronavirus lockdown is taking its toll. Off a trail in a remote area of a park, a lonely man and a troubled young woman unexpectedly find the solace they seek with the help of an elusive bird. The production, which is recommended for those 12 and older, features mature content and deals with adult struggles.
The performances, which are free and open to the public, can be seen on Twitch TV at 8 p.m. Thursday through Saturday, and 4 p.m. on Sunday. No registration is required. During the curtain call of each performance, the audience will be invited to a Zoom Q&A chat with the cast and crew.
It is the first production for the newly-created theater company, CanWigStaging, which focuses on live, online virtual theater and live performances. Munnell has spent the past two years working in the development and application of virtual and augmented reality for theater performance at RIT.
Joe Geigel, professor of computer science at RIT, is director of software and technology for the production, and Dan Roach, who has extensive credits in designing virtual projections, 3D graphics and sound, is virtual graphics and special effects designer for the production.
The Canadian Wiggler features local actor Rick Staropoli and RIT student Emma Neukirch, a second-year illustration major from Reading, Pa. They have been practicing on Zoom – even coordinating throwing each other props – and will perform live from their homes using green screens and conferencing software that will be processed to add a virtual background, sound and animation, and then streamed to Twitch where audiences will experience a seamless theatrical event in real time.
Munnell said the live performances give the production a feel that wouldn't occur in a film. "We still wanted to capture the live experience," he said. "There's something immediate about actors responding to each other. And it's technically challenging to pull off. A lot of things could go wrong, and that creates an excitement."
He said he wanted to write a play featuring the effects of COVID-19 because the virus has been so dominant in our lives this year, while showing a way stories can have live, intimate experiences for audiences even if they aren't in the same location.
"It is on everybody's mind, how coronavirus is affecting the country and people and how we're thinking about things," Munnell said. "I saw a lot of artists trying to respond to this, but I didn't see anything in the theater world that was very effective. We're also trying to provide a model about what really can be done online that no one has thought about before. We developed something we're pretty proud of."
More information may be found on their Facebook event page.