RIT offers AR tours for prospective students
Students can experience the spirit of campus from home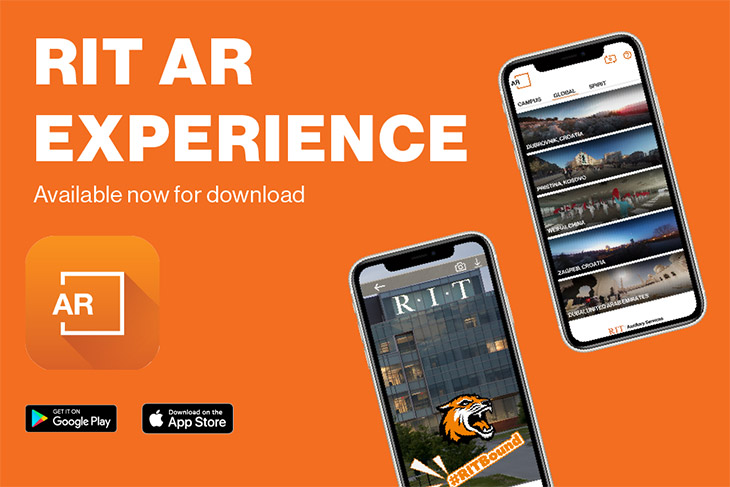 Prospective students who may be thinking of attending Rochester Institute of Technology can now take a campus tour from their home with a new mobile app that features augmented reality with 360-degree videos.
"The RIT AR Experience highlights the spirit and vibrancy of campus while focusing on the spirit of RIT beyond the physical infrastructure of campus," said Denishea Ortiz, director of strategic marketing and retail product management.
Although colleges have previously used augmented reality in their marketing, very few have combined it with portals, enabling visitors to move through doorways into different dimensions.
"We have given users the ability to virtually place portals from the comfort of their home using their personal device. They can then physically walk through the portal to enter campus and experience moments that exemplify the RIT spirit," said Shauna Cross, assistant director of creative for auxiliary services. "That's empathetic technology. That's where this app differentiates and shines."
Work on the app began a year ago, and timing for its launch couldn't have been timelier amidst the COVID-19 pandemic, which limited in-person tours of campus.
"Travel and health restrictions have required the college tour process to adapt," Cross said. "No other university is using technology like this to build meaningful, positive connections between students and the spirit of a campus, and I couldn't be more excited to work where innovative ideas like this are supported."
The experience of touring a college campus can significantly contribute to the commitment decision a prospective student makes. Even without a pandemic, physical limitations, such as travel, budgets, mobility and weather can limit opportunities to experience classrooms, on-campus activities and student life.
Since most physical campus tours occur when student activities have ceased for the year, the app allows visitor's the ability to feel the excitement when the campus is in full swing.
Each portal takes you to a minute-long clip comprised of several scenes. For example, the "arenas" section shows the cheers of a hockey game, fall convocation, the Tiger Walk and the career fair.
Visitors to the app will find three content areas to explore:
Campus: showcasing creative academic spaces such as a glass-blowing studio and virtual reality lab, arenas, housing, dining areas, and retail areas of Global Village.
Global: showing RIT spirit on five of its global campuses in Dubai, Kosovo, Dubrovnik, Zagreb and Weihai, China.
Spirit: highlighting RIT events, student clubs, Imagine RIT and downtown Rochester.
"Downtown was important to include because many visitors are not familiar with the history and vibrancy of downtown Rochester," Ortiz said. "It's an opportunity to showcase a tie into the vitality of the city and how RIT is a part of that."
The app is free.
RIT branded stickers within the camera feature of the app allow visitors to take selfies to share with others showing them with "RIT Bound," in a dorm or with a Tiger Face.
Ortiz said development of the app began after watching tours pass through Global Village last year during summer days when many students were at home and not on campus.
"Daily tours would pass by my office and visitors would step into a relatively quiet Global Village, missing the typical energy the area embodies when campus is in full session," Ortiz said. "Students and parents would leave not understanding the campus spirit. The creation of this app is to highlight that spirit and leave an impression that RIT is the right fit."
Howard Ward, associate vice president for Auxiliary Services, and James Watters, senior vice president for Finance and Administration and treasurer, gave their support for the project.