Researcher receives grant to build a virtual reality learning environment focused on the construction industry
Program aimed at middle school students to learn about and improve interest in STEM fields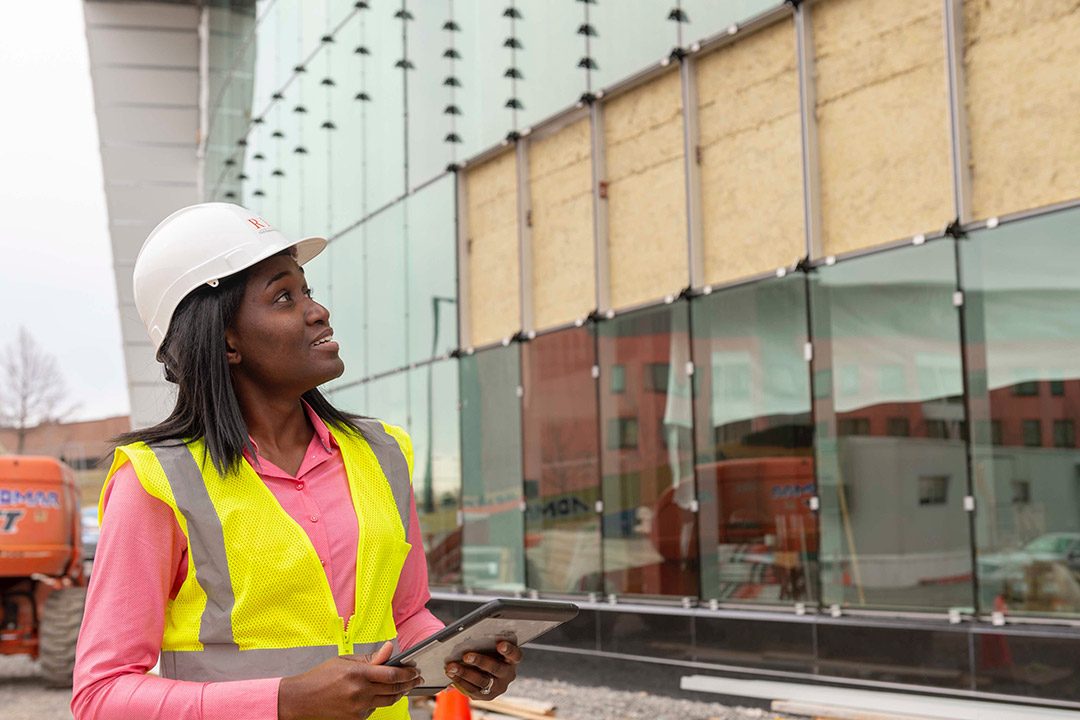 Researchers at Rochester Institute of Technology are developing a virtual reality-based learning environment to improve middle school students' interest in STEM fields, specifically the evolving construction industry.
More companies are integrating technology into construction, such as operating drones and laser scanners to view landscapes and map out existing site conditions before actual construction. Utilizing technology as a teaching tool for today's students and identifying relevant applications in construction can be a way to increase interest in the field, said Yewande Abraham, assistant professor of civil engineering technology in RIT's College of Engineering Technology.
"Virtual reality is a great way to engage students and provide an immersive learning experience," said Abraham, who will work with researchers from Texas A&M and Virginia Tech on the four-year National Science Foundation project to develop an interactive learning environment for advancing data sensing and computational thinking skills. RIT will receive nearly $300,000 as part of the larger, $1.3 million award given to the team led by Texas A&M. The partners will deliver a virtual learning platform with interactive modules, including the academic content that Abraham and her collaborators will produce in conjunction with several RIT construction management alumni participating as industry advisory board members.
"It is all encompassing, capturing information from important stakeholders, including industry practitioners, middle school teachers and students to ensure the materials are relevant and will be adopted," she said. "This is the change we want to see in our industry with more students interested in STEM fields as a result of exposure to this platform."
Researchers have found that introducing STEM field options to students, starting in middle school, can influence academic paths for high school and college, then eventually to careers in STEM fields. Allowing students access to newer technologies and data about construction materials, processes, and industry challenges can provide exposure to needed skills and knowledge. It can also be a safer learning option.
"If you are trying to get young students to a construction site, it could be challenging to organize those field trips. Safety issues must be considered. For instance, getting appropriate personal protective equipment. Large numbers of visitors could be disruptive to a project as well," said Abraham, who teaches in CET's civil engineering technology, environmental management and safety department and is an expert in sustainable built environments and has a background assessing active-learning approaches to undergraduate coursework.
Involving RIT's K-12 University Center in targeting middle school teachers and students, especially those from under-represented groups, and supporting the implementation of the platform with these groups could begin a shift in how the construction industry is viewed, and how professionals in the field are prepared.
"Most studies say the industry is still lagging in technology adoption. There are lots of opportunities to leverage technologies to improve productivity, safety, efficiency, and the quality of a project," she said. "What we are doing with our project is showing the students that construction is not just bricks and mortar, it is more than that—it is exciting and interesting—and with recent advances in the use of computational tools and digital technologies, we are making some progress in the industry."
Topics