RIT ranked among top augmented and virtual reality colleges in the U.S.
Student AR/VR research and labs among highlights in Animation Career Review ranking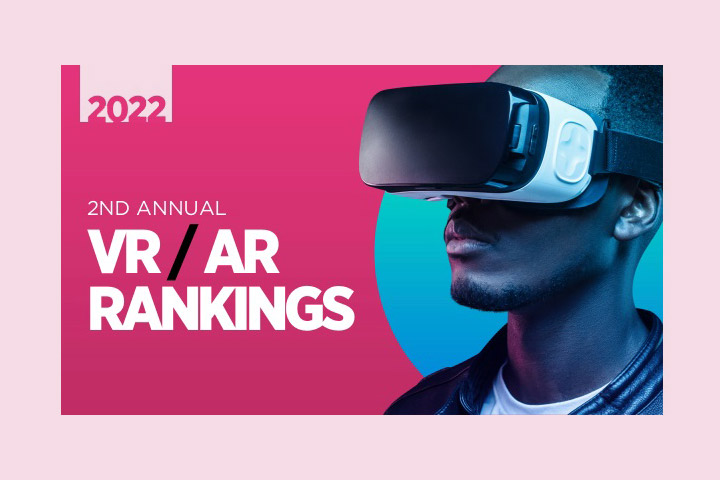 Animation Career Review has named Rochester Institute of Technology one of the top augmented and virtual reality (AR/VR) colleges in the country. RIT ranked No. 8 on the 2022 list of Top 50 AR/VR Colleges in the U.S.
The 2022 rankings considered 75 colleges with AR/VR specialties. The annual rankings were created by Animation Career Review, an online resource for aspiring animation, game design and development, graphic design, and digital art professionals.
The list also named RIT No. 5 among private colleges and No. 3 on the East Coast. RIT was ranked among the top AR/VR colleges in 2021. The list is based on criteria in academic reputation, employment data, admission selectivity, and value as it relates to tuition and indebtedness.
Animation Career Review noted that RIT students have access to the university's AR/VR Lab, called Frameless Labs. Located in RIT's MAGIC Center, the lab is designed for the exploration of and experimentation with AR/VR platforms, technologies, and hardware. There, members of the extended reality (XR) community collaborate and raise awareness about research, innovation, and artistic creation in the fields of AR and VR. Researchers are currently working on projects related to the development and assessment of virtual reality paradigms for gaze contingent visual rehabilitation, color and material appearance in AR, mixed reality theatre (funded by Epic Games), historical New York-based stories in VR and AR, and VR features for the Cary Graphic Arts Collection.
Coursework throughout different RIT majors focuses on adapting digital technologies for AR/VR, touch interfaces, the internet, wearable devices, social software, and other new and emerging devices, systems, and experiences. RIT offers several programs for aspiring AR/VR creators, including:
As part of some coursework, RIT students get the opportunity work on projects for corporate clients. Students also participate in paid career experience in the industry, called cooperative education (co-op). Graduates are prepared for careers in a wide variety of industries from entertainment to aerospace. Some of the potential job titles include AR/VR developer, interactive developer, UX engineer, technical lead, application developer, and digital technician.
Virtual reality is a computer-generated experience that makes users feel like they are immersed in the digital surrounding. Augmented reality is a technology that allows users to enhance their view of the real world with computer-generated information.
The full AR/VR rankings can be found on the Animation Career Review 2022 AR/VR Rankings website.