Partnerships
Access to world-class healthcare training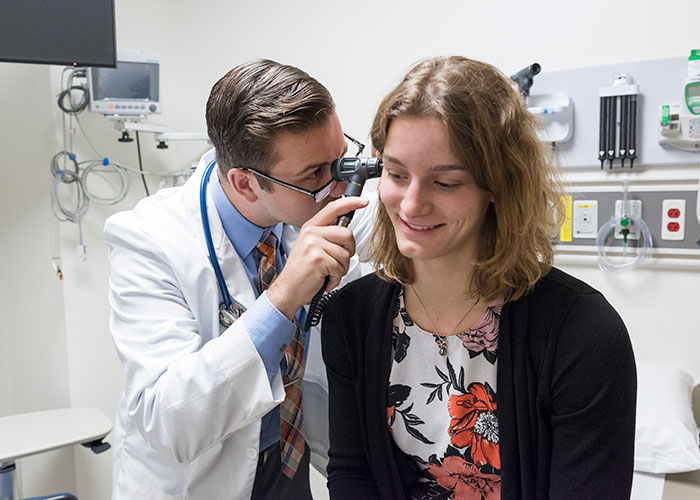 ​
​Extensive community partnerships throughout the region and nationally give students in RIT's College of Health Sciences and Technology high-level practical experience.
Mandatory clinical internships are essential components of RIT's diagnostic medical sonography, dietetics and nutrition, and physician assistant programs, with specific requirements dictated by the professional licensing bodies. RIT's relationships with Rochester Regional Health System, University of Rochester Medical Center, and other local, regional and national affiliates and partners give RIT students hands-on clinical experience in hospital-based and ambulatory patient care settings.
A unique alliance between RIT and the Rochester Regional Health System enhances the learning environment for students at the College of Health Sciences and Technology with on-site educational opportunities and clinical internships. A successful health coaching program trains qualified students to make home visits to patients and liaise with their health care team. The experiential learning benefits patients and students and reduces recurring emergency-care visits. The RIT & RRH Alliance led to the opening of a primary care facility on the RIT campus.
The Priority Behavioral Health and Clinical Psychology Internship focuses on evidence-based cognitive therapy and medical interactive therapy research. The internship program has Association of Psychology Postdoctoral and Internship Centers membership and is accredited by the American Psychological Association. A partnership with the Canandaigua Veterans Affairs Medical Center enables RIT clinical psychologists to provide innovative behavioral health treatment to veterans with co-occurring substance abuse/addiction and aggression issues. 
Incoming students who plan to pursue medical school can apply for admission to a unique bridge program offered through RIT and Upstate Medical University. Acceptance to the program guarantees qualified RIT undergraduates admission to the Upstate Doctor of Allopathic Medicine program.