Don't forget to ROAR on April 21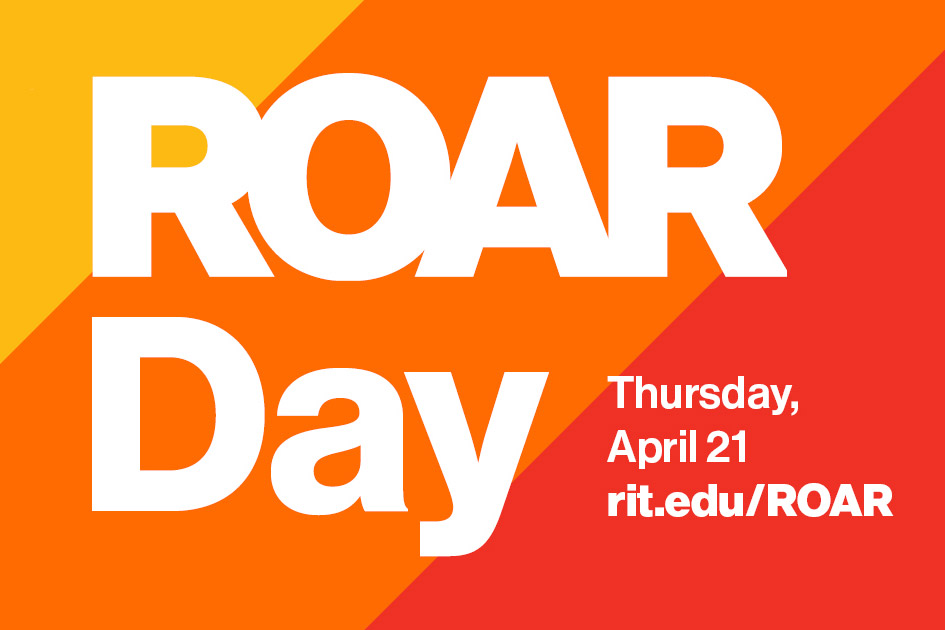 April 21 is the day to ROAR.
ROAR (Raise Our Annual Responses) Day is an annual day of giving that provides alumni, parents, faculty, staff, and friends the opportunity to come together to support the area of the university they care about most. This year marks the 16th ROAR Day at RIT.
Donors are encouraged to make their gifts online between midnight and 11:59 p.m. on April 21. There will be multiple challenges, including a faculty, staff, and retirees challenge and a challenge for the most parent gifts.
New this year, donors who make an online gift of $50 or more will be eligible to receive an RIT beach towel. (See the ROAR Day website for details.)
In addition, from 10 a.m. to 3 p.m. on April 21, there will be a tent in the Infinity Quad with activities for students, faculty, and staff including a photo booth, a graffiti wall, and giveaways.
Last year, more than 3,100 donors gave over $1.4 million on ROAR Day. Of those donors, more than 2,000 gave $100 or less, providing over $90,000 that made an immediate impact on scholarships, academic programs, student life, and more.
"ROAR Day is a celebration of philanthropy and giving back to RIT," said Marisa Psaila, executive director of Annual Giving. "Without donor support, the full RIT experience wouldn't be possible. It doesn't matter how much people give; it's participation that's important. Higher participation from faculty and staff not only strengthens RIT, but it sends an inspirational message to others about the power we have when we unite to ROAR for our students. All of us benefit."
All gifts will also count in Transforming RIT: The Campaign for Greatness. This blended campaign to date has raised more than $887 million.