Faculty Profile: Hamad Ghazle '88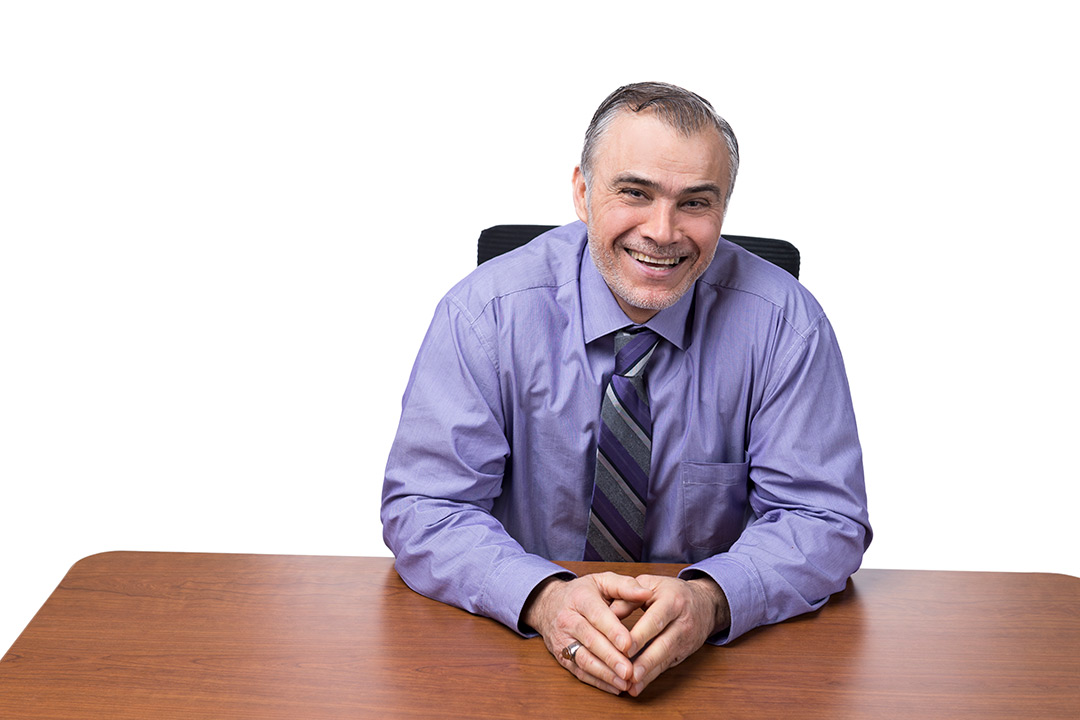 Tucked in Hamad Ghazle's bookcase, next to volumes on ultrasound and human anatomy, is a battered Arabic-to-English dictionary with dog-eared pages and notes scribbled in the margins. Ghazle left war-torn Lebanon on a scholarship to Georgetown University in the 1980s, with the dictionary as his compass for navigating a new language and life in the United States. Within a year, he transferred to RIT, dictionary in hand, to study ultrasound. He graduated with his BS in 1988 and returned in 1994 to lead the program. Since then, Ghazle has graduated hundreds of sonography students, helping them navigate the profession that means so much to him.
What draws you to sonography?
Ultrasound is an embodiment of engineering and medicine all blended together. Sonography is life to me. Sonography is passion and joy. If you're scanning someone, you are seeing inside of them without cutting them open, without using radiation. Each
human is different. It's a mystery.
The ultrasound program started in the College of Science and is now part of the College of Health Sciences and Technology. How has the program evolved?
The curriculum has changed. We increased our affiliations with hospitals and clinics. The student number has increased. The majority of the equipment we have is through donations from industry. We're offering more specialties, workshops and conferences. Many of the adjuncts and guest speakers
are our graduates.
How do you approach teaching?
When someone comes to me, I am not only teaching them ultrasound. I'm teaching them how to go out there and behave and interact with people. I want to teach them about life. We all work together. I care about our students as human beings. If I can attend to their needs and help them and treat them with respect, why wouldn't I?
Your eldest daughter is in the diagnostic medical sonography class of 2021. What does this mean to you?
First thing, she made the decision herself. That's what is important to me. I teach my kids to be honest, respectful and independent. We didn't even have a conversation about ultrasound, and I didn't know. Admissions told me. I'm looking forward to it. I want her to see a different side of me, to see how caring her father is. I think that is where the reward is.
You are famous for your upbeat personality and positive attitude—and a few signature phrases like, "I can't complain."
It's really true. I do mean it. I can't complain. Maybe it's my childhood. I don't take things for granted. There's always hope.
Do you ever complain?
We all have problems. I could complain, but what's the gain? It makes yourself feel horrible and makes people around you feel the same way. There are things that make me sad. When people condone behaviors that they know are disruptive and they intentionally encourage it. Violence begets violence. Respect begets respect. Kindness begets kindness.
What does RIT mean to you?
RIT, to me, is a totally different place. It was my home, my family, my existence. I made great friendships and relationships and RIT embraced me. After I graduated, I maintained contact with professors and friends, and I came to visit. I never left.
I want to contribute to the reputation of RIT. I want this place to be seen as a hub of tolerance and learning, a hub for diversity and inclusiveness and respect and honesty—a microcosm to be applied elsewhere. I am only one constituent of this whole picture, and someone else is another aspect. That is the richness of who we are as a community.
Fun Facts
Hamad Ghazle is pronounced "HAH-med Gha-zlah"
He has won the RIT Eisenhart Award for Outstanding Teaching.
On Sundays, Ghazle works as a sonographer
He has a cuckoo clock in his office to break the silence when working late.
Ghazle sleeps about four hours a day and wakes up without an alarm clock.
He loves classical music, especially Beethoven.
Ghazle's hidden talent is soccer.
He's never had coffee in his life and he doesn't like chocolate.
'Intersections: The RIT Podcast'
"Intersections: The RIT Podcast" is a twice-monthly conversation between people whose daily work is making a difference in the world. In this episode, Hamad Ghazle, professor in the College of Health Sciences and Technology, and Jodie Crowley, clinical coordinator for the diagnostic medical sonography program, discuss career opportunities in the field of ultrasound.
Topics