RIT grad returns to West Coast for 'dream job'
Cynthia Walker will earn her BS from the School of Individualized Study and a certificate in echocardiography from the College of Health Sciences and Technology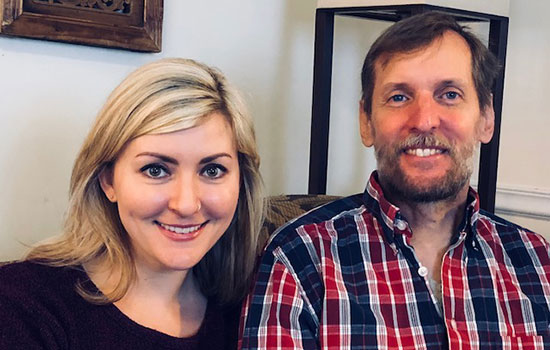 University Communications is highlighting a few members of the Class of 2018. 
RIT graduating senior Cynthia Walker is on the cusp of a health-care career focusing on the heart. Walker's personal goal will be within reach when she graduates from RIT on May 11 with a BS from the School of Individualized Study and a certificate in echocardiography, or ultrasound of the heart, from the College of Health Sciences and Technology.
A contingent of nine friends and family members from both coasts will watch Walker receive her degree. They will also witness another meaningful ceremony, held the previous day by instructors in the Department of Diagnostic and Medical Sonography. In this traditional milestone-ritual, the sonography instructors present the graduating students with pins engraved with the program name on the front and their initials on the back.
"It means the world to me that my family is coming to help celebrate," said Walker, who is originally from Olympia, Wash., outside of Seattle.
After graduation, Walker will return to Washington to start her new job on May 18 as a sonographer at Virginia Mason Medical Center in Seattle. She will be part of a large team of 14 sonographers based at the hospital and travel twice weekly to nearby outpatient sites.
"The standards are high," Walker said. "It's not just that I got an echo job. It's my dream job."
Walker learned about RIT while visiting her father in Fairport, N.Y. Jerry Walker, who lives in the Netherlands, was staying with friends in the area. He was a former world championship sidecar racer in the FIM (Fédération Internationale de Motocyclisme/International Motorcycling Federation) until a career-ending injury left him a wheelchair. When Jerry came to Rochester seeking medical care for his nerve pain, Cynthia flew from the West Coast to see him for the first time in five years.
She had just completed her associate degree in applied arts from Seattle Central Community College and was searching for BS programs in ultrasound specializing in echocardiography. Through her father's connections, Cynthia explored studying at RIT and met Hamad Ghazle, director of diagnostic medical sonography. Walker transferred into RIT's School of Individualized in 2016 and began the echocardiography certificate program offered through the College of Health Sciences and Technology. This path enabled her to customize her degree around the echocardiography certificate.
"Hamad is probably just as passionate about physics and ultrasound as the day he started teaching," Walker said. "He loves it so much and he's so excited and it's infectious." 
Ghazle's dedication to the discipline inspired Walker to work hard. She felt "100 percent prepared" by the time she started her first clinical rotation in her senior year.
"I want Hamad to know that I care about this program very much and I want to be successful for myself but also because I want to make him proud," Walker said. "I'm so appreciative of the dedication and experience of my instructors. I think they have fostered a passion that I've always had."