RIT names new members to its board of trustees
Britta MacIntosh and Richard Davis join RIT leadership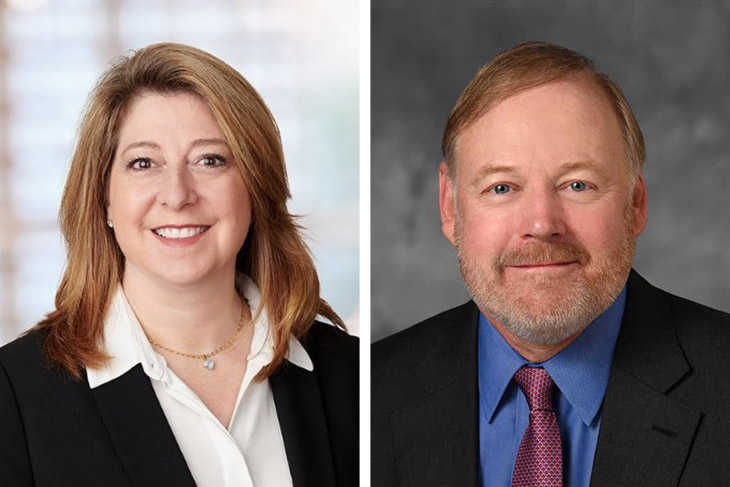 RIT has appointed two new members to its board of trustees.
Britta MacIntosh '89 (mechanical engineering) has more than 25 years of experience supporting project delivery for complex energy efficiency and infrastructure programs. She serves as senior vice president of western region and London operations for Ameresco Inc., a publicly traded clean technology integrator and renewable energy asset developer, owner, and operator that offers a portfolio of energy efficiency and renewable energy solutions to clients across North America and Europe.
Prior to joining Ameresco in 2016, MacIntosh was vice president of business development for NORESCO, one of the largest energy services companies in the United States. While at NORESCO, she provided testimony to the U.S. House of Representatives on energy security and innovation. MacIntosh is past president of the Boston Chapter of the American Society of Heating, Refrigerating, and Air-Conditioning Engineers and has served on the board of directors of the National Association of Energy Service Companies. She is a licensed Professional Engineer and, in addition to her RIT degree, holds a master's degree in mechanical engineering from Northeastern University.
MacIntosh has served RIT in a number of volunteer roles. She is a member of the President's Roundtable and the Kate Gleason College of Engineering National Council, and she previously sat on the KGCOE Mechanical Engineering Advisory Board. Additionally, she has served as a guest speaker for the Women in Engineering (WE@RIT) program. In 2021, she established the Britta MacIntosh Women in Sustainability Endowed Scholarship for female students pursuing careers in climate solutions and sustainability.
In recognition of her accomplishments, MacIntosh received the 2008 Distinguished Alumni Award from RIT's Kate Gleason College of Engineering.
Richard "Chip" Davis is chief executive officer for Rochester Regional Health, an integrated health system serving western, central, and northern New York, and the second-largest employer in Rochester. In 2008, RIT formed a strategic alliance with Rochester Regional Health dedicated to innovation in medical care, education, and research.
Prior to his role as CEO, Davis served as senior vice president and CEO of Henry Ford Health System's South Market and Henry Ford Hospital in Detroit. His responsibilities included providing strategic leadership and direction over the clinical operations of the market and leading new clinical, academic, and commercial partnerships. He worked closely with clinical and service line leaders to enhance coordination between primary care networks and specialty services. He had oversight of more than 100 care delivery locations, including two hospitals (totaling 1,240 beds) and over $2.5 billion in net patient revenue.
While at Henry Ford, Davis led an initiative to create a state-of-the-art Health System Central Command Center to coordinate transfers, admissions, and discharges across all hospital facilities. He also helped broker a 30-year definitive agreement for Michigan State University to become the main academic partner for the health system and worked on the team to implement the first Hospital-at-Home program in the state of Michigan.
Prior to joining Henry Ford, Davis spent more than 25 years with Johns Hopkins Medicine, most recently as president and CEO of Sibley Memorial Hospital, a not-for-profit hospital in Washington, D.C. He was also on the faculty at The Johns Hopkins University schools of medicine, public health, and business.
Davis earned a Ph.D. in public health from Johns Hopkins. He also has a master's degree in counseling and consulting psychology from Harvard University, and a bachelor's degree in psychology from University of Michigan.
MacIntosh and Davis will each serve four-year terms on the board.
The RIT board has 42 active trustees and 32 trustees of emeritus status.
Topics