MFA student's films a big draw at festivals
When Diane Lee '24 MFA (film and animation) was faced with the challenge of producing a short animation for Senior Lecturer Peter Murphey's 30 Second Film course, she was torn between two concepts. One of them, The Snowman, became the 2D-animated short for the class.
"But I couldn't quite abandon the other one," said Lee, who goes by the artist name Diane Catsburrow Linnet. 
Linnet quietly developed the other idea outside of class into a longer 2D piece, jokingly called a 100-second film, titled Put It Back. 
"The Snowman fit well into 30 seconds, but it was so carefully tailored towards the time limit that there were things I just couldn't try out with it," Linnet said. "Put It Back had more different shots, dynamic camera angles, dialogue and audio. So many exciting things that I wanted to try after taking my first-ever class in animation the semester before."
This healthy collision of ambition and indecision was met with widespread approval by the film community. To date, The Snowman and Put It Back have been accepted into more than two dozen film festivals around the world. 
"It's surreal," Linnet said of her success on the festival circuit. "I thought of the films more as experiments and learning experiences than independent pieces. I mean, I did want them to have meaning. It's a lot of work to put in otherwise. But I entered them into festivals to see what comes out of it and really just familiarize myself with the system, more than anything else."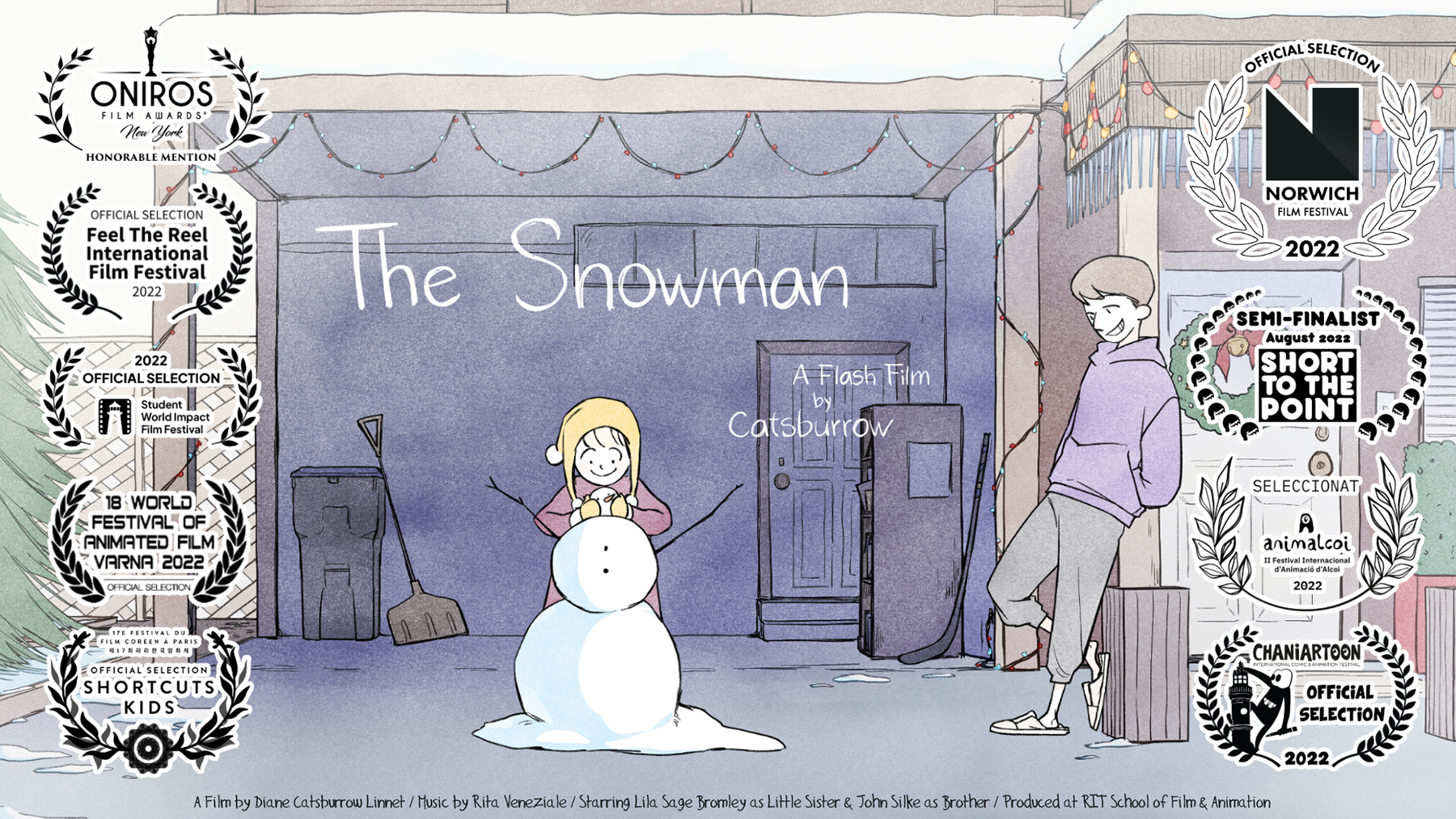 Diane Catsburrow Linnet
The Snowman features the efforts to fix an imperfect assembly of a snowman, while Put It Back follows a boy's reluctant return of a caught fish to its natural habitat, with a humorous note on recycling.
Linnet created both films in her first year in RIT's film and animation MFA program, where she is continuing her first formal training in animation. 
Linnet's undergraduate studies were in studio art, with minors in English and creative writing. But a persistent love for drawing, coupled with a history of growing up on animated films and shows, pulled her into exploring hand-drawn, 2D animation. 
After some self teaching and taking classes as closely related to animation as possible, Linnet was awarded a grant to make an experimental 2D-animated film in her junior year. The Funeral became the centerpiece of her portfolio to get into RIT, where she has found the perfect cross of being a creative writer, storyteller and artist all at once.
"I can't imagine not having this interdisciplinary background and trying to do this," Linnet said. "I was a writer long before I started considering myself an artist. The story that runs through the piece is always the driving force for my filmmaking process."
Diane Catsburrow Linnet
Linnet has immersed herself with various other creative opportunities at RIT, specifically through MAGIC Spell Studios. 
"I think one of the best things about RIT is just the abundance of opportunities to try things out," she said. "A lot of it is being proactive, actively looking for those opportunities, of course. But there are so many ways to get involved with different paths of animation — not just films, but motion pieces for social media or even games."
Linnet is the producer for MAGIC's Animation Team, which works with outside clients to execute professional animation projects. Linnet is also a 2D concept artist for That Damn Goat, a video game in development through MAGIC led by Associate Professor Brian Larson, director of the animation option in the film and animation BFA program.
Linnet is currently working on her third film at RIT for her production class — also a 2D-animated piece. She views 2D as a natural fit more than other forms of animation because it allows for the pursuit of one of her biggest passions — drawing.
"It feels liberating that you can just draw anything and the only limiting factor is your hand and your ability to draw," she said of 2D animation. "You're not restricted by a set or technical specs. It's not so much figuring out how to do it, as opposed to what you want to visualize. It's just the freedom of being able to draw from what you see in your mind."