ROC Game Fest is a haven for game enthusiasts
Daylong event on Sept. 9 features exhibitors, game play, presenters, and game design workshops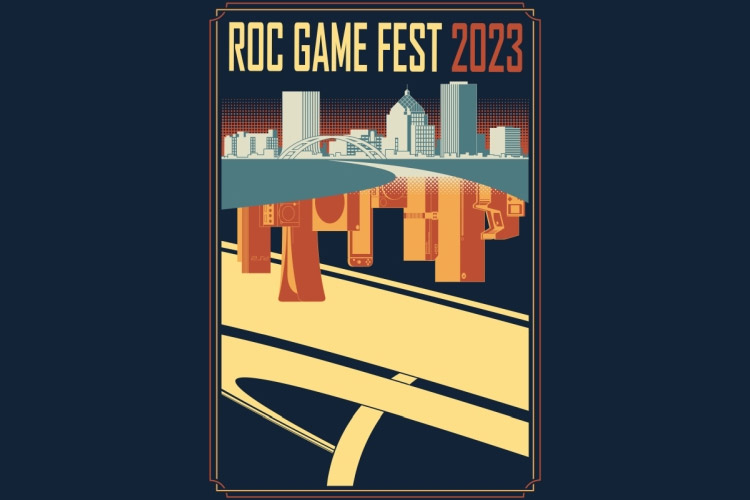 Local game enthusiasts are invited to descend on the campus of Rochester Institute of Technology for the seventh annual ROC Game Fest, a daylong event committed to the best the games community has to offer.
From 11 a.m. to 5 p.m. on Saturday, Sept. 9, at RIT's MAGIC Spell Studios, ROC Game Fest features free, family fun with opportunities to interact with more than 50 exhibitors and game developers on the show floor, create and play test games, listen to speakers, and participate in a kids cosplay contest. Also on display are games created this summer by Rochester charter school students who attended a game design camp on campus.
Mitchell Patterson, CEO of Wolfjaw Studios in Troy, N.Y., will offer the keynote presentation at 11 a.m. Other notable exhibitors are Team Crucible, developers of Raw Metal featured at the PAX Rising Showcase at PAX East 2023 in Boston, and Zucchini People Games, designer of the Dungeons & Dragons Onslaught tabletop game.
FLX BBQ food truck will be on site from noon to 3 p.m. In addition, an online shop will be selling merchandise from past ROC Game Fest events. Parking is available in lots E and F.
"ROC Game Fest is the perfect opportunity to showcase the astounding talent that surrounds us in our region," said Eva Sarachan-Dubay, events and social media manager for RIT's MAGIC Center. "From students to professionals to local and regional community members and games enthusiasts, we promise that there will be something for everyone to learn and enjoy. This is the type of event that helps put RIT on the map when it comes to games and digital media."
The event is co-sponsored by Irondequoit Public Library and ROC Game Dev.
"I can't believe this is the ROC Game Fest's seventh year," said John Scalzo, media librarian at Irondequoit Public Library. "We have exhibitors from across New York state lined up, and we're taking over three floors at RIT's MAGIC Spell Studios. It's going to be a great show."
In 2015, RIT, along with Rensselaer Polytechnic Institute and New York University, was named a Digital Games Hub by Empire State Development and a Center of Excellence. It is the hubs' objective is to establish solid foundations for long-term growth through outreach and community-building activities and increase the economic impact of games to New York state.
Topics