Faculty-Student Collaboration Responsible for COVID Modeling Development
Students co-author paper on novel technique to solve SEIR model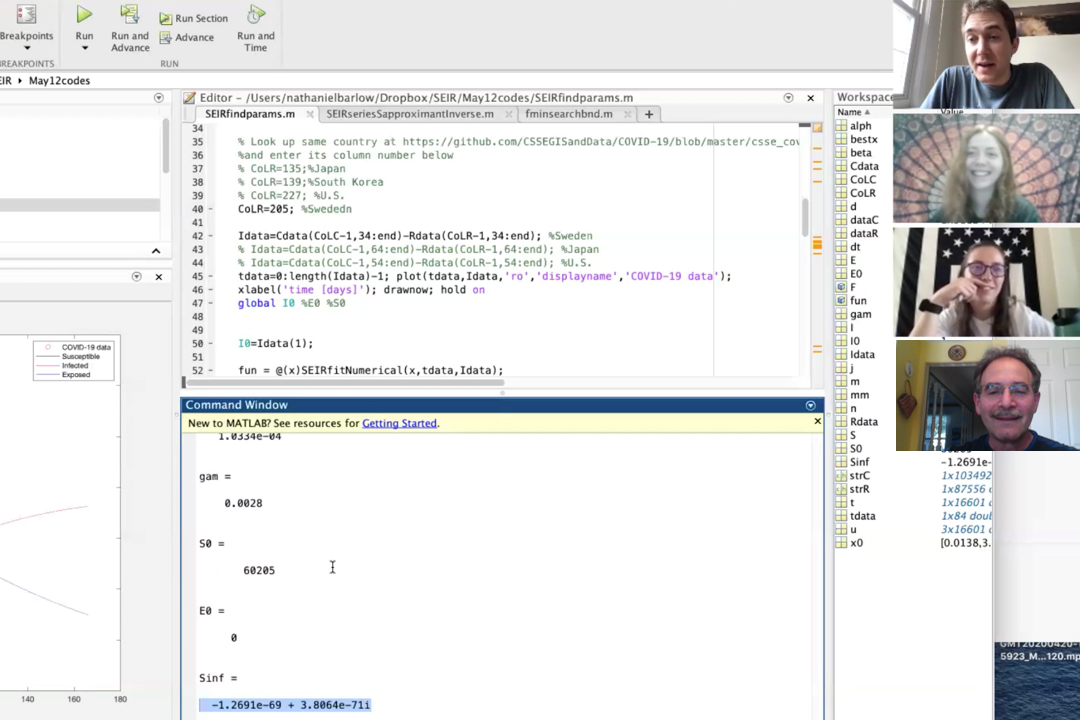 Amidst the many unknowns of the COVID-19 pandemic, two RIT students found a way to put order to chaos and contribute to the body of knowledge surrounding the virus. Morgan Holland '22, applied mathematics and criminal justice, and Kelly Rogers '19, mechanical engineering, worked with RIT School of Mathematical Sciences faculty, Dr. Nathaniel Barlow and Dr. Steven Weinstein (also Dept. Head, Chemical Engineering) on extending a new technique to the SEIR epidemiology model. SEIR is an acronym for Susceptible-Exposed-Infected-Removed. The model can be a useful tool to allow epidemiologists to make COVID-19 predictions more efficient.
"We wanted to do our part behind the scenes to provide better information that others can use to make policy decisions." - Dr. Steven Weinstein
Student Morgan Holland found that she didn't need to be a math expert before joining a faculty research team. After taking a differential equations course with Dr. Barlow in the fall of 2019, she expressed interest in working on his research team. He didn't have any positions available at the time, but things changed in the spring of 2020. On the COVID-19 paper Morgan was able to use math she hadn't used before, all with the support and guidance of Drs. Barlow and Weinstein.
"The professors were really enthusiastic, and it made me even more excited to research." - Morgan Holland '22, applied mathematics and criminal justice.
Morgan credits the experience working on her first co-authored paper with opening her eyes to how math can be used to examine medical diseases. Although she admits she can't really stomach any of the medical aspects of diseases, she is considering focusing on the epidemiology side of mathematics in graduate school.
Students were brought into the project to help test the robustness of the technique. The only way to do this was to test the technique on actual data over many regions of the world. In addition to the efforts of Drs. Barlow and Weinstein, Morgan and Kelly examined the COVID-19 data publicly available for more than 30 countries, fit the data to the models, applied the technique and examined how it fared. The research and the collaboration between researchers was all done remotely. Although the faculty have been collaborating via phone and email for years, they noted that with Zoom and other online screen-sharing tools in use today it's even easier to collaborate as if everyone was in the same room.
Student Kelly Rogers credits a good relationship with her faculty for landing the research position. After various math courses and enjoying a class with Dr. Barlow as a professor, she reached out and offered to help with upcoming research projects. This is her first co-author experience and it taught her a lot about how to conduct research alongside a professor while also making her feel like she was helping address the COVID-19 pandemic in her own way.
"Conducting this research gave me a greater purpose, especially in a time with so many unknowns, by knowing that our work has an immediate impact on a global scale." - Kelly Rogers '19 BS mechanical engineering, '20 MS entrepreneurship and innovative ventures
Student collaboration isn't just a great experience for the students; it also helps improve the faculty's work. The time taken to train the students in the math being used in the research gives faculty the ability to refine their teaching of the technique. This also helps ensure the paper is conveying details clearly. The paper's clarity is, in a large part, attributed to the work with the students. 
Read the full paper here
Analytic solution of the SEIR epidemic model via asymptotic approximant
Related News
Topics