May 21, 2009
by Marcia Morphy
Hossein Shahmohamad: A proven equation for passion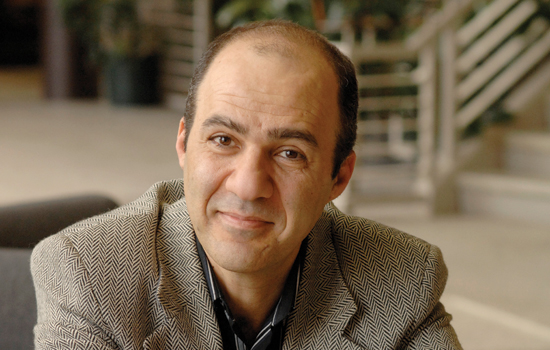 There's an RIT Web site featuring before and after pictures of students who are taking a class in graph theory. All of them are smiling.
So is Hossein Shahmohamad, associate professor and director of graduate programs at RIT's School of Mathematical Sciences in the College of Science. He believes teaching is truly an art and says: "If your passion isn't in it, it will show. When students know that you care about their progress—sometimes more than they do themselves—it results in their going the extra mile."
Shahmohamad is recipient of the 2009 Richard and Virginia Eisenhart Award for Excellence in Teaching, and as he firmly attests, "The greatest evaluations are not ones you get from people who got an A in your class, but someone who receives a grade of a C or D and they still think highly of you and regard you as a good teacher."
And yet, Shahmohamad has a tough job to sell to his learning constituents—who most likely wonder how courses in discrete mathematics, combinatories, rook polynomials and graph equivalence can help them in their daily lives.
"Life is about optimization, minimizing cost, maximizing revenue," Shahmohamad explains. "You need mathematics every day, even to buy a better box of cereal at the grocery store.
"Any math class can only make your CPU, the central process unit of your mind, function better. I tell my students, 'You are not the person who walked through the classroom door 10 weeks ago. You are a faster thinker because your CPU is not a Pentium 2 but a Pentium 3.'"
If that's the case, Shahmohamad is probably an advanced Pentium processor because he just earned another degree and will be graduating with an M.B.A. in management and leadership from RIT's E. Philip Saunders College of Business this May. He previously received his undergraduate and master's degrees in mathematics at California State University at Long Beach, and his doctorate in mathematics at the University of Pittsburgh.
In between, the Pittsford resident enjoys family life with his wife, Sahar, and their young son, Shayan. Born in Iran, Shahmohamad is fourth in line out of five children—resulting in a crisscross of four continents to visit family and friends.
"We travel a lot, from Canada to Mexico City, to my brother in Barcelona and another brother who is a pilot in Dubai, plus my parents who still live in Iran."
And yet, he never jogs or bikes along the canal—located a few yards from his home. "It's funny because people who live in Paris never go up to the Eiffel Tower and those who are in Toronto never go up to the CN Tower, and likewise I am not taking advantage of what's sitting right in front of me," he says with a laugh.
"But I find Rochester—this city by the bay, this city by the river, this city by the canal—a great place to live and raise a family. We spend half of our day at work—and my department, my college, RIT students, the whole institute is such a pleasant, pleasant experience. I come to work with a smile on my face and leave with a smile on my face."
Shahmohamad's mantra for continued success remains very simple: "Humor and humility: They are two great characteristics that get you far in life and it pleases others, too."