May 12, 2017
by Luke Auburn
Lea Vacca Michel earns the 2017 Edwina Award
Michel recognized for her work enhancing gender diversity and inclusiveness at RIT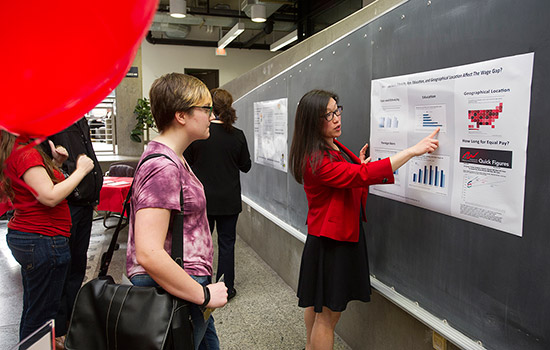 Lea Vacca Michel, associate professor in the School of Chemistry and Materials Science, received the 2017 Edwina Award at the Women's Career Achievement Dinner on April 24. This honor is given to a faculty or staff member for his/her significant contributions to enhance gender diversity and inclusiveness at Rochester Institute of Technology.
"I am especially honored to accept this award as it recognizes the work done by the entire team in the Women in Science (WISe) program," said Michel. "We have worked hard for the last seven years to develop great programs that have had a significant impact on women faculty and students."
Michel began teaching at RIT in 2009. She serves as chair of the WISe program, is an active member of RIT's Center for Advancing Science/Mathematics Teaching, Learning and Evaluation (CASTLE) and is the director of experiments for the Summer Math Applications in Science with Hands-on Experience for Girls, which gives entering eighth-graders a five-day focus on mathematical sciences on the RIT campus.
"In WISe, it is our priority to develop programs for everyone," said Michel. "We do outreach to K-12 students and develop programming for RIT students as well as faculty. We make an impact on all three of these groups. It is critical for RIT to retain our women faculty, so we have developed programs to help promote them into leadership positions. We host a wide array of events for our students, such as our annual graduate school bootcamp, which prepares them to apply for graduate school. We give out competitive travel awards to women students so that they can present their research at national meetings. Our group is very active on and off campus."
When asked to offer advice to others about steps they can take to help enhance gender diversity and inclusiveness, Michel said, "RIT has a lot of programming to promote diversity and inclusion, and we are going to have more and more. It might be intimidating for someone to participate in those types of events, but it is important for people to step out of their comfort zone and attend seminars and workshops. A lot of them are very useful. I am hardly an expert in diversity and inclusion—much of it is new to me—but the more we can go to these things with an open mind, the better we can become."
The Edwina Award is named for Edwina Hogodone, who had a 37-year career at RIT, beginning as an instructor in Sales, Personnel, and Advertising and ending as the first woman in the nation to be named as dean of a college of business. In addition, she was the first female dean of any college at RIT. She served as dean of the College of Business, now Saunders College of Business, from 1960 until her retirement in 1970 and presided over the development of the then-new MBA program at RIT.