RIT Graduate Student Recognized for Outstanding Research
Young Sam Yu named winner of Astronomical Society of New York award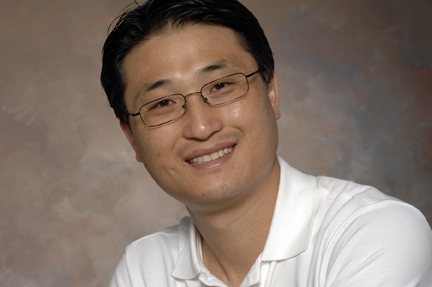 Young Sam Yu, a doctoral candidate in imaging science at Rochester Institute of Technology, recently won the Astronomical Society of New York Graduate Student award for his paper advancing knowledge of stellar evolution.
Yu is the lead author of "The X-ray Spectrum of a Planetary Nebula at High Resolution," published in the Astrophysical Journal in January 2009, which he delivered in part at the Astronomical Society of New York meeting hosted by RIT's Chester F. Carlson Center for Imaging Science in April. The paper presents results from a high-resolution X-ray observation designed to determine the interior compositions of a common class of photogenic dying stars that astronomers call "planetary nebulae".
"Using NASA's Chandra X-ray telescope, we detected the signature of very high carbon abundances in the X-ray spectrum—a rare 'guide' to the specific fusion products that lie within stars—and measured a range of temperatures, which will help theorists understand why dying stars emit X-rays in the first place," Yu says.
He will accept his award and $500 at the fall Astronomical Society meeting at Union College in Schenectady, where he will deliver his paper in its entirety. Yu, a resident of Daejeon, South Korea, anticipates completing his doctorate in September.
Yu's co-authors include Raanan Nordon, formerly of Technion-Israel Institute of Technology and now at the Max Planck Institute in Germany; Joel Kastner, RIT; John Houck, Massachusetts Institute of Technology; Ehud Behar, Technion-Israel Institute of Technology and NASA/Goddard Space Flight Center; and Noam Soker, Technion-Israel Institute of Technology.
Topics