December 5, 2022
by Luke Auburn
RIT Interim Dean André Hudson named one of the '50 Most Important African-Americans in Technology'
Hudson will be recognized in the December issue of the 'Journal of Black Innovation'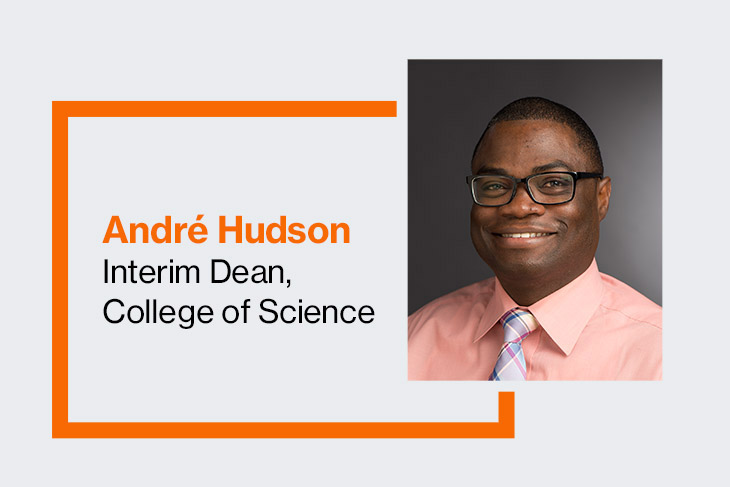 André Hudson, interim dean of Rochester Institute of Technology's College of Science, has been included in this year's list of the "50 Most Important African-Americans in Technology." The 22nd annual list will appear in the December 2022 issue of the Journal of Black Innovation.
The list highlights the "overlooked overachievers" among the 1 million African Americans in the STEM workforce and academia with exciting achievements during the past year. Selectees gather for Innovation&Equity22 on Jan. 15, 2023, in-person or virtually for the theme, "Economic and Scientific Priorities for the Biden-Harris administration, African Union and Caribbean Community."
Hudson joined RIT in 2008 and was appointed interim dean in August 2022. Before being appointed interim dean, he served as head of the Thomas H. Gosnell School of Life Sciences. He is trained as a biochemist and the major themes of his research are vested in enzymology and genomics. He is an author or co-author on more than 90 books, articles, and book chapters and has trained, mentored, and published with scholars ranging from the post-doctoral to the high-school levels. His lab has been funded by NIH, NSF, and several industry partners. He regularly serves as a panel review member for NIH, NSF, and USDA.
"I am honored to be included on a list with so many brilliant people," said Hudson. "Each year, this list illuminates incredible contributions by Black scientists, scholars, engineers, and innovators. I wish to congratulate everyone who has been selected as they continue to push their fields and vocations onward and upward."
The Journal of Black Innovation is the scholarly resource for the findings of Black scientists worldwide, publishing monthly since 2015. For more information about the publication and Innovation&Equity22, go to the Soul of Technology website.