February 22, 2021
by Luke Auburn
RIT retools its wastewater testing approach for the spring semester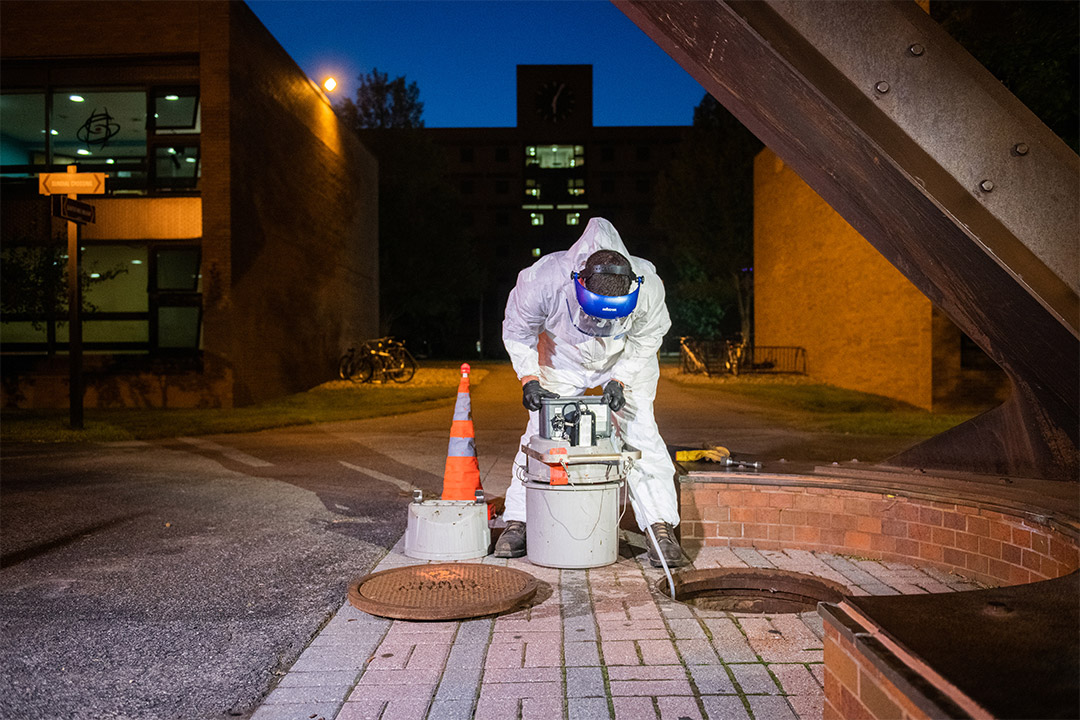 RIT is continuing to refine the way it monitors wastewater to assess the prevalence of coronavirus on campus.
This semester, RIT has become more strategic with its wastewater sampling, pulling from multiple manholes four times per week to give the university a view of the COVID-19 population levels on RIT's campus.
Officials say the unique approach to evaluating public health remains a crucial tool because it can provide an early indicator if the virus is spreading in a particular area since people infected with coronavirus shed the virus before they begin displaying symptoms.
"We're using all this information to get a better understanding of COVID-19 is in our population," said Jennifer Schneider, the Eugene H. Fram Chair of Applied Critical Thinking and a professor in the Department of Civil Engineering Technology, Environmental Management and Safety. "When you combine that data with the individualized testing we're doing, you can really get a sense of the health of our community."
Schneider, who spearheads RIT's wastewater testing initiative, said that RIT has worked with Monroe County and others in the region to develop the process and has weekly meetings with other local colleges and some as far away as Connecticut who are using wastewater for coronavirus testing.
So far, Schneider has been encouraged by the data they have received from wastewater testing. While she cautioned that it is not a scientific sample and that communities cannot be compared, she said that the viral RNA rates RIT has detected so far have been three to five times less than what she has seen other universities reporting on their dashboards. She called it proof RIT's diligence in the three W's does make a difference.
Schneider emphasized this would not have been possible with RIT's FMS professionals, especially Director of Building Operation and Maintenance Dave Harris and Project Manager Chris Furnare, who  shared operational data and helped with sample placement. With help from in-house mathematical modeling experts—Associate Professor Nathan Cahill from the School of Mathematical Sciences and Griffin Hurt, an applied mathematics student from Brimfield, Mass.—RIT calculated a baseline of coronavirus levels  in the wastewater during the first several weeks of the semester. The baseline and ongoing viral RNA rate will be shared in the coming weeks on the RIT COVID-19 spring semester dashboard.
As RIT and other early adopters of wastewater testing hone their approach, they are finding new uses for the technique. Schneider said there is work going on right now in the wastewater community to attempt to track the presence of more infectious variants such as those from the United Kingdom and South Africa. Other communities are thinking about using wastewater testing to understand how widespread vaccination has become. Schneider said wastewater testing also holds promise long after the coronavirus pandemic has passed because it can be used to detect other viruses.
"This wastewater signaling is brand new but holds a lot of promise for being able to understand infections in communities and populations," said Schneider. "In the longer term, you could see communities using this as one of the tools in their toolbox for public health. Places like RIT are kind of working our way through the proof of concept and determining what this data means to allow the wider communities to do that."