January 11, 2010
by Zach Myrow
RIT Showcases Medical Tools from Rochester General Hospital's Museum
Exhibit offers a glimpse into the history of medical norms, practices and tools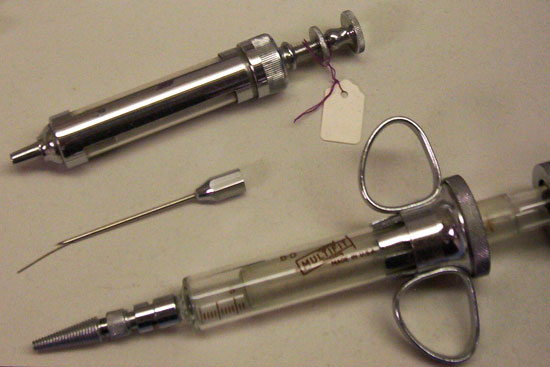 The history of the hypodermic needle might make you wince. The first hypodermic needles looked nothing like the thin, sleek syringes of today. They were long, thick, pointed metal that would terrify any patient lying in one of today's sterile operating rooms.
John Oliphant, clinical coordinator for the physician assistant program at Rochester Institute of Technology, worked with Robert Dixon, the Rochester Medical Museum archivist at Rochester General Hospital, to bring these needles and other historic medical tools to RIT.
Dixon has put together an exhibit of 36 distinct surgical tools, medical objects and pictures dating from 1860 that are currently on display in RIT's Center for Bioscience Education and Technology on the RIT campus. The medical tools are located on the first floor of the CBET building, and are open for the public to view.
Each example documents a time in the medical and scientific community when these tools were cutting edge. The hypodermic needles are particularly captivating as they shrink down in size through the years. "Some of the early needles look more like devices of torture than delicate medical instruments," says Oliphant.
Exhibit highlights include a brass Bausch & Lomb microscope from 1900, a comprehensive history of the development of the hypodermic needle, a portable scale used to measure medication during house calls, photographs of early surgeries and autopsies undertaken without masks or gloves and images of early medical technologists working in Rochester-area hospital labs.
The pieces are on loan from Rochester General Hospital's Rochester Medical Museum and Archives. Dixon was able to loan the collection to RIT because of the strategic alliance between RIT and Rochester General Health System. The exhibit is just one of the many initiatives the two organizations have launched as a result of the alliance that was announced a year ago.
"RIT and Rochester General Hospital hope to work together to honor our past while forging an exciting new future together," says Oliphant. "The great staff at the Rochester Medical Museum and Archives is committed to maintaining this relationship and helping us put together different displays in the future."
About the alliance
Under the umbrella of a new strategic alliance, RIT is Rochester General Health System's official academic affiliate and RGHS is the university's official affiliated medical center.
As technology continues to transform biomedical science, academic areas like computing and information sciences and digital imaging offer increasing relevance to future advancements in medicine. RIT and RGHS are collaborating on education and research programs in these and other key areas–a collaboration that includes mutual access to each institution's expertise and facilities.
To learn more about the RGHS–RIT alliance, visit the Rochester Regional Health/ RIT website.