RIT student Olivia Young receives prestigious NSF Graduate Research Fellowship
Astrophysical sciences and technology Ph.D. student to develop technology for radio telescopes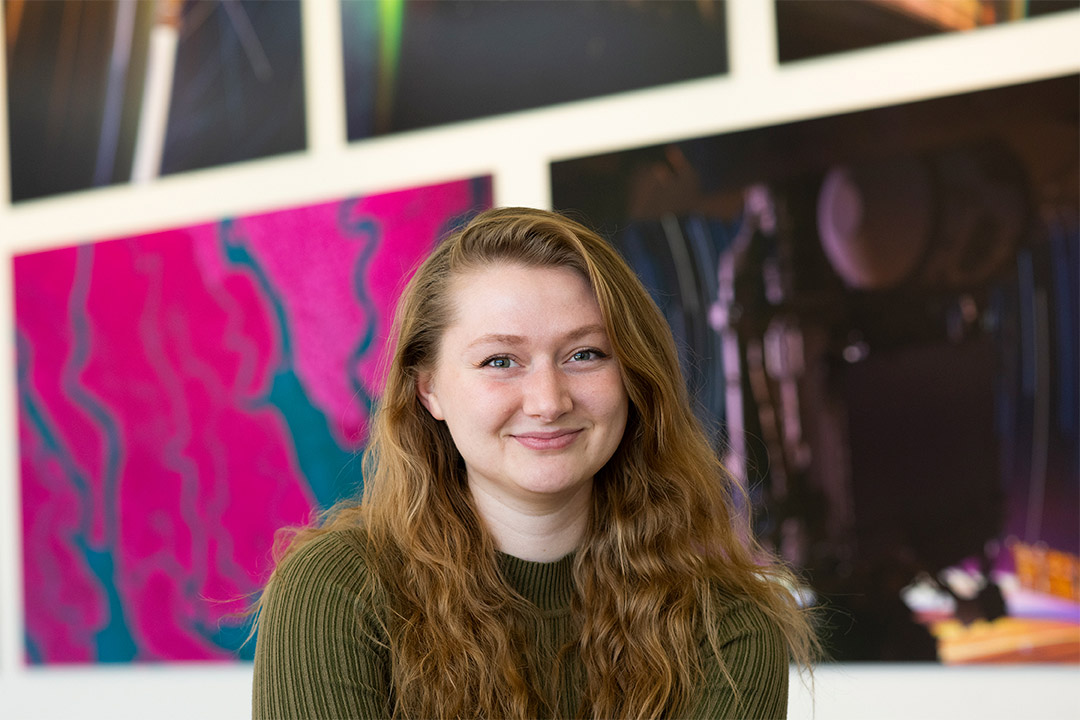 A Rochester Institute of Technology student earned a competitive fellowship from the National Science Foundation to develop machine learning algorithms that will help scientists use radio telescopes to study transient objects such as pulsars and fast radio bursts. Astrophysical sciences and technology Ph.D. student Olivia Young received an NSF Graduate Research Fellowship.
The NSF Graduate Research Fellowship Program recognizes and supports outstanding graduate students in science, technology, engineering, and math (STEM) disciplines who are pursuing research-based master's and doctoral degrees at accredited U.S. institutions. The five-year fellowship includes three years of financial support including an annual stipend of $34,000 and a cost of education allowance of $12,000 to the institution.
The next generation of radio telescopes, such as the Long Wavelength Array (LWA), will consist of giant arrays of telescopes and provide improved sensitivity, resolution, and affordability when compared to traditional large, single dish telescopes. But these advanced telescopes are more computationally demanding, so Young will develop a real-time machine learning algorithm that can use the field programmable gate arrays (FPGAs) and graphics processing units (GPUs) on the LWA to better hunt for transients.
"Using the FPGAs and GPUs already on the telescope allows us to use resources we already have to try to detect things more efficiently and have better power usage," said Young. "It's really important to use these telescopes' resources wisely, and we will be able to accomplish that with some incredible data processing techniques using cutting edge technology."
Young hails from Short Gap, W.Va., and first became interested in astrophysics in high school when she attended an outreach program at Green Bank Observatory, home to the world's premier single-dish radio telescope. She said receiving the fellowship provides her the opportunity to become an expert in telescope hardware, which she hopes will propel her to a career at an observatory such as the Green Bank Observatory.
Young credited her advisor, Assistant Professor Michael Lam from the School of Physics and Astronomy, and her other professors from the College of Science for providing her the support and advice to secure the prestigious fellowship. She said she has had tremendous support and encouragement from peers and faculty members across her academic journey, from her undergraduate studies at Potomac State College and West Virginia University to her time as a graduate student at RIT.
"I am standing on the shoulders of giants and so many people from my past have led me to where I am today," said Young. "It's really important not only to have support from your mentor but the whole institution in general. I'm very fortunate to have the people around me at RIT."
To learn more information about the fellowship, go to the NSF website.
Topics