Two faculty members installed as Harris Endowed Professors in RIT's College of Science
Christopher Collison and Emmett Ientilucci were appointed during a ceremony Sept. 6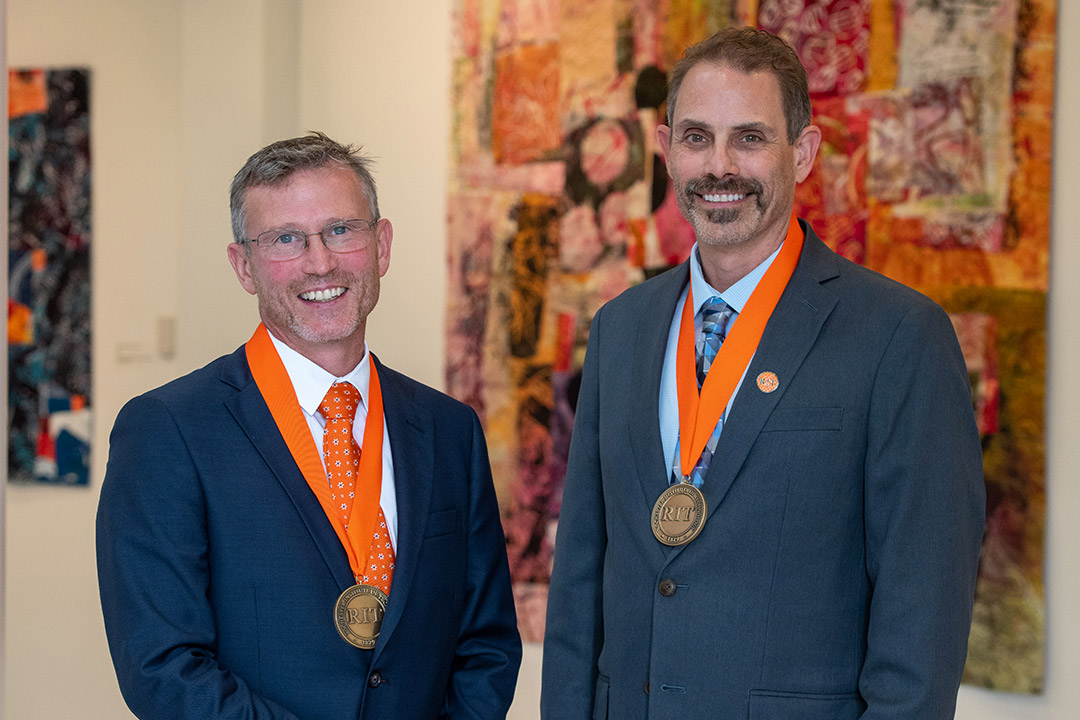 The inaugural Harris Endowed Professorships in Rochester Institute of Technology's College of Science were announced Sept. 6 at an installation ceremony at RIT's University Gallery.
Christopher Collison was appointed to the Jane King Harris Endowed Professorship and Emmett Ientilucci was selected for the Gerald W. Harris Endowed Professorship by College of Science Dean André Hudson.
"One single professor can touch hundreds of lives over the course of their time here at RIT," said Hudson. "We want to support and retain award-winning teaching and research faculty, and these first two endowments are a big step in assuring that RIT remains at the forefront of two key areas: imaging science and chemistry and materials science."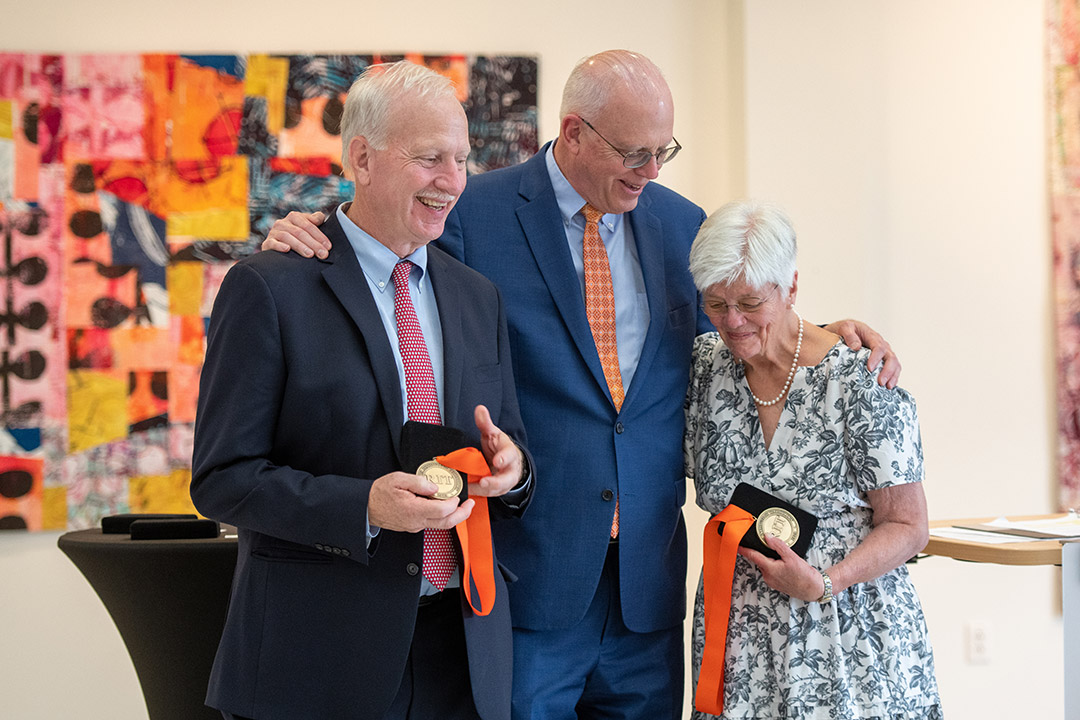 Carlos Ortiz/RIT
RIT alumnus Jeffrey Harris '75 (photographic science and instrumentation) and his partner, Joyce Pratt, established the professorships in 2022 with a generous gift in honor of Harris's parents, the namesakes of the positions. Harris is a College of Science Distinguished Alumnus, an RIT Outstanding Alumnus, and current chair of the RIT Board of Trustees. Pratt is a member of the College of Liberal Arts National Council.
"We have seen firsthand that there is a close relationship between spirited faculty and high-achieving students," said Harris. "These professorships can help RIT attract and retain world-class faculty that extend and reaffirm learning outcomes for undergraduate and graduate students in the classroom and in research. We are proud to install Chris and Emmett into these professorships."
The Harris Endowed Professorships are the first of 10 endowed positions that are part of Transforming RIT: The Campaign for Greatness, the university's $1 billion blended fundraising campaign that successfully concluded on June 30, 2023.
"It's fitting that this inaugural ceremony should highlight endowed professorships funded by Board Chair Jeff Harris," said Phil Castleberry, vice president of University Advancement. "Both Jeff and Joyce exemplify leadership in so many ways, and their investment in ensuring RIT has the highest quality faculty is reflected in the scholarship of professors Collison and Ientilucci."
Collison is a professor in the School of Chemistry and Materials Science and is a passionate and experienced researcher in AI-driven materials chemistry and renewable energy. Since he came to RIT nearly 20 years ago, he has secured more than $1.2 million in funding as a principal investigator. He specializes in organic photovoltaic devices, nanomorphology, photoactive materials, photochemistry, computational modeling, and commercialization.
"I am deeply honored to accept the Harris Endowed Professorship," said Collison. "With the support and resources accompanying this professorship, I am excited to build collaborations both within and outside of RIT to ensure our curriculum remains at the forefront of innovation."
Ientilucci is an associate professor and graduate admissions chair in the Chester F. Carlson Center for Imaging Science. He works within the Digital Imaging and Remote Sensing (DIRS) group and received the Richard and Virginia Eisenhart Provost's Award for Excellence in Teaching for 2020-21. Ientilucci's research interests include general remote sensing, spectral imaging procession and exploitation, hyperspectral target detection, shadow detection, radiative transfer, radiometric calibration, and hardware and atmospheric compensation, which has resulted in more than 90 publications in the field.
"This is humbling to have been chosen among so many accomplished scholars in the College of Science," said Ientilucci. "I am extremely excited to receive the Gerald W. Harris Endowed Professorship and to use it to make a difference in my career and the future careers of my students."
The appointment of the two endowed professorships will contribute to the mission of the college by strengthening and growing research in strategic areas.
Topics