Alumnus Creates Mask that Provides Defense and Offense Against Coronavirus
March 1, 2021
Ken Reed '71 (chemistry)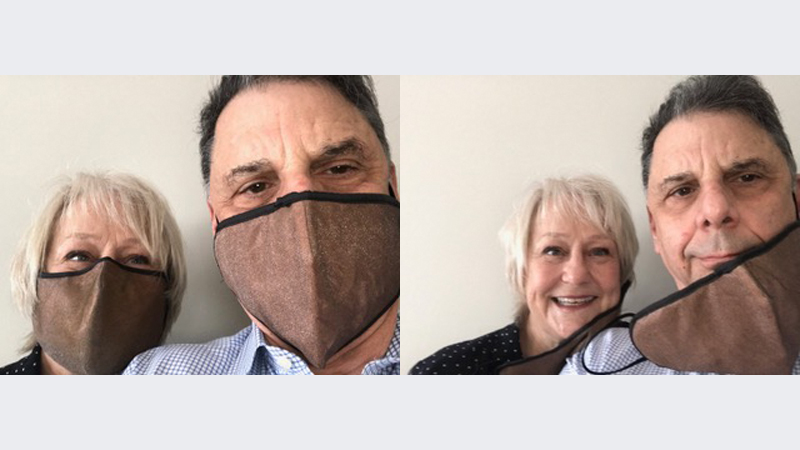 The COVID-19 pandemic has physically and emotionally challenged all of us. To make a contribution to containing and eradicating this virus, Shirley Reed and her husband Ken '71 (chemistry BS) decided to use their talents to construct a face mask that kills bacteria and viruses instead of merely trapping them.
The pandemic has made mask-wearing common in the United States. It's one of the most effective ways to block virus particles from leaving one person's nose and mouth and entering another person's eyes, nose, or mouth. But where do the virus particles go? As the Centers for Disease Control and Prevention point out in How to Wear Masks, it's important to handle the mask by the straps ONLY, not touching the outside or inside of the mask after wearing it. That's because the virus particles are trapped on the mask. As Ken Reed describes it, "Masks are like personalized Petri dishes."
Making a mask that would kill viruses rather than keep them didn't happen overnight. After two earlier models were developed, Shirley and Ken landed on a four-layer mask. Using Shirley's knowledge of fabrics and sewing techniques and Ken's chemistry and materials science background, they were able to create something truly unique. The mask has two outer layers made of silver-infused cotton; one inner layer made of a pure copper mesh; and the final layer made of a 300nm polymer allergen screen. The state-of-the-art face mask protects both the wearer and nearby individuals against COVID-19, rapidly destroys pathogens on the surface, is reusable and comfortable to wear.

Preliminary anti-viral tests were performed by RIT associate professor and virologist, Dr. Maureen Ferran. She tested the copper mesh by adding a droplet of a test virus to it. Ferran noted that the droplet sample is extremely concentrated and that such high amounts of virus is not likely to be found during everyday mask use. Even so, no infectious virus remained after 4 hours of exposure to the copper mesh, indicating that the copper is definitely antiviral. She also tested the cotton layer that contains silver to prevent bacterial growth. No bacteria grew, indicating that the silver in the cotton fabric prevented growth. The copper mesh showed no growth under any condition, indicating that it's both antiviral and antibacterial.
"It was wonderful to be a part of this study because it was directly relevant to the current pandemic," said Dr. Ferran. "I must admit I was really surprised when I found that no virus survived exposure to the copper mesh after 4 hours of exposure."
The wearer doesn't have to do anything, either. The mask materials killed the virus on their own. They are intended for daily use, include labels for individuals to write their names and start date, and can be used for several months if properly cared for. The masks can be cleaned by using isopropyl alcohol wipes, hand-washing in gentle detergent, or with UV-C light.
To date, the Reeds have donated nearly 200 test masks to first responders, local hospital staff, Rochester Regional Health physicians, and Ken's family, students, and colleagues. They are now looking for RIT entrepreneurs who would like to take on the business challenge of marketing, making, and selling these masks more widely. The Reeds are also contemplating future innovations to the mask, including temperature sensing via thermochromic materials on the mask front.
Ken Reed received a BS in chemistry from RIT's College of Science in 1971. After receiving a Ph.D. degree in physical chemistry from Stanford University in 1975, he joined Eastman Kodak Co.'s research laboratories. His 30-year career focused on reaction chemistry and precipitation of nano-particles and microemulsions, resulting in 24 patents and induction into the Kodak Distinguished Inventors Galley. After Kodak, Reed went on to found four Rochester-based materials science companies. Today he is an RIT Visiting Research Scholar and teaches an RIT Special Topics Course called The Entrepreneurial Scientist. His published technical articles have made him one of the most highly-cited RIT scientists in the last five years. The Rochester Chapter of the American Chemical Society selected Reed as its 2017 Entrepreneur of the Year.
Shirley Reed met Ken in high school, later marrying in 1966 and having two daughters. Shirley was the RIT Women's Council President from 2002-2005 and is a former member of the RIT Board of Trustees.
---