Astrophysics Ph.D. Research: How Galaxies Form and Evolve
February 2, 2023
Brittany Vanderhoof (astrophysical sciences and technology)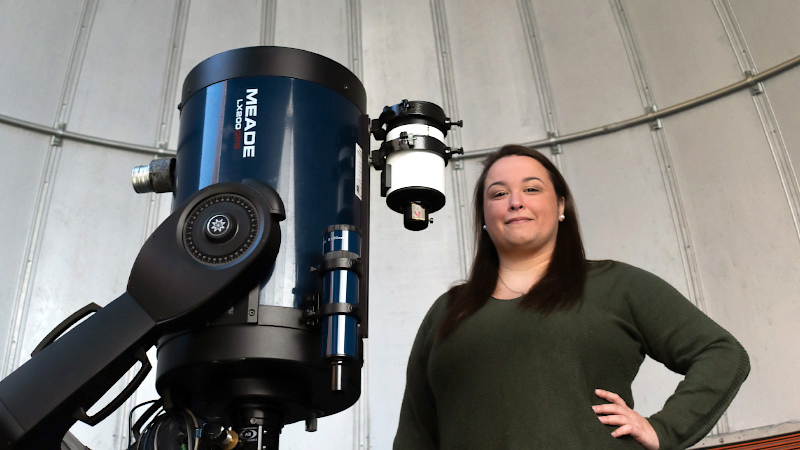 As an emerging astrophysicist, RIT student Brittany Vanderhoof had specific requirements in mind when looking for Ph.D. programs. She wanted to work with an advisor who studies galaxy evolution and is passionate about supporting underrepresented groups in STEM. She discovered both qualities in Dr. Jeyhan Kartaltepe, associate professor in RIT's Astrophysical Sciences and Technology Ph.D. program. Today, Brittany is working with Dr. Kartaltepe to research the role galaxy mergers play in the formation of stars.
As she reflects on her childhood, Brittany said she's always been a scientist. "It was instilled in me when my grandmother would take me outside near her Florida home and point out all the interesting things in nature. She taught me to respect nature while encouraging me to ask questions. This helped me view the world like a scientist: always observing, wondering, and questioning."
Fast forward through an undergraduate career in STEM to when Brittany was browsing for graduate programs. The Astrophysical Sciences and Technology (AST) program at RIT caught her eye because of the diversity of research happening in the program. The program offers tracks in astrophysics (including observational and theoretical astrophysics), computational and gravitational astrophysics (including numerical relativity and gravitational wave astronomy), and astronomical technology (including detector and instrumentation research and development). In addition to research options, the program also offered community. "During my visit, I had the opportunity to engage with AST graduate students and found they were like a tight-knit family who supported one another. All these factors made me feel like I could call RIT home, pursue my research goals, grow my outreach, and receive peer support."
Even though Brittany already had a clear idea of her career path before starting the AST program, RIT allowed her to explore the possibilities in the astrophysics field. "This is important in all STEM fields since many specializations are connected, so learning as much as you can about different fields helps solidify your understanding and the importance of your work."
Today, Brittany is working with the Galaxy Evolution Group at RIT, investigating numerous questions about our cosmic origins. How are galaxies formed and evolved? What drives star formation and subsequent quenching in galaxies? What fuels the growth of their supermassive black holes? The group uses observational facilities across the entire spectrum, including the Keck telescopes in Hawaii, the Gemini telescopes in Hawaii and Chile, the Atacama Large Millimeter Array in Chile, and space telescopes such as Hubble and the James Webb Space Telescope.
"During my research, I've had the opportunity to travel to places like Hawaii to work on telescopes and collect data. This past summer, I shared my recent research work at a conference in Paris!"
Brittany is the lead scientist studying the role mergers play in a specific type of galaxy called 'starburst galaxies.' They are called this because of the enhanced star formation observed as a result of two or more galaxies colliding. "When galaxies collide, there is a massive exchange of energy and gas which can result in huge bursts of star formation. If you take all the galaxies currently making stars in the Universe, organize them by size, and how many stars they are making, most follow a similar trend. However, approximately 10% of these galaxies make more stars than you would expect based on similar-sized galaxies. My project is to gain insight into what processes could be happening for these galaxies to have ramped up star formation."
When asked what she learned from her research, Brittany replied, "I have learned so much about who I am, and that's probably the biggest surprise. I've learned how I behave under the pressure of deadlines while having other responsibilities. When things get crazy, like during a global pandemic, I discover how much I can handle at once. Also, I realized how important it is to me to do my best while supporting my peers in their success. All these things taught me I can do big things just by doing something I am passionate about." Brittany also credits her advisor, Dr. Kartaltepe, for teaching her how to shape questions and what she needs to know about the methods to answer them. Asking the right questions is crucial in scientific research.
For students who are interested in pursuing this field, Brittany said, "If you're interested in astrophysics, there are ways you can start dipping your toes in to see how you like it. Visit a local observatory or planetarium since they have special programs or events to learn more about current work in astrophysics. You can also look online for resources like citizen science projects where you do actual research on extensive data to help astrophysical researchers. Even our AST students at RIT have helped run some of these citizen science projects."
Brittany shared some final words of advice with other students. "If you're interested in a particular career or STEM job, and anyone along the way tells you that you can't, or it's not for you. Find a new mentor or teacher to help guide you, don't let anyone tell you not to pursue your passion."
---