Biology Without Walls: An Immersive Learning Experience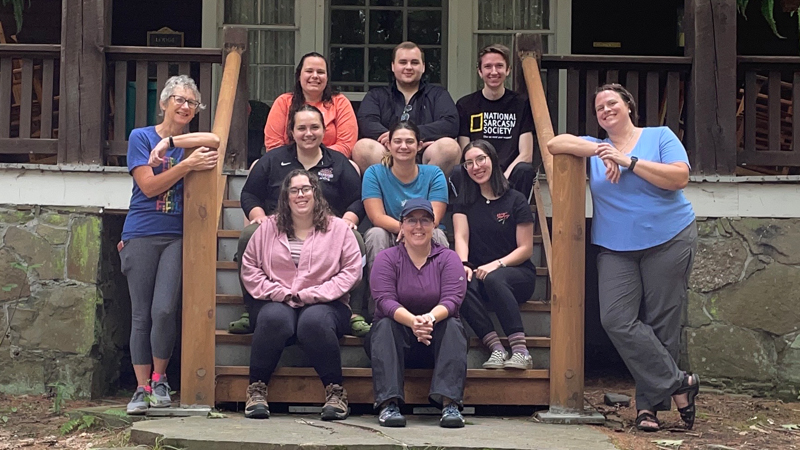 Lacawac: Biology Without Walls is an immersive field course that goes beyond the traditional lecture, lab, and field structure by combining all three. The course lives up to its name by allowing students to investigate the living world outside the conventional classroom. At the same time, it provides faculty a chance to give students a truly immersive learning environment.
Since the students have dedicated time in a remote setting, it gives them the mental space to explore and investigate their surroundings while uncovering new research possibilities. They develop a unique skill set for collecting and analyzing various types of data that they may not have obtained from their other coursework.
"Overall, I enjoyed the trip to Lacawac. I was able to experience new things, such as riding in a rowboat to collect specimens and going on nature walks with people who share similar interests as me. It made for some of the best scientific discussions I have ever had! I am extremely thankful for the connections this trip helped me make with my students and professors," shared Erika Doroshenko, a fourth-year biology student.
Biology Without Walls pushes students to explore their natural curiosity about the sciences and design their semester-long field studies. Students compared the two field site ecosystems within the Lacawac Sanctuary (glaciated freshwater or terrestrial) and those in the Rochester region (RIT Campus and Mendon Ponds) during the fall semester.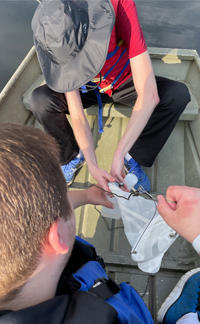 Chris Caldwell, a fourth-year biology student, said, "One of the many things I enjoyed learning about was the different data collection techniques for the water and invertebrate samples from the lake. I also enjoyed socializing with the professors and other students in between tasks or explorations."
Fall semester projects included ecotoxicology studies in zooplankton, assessing differences in soil composition, and identifying lichen growth patterns. While completing the semester's projects, the students came to understand the need for interdisciplinary approaches to scientific investigation as many aspects of their studies required building new skills in areas outside life sciences.
As the Fall semester ended, the Biology Without Walls students continued to network by proudly presenting their research findings to various scientific community members, including their life sciences peers and faculty, and stakeholders of the Lacawac Sanctuary, as part of the Georgia Gosnell Seminar Series.

"The Biology Without Walls course at Lacawac is not only a positive experience for the students but allows faculty to dive into immersive learning with the students in ways they are not able to in 75-minute lectures. Being in a remote setting, surrounded by nature, not only are the participants under different physical challenges than a typical day in the halls of Gosnell, but they are also mentally free to think about all of the exploration, investigation, and research possibilities. It is mentally rejuvenating!" said Dr. Sandi Connelly.
Students interested in this off-campus field experience can contact Dr. Sandi Connelly, Dr. Dawn Carter, and Michelle Weatherell in the Thomas H. Gosnell School of Life Sciences.
About RIT's Thomas H. Gosnell School of Life Sciences
RIT is the place where biology meets technology. From the start, our students work in the lab, build skills in the field, and gain real-world experience that sets them apart from their peers after graduation. Our faculty focus on the students and involve them in their research. Biology at other schools may be considered traditional, but at RIT it's anything but. Explore the organic universe from DNA to global systems in a supportive academic environment at the Thomas H. Gosnell School of Life Sciences.
Our biology students have many opportunities to gain hands-on experience in industry, academia, or research settings prior to graduation. With extensive research and technology training, our students are competitive applicants for co-op positions. Recent biology students have completed co-ops at places like Cornell University and Regeneron Pharmaceuticals, some landing paid employment with the same organizations after graduation.
---