From Human Pathogens to Hemp: How Research Helped Ali Find Her Path
February 22, 2021
Ali Cala '17 (biology)
Faculty: Andre Hudson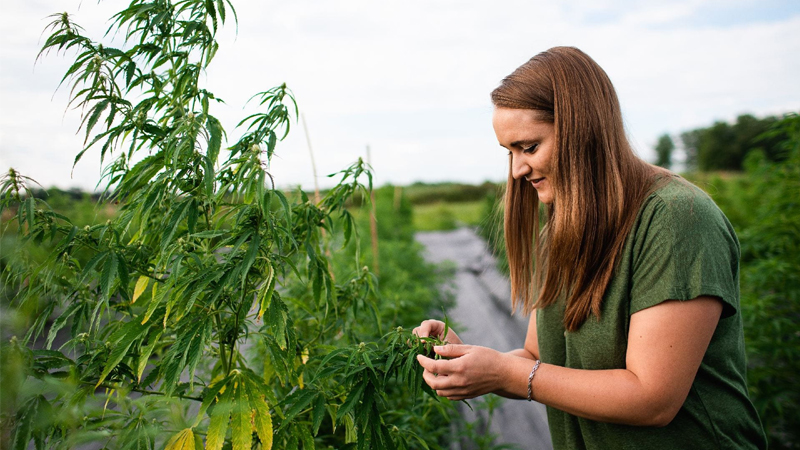 Ali Cala '17 didn't start her college career studying plant pathology. She wanted to be a microbiologist working on human pathogens or environmental microbes. She chose RIT in part because of the research opportunities in the biology program and, interestingly, it was a research experience that helped her discover her love of plants.
Biology encompasses all of the processes and patterns that characterize living cells, organisms, and ecosystems. RIT's program is a comparative exploration of plant, animal and human biology. Because of this, it's easy - and common - for students to discover new passions in other areas of biology. This comprehensive approach also strengthens students' awareness of the resources available in the living world to solve biological problems for all organisms.
Ali was active during her years at RIT. She started the BioTech student club and spent a summer in Australia working on a marine ecology project. These experiences gave her the contacts and the confidence to continue exploring. After having classes with Dr. André Hudson, she reached out about opportunities to do research in his lab. Ali was able to work on an enzyme with potential use in the development of antibiotics and, as an undergraduate, co-authored a paper published in the peer-reviewed journal, Acta Crystallographica.
"We were able to have a lot of lab experience in the classroom that I think aren't necessarily available to undergraduates at other universities. We don't have graduate students in the biology programs, so undergraduates are the ones primarily leading the research projects, rather than working under a graduate student," said Ali.
Building on her research experience in the classroom, Ali applied for and was selected to complete an REU, or a Research Experiences for Undergraduates opportunity at Cornell University. The 10-week long experience brought her into the plant pathology realm and she hasn't looked back. She got to know her Principal Investigator (or "PI") that summer, learning about the PI's research and mentoring style, in addition to conducting research. All of it led Ali to apply to the Plant Pathology & Plant-Microbe Biology Ph.D. program at Cornell University.
Today Ali is a Ph.D. candidate researching hemp in the same lab where she worked during her REU. Hemp is a new industry in New York State and Ali says she felt prepared to dive into the work, "It's been a lot of fun as well as a challenge to learn everything about this field as it emerges."
When asked what advice she had for students interested in the biology programs in the College of Science at RIT, she reflected on the opportunity to do different things at RIT and figure out what she loved, "Reach out to faculty members and get into research early on. If you don't know who to ask or who is doing research, ask your professor or join the Biotech club and ask older members. Also, take more bioinformatics courses than you think you'll need to take! No matter where you end up, you'll likely do some level of bioinformatics."
About RIT's Biology Programs in the College of Science
RIT is the place where biology meets technology. From the start, our students work in the lab, build skills in the field, and gain real-world experience that sets them apart from their peers after graduation. Our faculty focus on the students and involve them in their research. Biology at other schools may be considered traditional, but at RIT it's anything but. Explore the biology, biotechnology and molecular bioscience, and bioinformatics and computational biology programs at the Thomas H. Gosnell School of Life Sciences.
Photo: Cornell AgriTech
---