Performing on Stage and in the Lab at RIT
February 3, 2022
Amyria Kimble '24 (chemistry)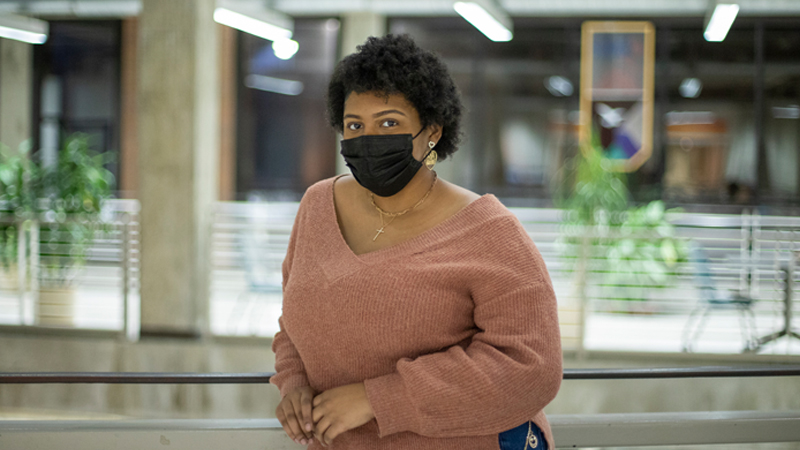 Amyria Kimble '24 (chemistry) was always interested in science and often found herself asking why? Why did this happen, or why did that happen? She also loved the arts and has been performing since she was four years old. Amyria understands that scientists and performing artists use the same skills to bring their ideas to life, so it's no surprise that she took the initiative to form the Pandemic Step Team, the first-ever step club at RIT.
"Science requires you to pay attention to details to make the big picture flourish. With science, you can imagine anything and make it come to life in the lab. The same applies to performing arts. Performers use the same critical-thinking skills that scientists use to imagine and create something magnificent on stage."
Amyria took chemistry for the first time in high school and enjoyed it. After she attended a summer program at RIT and felt welcomed by the professors in the School of Chemistry and Materials Science, she made her decision to enroll.
"For the most part, I've had an excellent experience. The faculty are truly here to help you succeed in your education. They are all so understanding and supporting."
Before RIT, Amyria attended the Mississippi School of Math and Science (MSMS). She discovered the world of stepping after joining a team. She loved stepping so much that she created an all-star step team at MSMS. When Amyria arrived at RIT, she brought her love of dance, but she quickly noticed that many students and faculty had no idea what stepping was when she talked about it.
"Step culture isn't as big in the north as it is in the south. There were a few students who had previously been on a step team and missed it just as much as I did, so when I mentioned starting a club, they were all on board."
Amyria credits her sponsor, Dr. Christopher Petit, director for RIT Singers, as the most supportive in starting the step team even though he wasn't familiar with stepping. "Dr. Petit had no idea what step was but loved the diversity and the fact that I was trying to bring something new to RIT, so he was excited to be a part of it."
Amyria describes the science and performing arts community on campus as very similar and attributes her involvement in performing arts to helping her succeed in science. Amyria also noted that many of the students she knows in performing arts are science majors.
"Through performing, choreographing, and arranging music, my problem-solving skills have improved. Performing allows me to think outside the box in ways I didn't before. I can carry that knowledge over into the classroom to solve problems. I'm that person in class who hardly ever solves the problem exactly how the professor teaches it, and that allows me to make connections to other topics by getting a greater understanding of the concepts."
When asked what she would tell other science students interested in performing arts, Amyria replied, "Scientists are performers. The lab is our stage. If you enjoy experimenting, watching your creativity come to life through science, meeting new people, and would like to try something new, then I recommend performing arts. It allows you to get out of the classroom or lab and interact with all kinds of people while still allowing you to stimulate your brain and create wonderful masterpieces."
After graduation, Amyria plans on attending medical school to become an orthopedic surgeon. She also plans to open a clinic one day and start a program to encourage children to enter the medical field. She might even teach them how to step too!
About the RIT Pandemic Step Team
Stepping is a percussive, highly energetic art form where the body becomes an instrument using footsteps, claps, and spoken word to produce complex poly-rhythms. The Pandemic Step Team is established to demonstrate and build school spirit through the performing art of stepping; to build unity among its members and the RIT Community through stepping; to perform service activities in the community in the name of RIT; and to host social, cultural, and professional events for the RIT Community.
The team is open to all who are interested. No experience is necessary. For students who want to join the team, send a DM through Instagram @rit.pandemic or email rit.pandemic.step@gmail.com.
---