RIT Alum Uses Math for NBA Analytics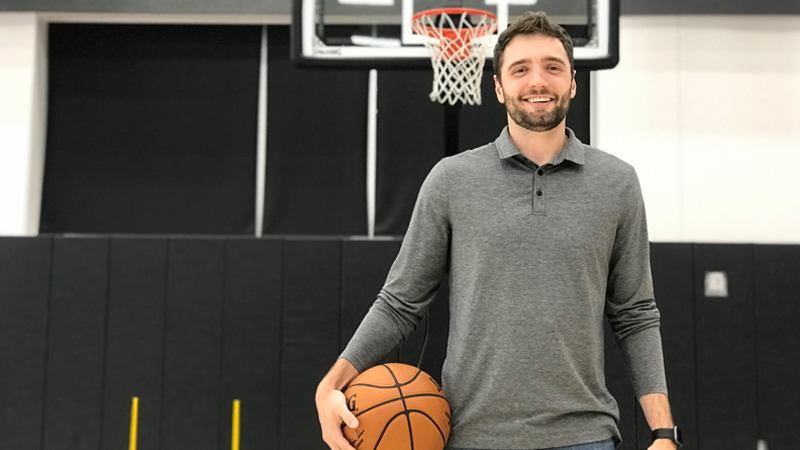 "Anytime you have a master's degree in mathematics, it will definitely catch the eye of anyone looking at your resume."
When he graduated from SUNY Geneseo with a degree in mathematics, Calvin Floyd '17 wasn't sure what his next step would be, but he knew it would involve math. He enrolled in RIT's Applied & Computational Mathematics MS program, hoping for more experience in statistics and data analysis. He graduated with internships in the sports industry and a leg up on his competition. Today he analyzes player and team data for the Sacramento Kings.
Although he was a good student in undergrad, Calvin recognized the challenging nature of his graduate program. Studying math at a strong technical school like RIT forced Calvin to focus and get down to work tackling material that he wasn't exposed to in the past. As a result, his problem-solving skills and work ethic improved. Calvin also completed two internships during his time at RIT.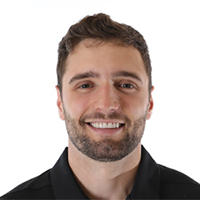 Working as a Data Analyst Intern for the United States Tennis Association, Calvin generated data visualizations using Tableau and Python to describe players' different playing styles. He also analyzed large amounts of Spatio-temporal player-tracking data using Python and MySQL. The following summer, Calvin began an internship with the Sacramento Kings, where he provided similar visualizations, armed coaches with various advanced statistics and lineup information, and applied machine-learning algorithms to basketball statistics to project future player performance. Calvin was hired full-time with the Sacramento Kings the year after he completed his master's degree.
"Every week is different with new basketball questions always arising."
As a basketball operations analyst, Calvin prepares coaches and the rest of the front office with analytical insights on teams and players in addition to typical analytics department responsibilities. New basketball questions arise every week, pushing him to scrape, clean, analyze, visualize and report out on the data. Calvin's ability to perform these steps well and make his work easy to understand is what provides value to his team.
To succeed as a basketball operations analyst, Calvin recommends that people code in Python or R. This technical skill is one of the most important items to master. It's also critical that you have strong problem-solving skills because of the sheer amount of problems thrown at analysts daily. Calvin also suggests future analysts maintain a healthy dose of humility. Knowing when you are wrong or don't know something is better than using an unvetted answer.
"Once you're in, the skills you developed at RIT will help you the rest of the way!"
Getting your foot in the door with an NBA team is difficult. Everyone in Calvin's department has at least a handful of rejections from other sports teams, including Calvin himself! Although these types of jobs are hard to come by, Calvin encourages others to work hard and try not to get discouraged. Some of his peers have degrees in statistics or engineering, but what matters most is proving that you can handle the workload of an NBA analytics department. Try and answer a sports data question you find interesting using your technical, problem-solving, and communication skills. As long as you keep working on those skills, you'll put yourself in the best position to succeed. In the summer of 2021, Calvin was promoted to senior data scientist with the Sacramento Kings.
---