From an RIT Student to a Leading Biotech Professional in Analytics
March 11, 2022
Archana Pandey '06 (chemistry)
Faculty: Paul Craig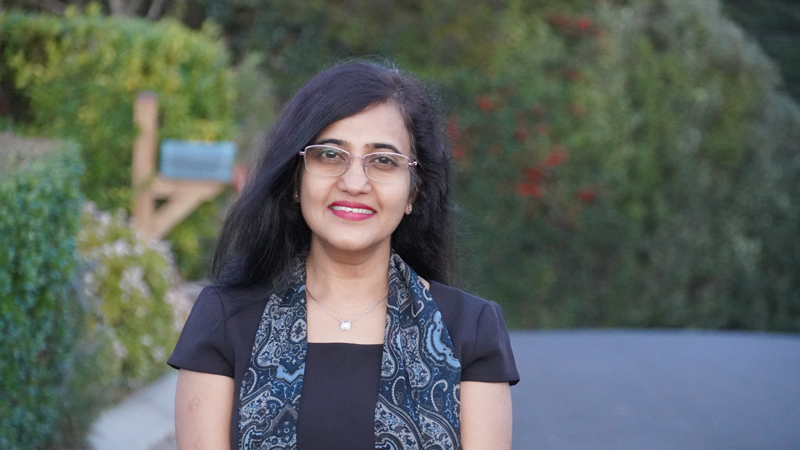 After completing her MS degree in India, Archana Pandey '06 had worked briefly at Biocon, India's largest biopharmaceutical company, before moving to the U.S. with her husband. Despite her prior academic credentials and work experience, it was challenging to find a job in the U.S. because companies were not familiar with her degrees from India. The opportunity to attend RIT gave Archana the credential she needed, and the technical training, community support, and inspiration to start her career anew. Today, Archana is the Associate Director of Analytics at Purissima.
Chemistry professionals work in a wide range of industries, often contributing to a company's research and development activities. Purissima describes itself as the "next-generation natural ingredient company" and uses native microorganisms to produce health and wellness products. Archana's department supports product development from strain engineering through fermentation and the final downstream product.
As the Associate Director, Analytics, Archana provides leadership and direction for all analytical chemistry functions within Research and Development. The work entails various responsibilities ranging from supporting routine work to new assay development and technology transfer for the scale-up process in a commercial lab.
Archana's day-to-day work as an analytical professional includes developing screening and fermentation protocols to evaluate strain performance, working as a bench scientist, operating and troubleshooting advanced analytical instrumentation, and communicating high quality data to team and business stakeholders. To be successful in this work, she recommends experience in analytical method development and validation, proficiency with analytical instrumentation, and knowledge of separation techniques including chromatography and mass spectrometry.
"This is where my interest in analytics really started."
Archana developed her expertise in analytical chemistry during her time in the Chemistry MS program at RIT. She had an opportunity to work on analytical instruments like high performance liquid chromatography (HPLC), gas chromatography mass spectrometry (GCMS) and ESI-Q-TOF LCMS as a part of her classes and her research work. Operating these devices provided her with practical working knowledge of the instruments and experience with troubleshooting. Working with her advisors, she had the opportunity to pursue research, troubleshoot issues, and think outside the box.
Dr. Paul Craig and Dr. Laura Tubbs were Archana's primary advisors. They helped her work on research and technical skills while also supporting her transition to living and working in the U.S. The faculty helped Archana improve her presentation skills, including practice with the western pronunciation of common words in her field.
"The institute gave me the self-confidence to discover myself, know who I am, what I want to do and where I want to go." According to Archana, students interested in analytical chemistry work should make sure they have strong fundamental skills. Although students will continue learning on the job, it's important to know your capabilities and show a passion for exploring. Archana also recommends that students take advantage of the RIT Office of Career Services and Cooperative Education. It's a great way for students to become aware of market opportunities in their careers and plan for the future.
---