From Student Support to Student Success in Chemistry MS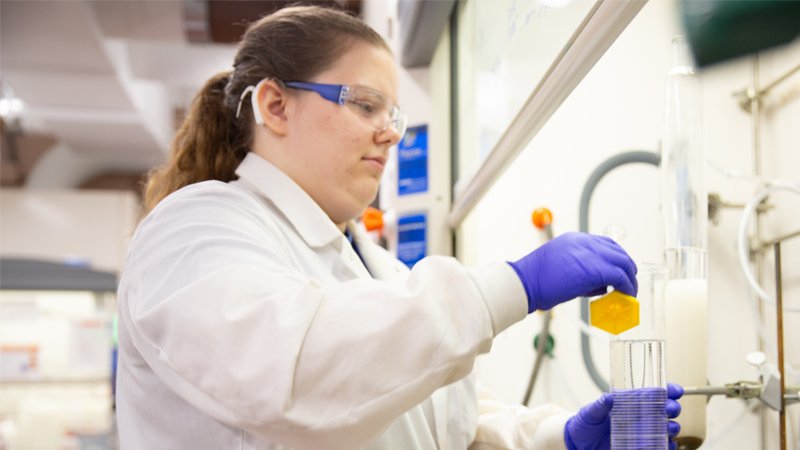 Kaitlyn Clark '22 (chemistry) didn't know about RIT until her junior year in high school. After visiting campus, Kaitlyn felt like it wasn't a good fit, but she applied anyway and was accepted. After weighing all her options, she chose RIT for its access services and support for deaf and hard-of-hearing students. With the support from multiple faculty members, she discovered chemistry and is now an MS graduate.
Kaitlyn began as an applied mathematics major, but just three weeks into her first semester, she realized math wasn't for her and switched to university studies. She was considering biomedical science or physics, so Kaitlyn signed up for general chemistry since both majors required it. While she enjoyed the class, she needed some help in chemistry, so Kaitlyn signed up for tutoring and met with Karen Tobin, senior lecturer at RIT National Technical Institute for the Deaf (NTID).
"I met with Karen Tobin every week for tutoring, and she kept telling me there's no way you're not changing your major to chemistry. You enjoy the class, and you quickly pick up on the concepts. Why wouldn't you be a chemistry major?"
Kaitlyn was still undecided about changing her major until the fall semester of her second year when she met with Dr. Jeremy Cody in the School of Chemistry and Materials Science. "It was during the meeting that I changed my major to chemistry, so I have to thank Karen Tobin for sparking my interest and Dr. Cody for getting me into chemistry!"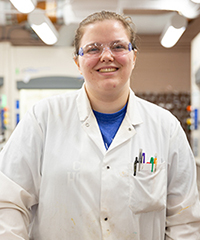 Kaitlyn became involved in research during her third year after another chemistry tutor, Jennifer Swartzenberg, senior lecturer in NTID, recommended joining a research group. With the help of Jennifer, Kaitlyn narrowed down her list of professors, and she chose Dr. Tina Goudreau, a professor in the School of Chemistry and Materials Science. She worked on two different projects: Trocheliophorolide A and SLICE-Sign Language Incorporation in Chemistry Education. Kaitlyn was also part of a team of researchers who published "Sign Language Incorporation in Chemistry Education (SLICE): Building a Lexicon to Support the Understanding of Organic Chemistry" in ACS Publications.
"Even though I didn't join a research group until my third year, I like how first-year students can join a research group rather than wait until their third or fourth year. I also like the multiple opportunities to present work at conferences and have your name in publications. Both my undergrad and grad research advisors really supported me in my research and gave me some freedom to do anything I wanted in the lab while still working on my projects."
When it was time to consider graduate school, Kaitlyn knew she wanted to get a master's, so she looked at programs around the country. She was accepted into the Chemistry MS programs at Villanova University and RIT, but her acceptance letters came right when the world shut down due to COVID-19, so she decided to stay at RIT.
"The professors here are wonderful and they're very supportive and truly do want to help you succeed. I'm very happy with my choice to stay at RIT for another two years."
For her graduate research project under Dr. Scott Williams, Kaitlyn is working to provide new materials that are capable of being 3D printed to advance manufacturing time from concept to fabrication. She is working with titanium complexes; which, when activated, can produce specialty metal tools using potentially new metal alloy properties. Using a printing technology, such as inkjet, the material can be precision deposited to create useful objects without the waste traditional machining may produce. This print fabrication approach is known as Additive Manufacturing.
"I am trying to synthesize a metal-organic complex that, once heated to temperatures up to 200 degrees Celsius, decomposes to the metal with organic decomposition products. I should hopefully be able to see a metal film after decomposition."
To wrap up her academic career at RIT, Kaitlyn received the 2021-22 Outstanding Graduate Student Teaching Award which recognizes RIT graduate students who demonstrate exceptional teaching ability.
When asked what advice she would give to first-year students, Katilyn made the following suggestions:
College goes by fast. Enjoy it, try new things, and join new clubs.
All-nighters are not worth it. Some sleep is better than no sleep.
Talk to your professors. Go to their office hours. The professors do want to help you succeed.
Join a research group. If you don't like the group/work, talk to another professor.
Although I didn't do a co-op since it wasn't required in my major, take the opportunity to get some work experience.
---