Transfer Student Strengthens Communication and Professional Skills Through Research
January 7, 2022
Deanna Abid '22 (biotechnology)
Faculty: L. Kate Wright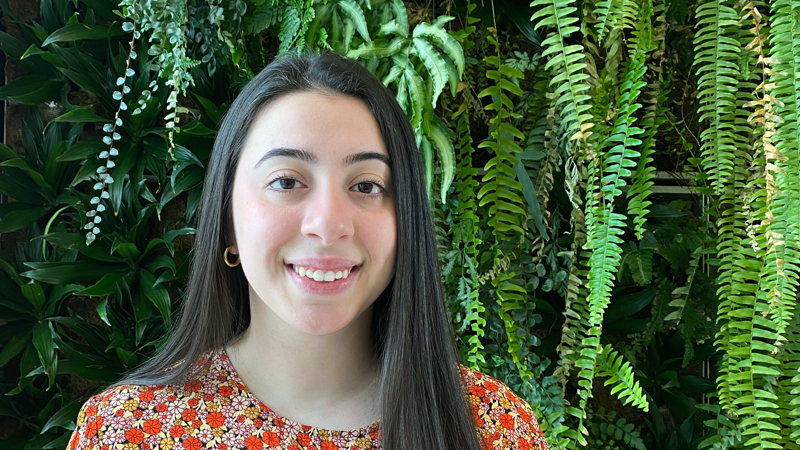 As a Rochester native, Deanna Abid '22 had always heard about RIT and talked with people who went there. Those conversations encouraged her to complete her undergraduate degree at RIT where she dove into research projects with the Discipline-Based Education Research (DBER) REU program.
During her time at Monroe Community College, Deanna spoke with professors about her interest in biology, and they introduced her to the field of biotechnology. Talking with alumni from the RIT biotechnology and molecular bioscience program convinced her to pursue transferring. Fortunately, she had an academic advisor and a transfer advisor who stayed in close contact during her last semester at MCC to ensure she completed the right courses and transferred her credits. Deanna soon discovered that this would be the first time, not the last, where she would reach out to others for guidance. She realized that being comfortable asking lots of questions was crucial to her success. She graduated from MCC with her associate's degree and began the following fall as a third-year student at RIT.
As a biotechnology and molecular bioscience student, Deanna is immersed in the College of Science and frequently found in the lab. She was able to step outside of the lab in her summer research project through the Discipline-Based Education Research (DBER) REU program. DBER is a scholarly field that combines disciplinary expertise in a STEM field like physics, chemistry, or biology, with research methods from cognitive science, psychology and the learning sciences. Researchers in this field are interested in studying and transforming STEM education through basic and applied research.
Working under Dr. Dina Newman and Dr. Kate Wright, Deanna participated in research projects, research method workshops, and professional development workshops over nine weeks. At the start of this program, she was worried that it would be difficult to communicate and collaborate with mentors and students over Zoom but she soon realized that there was no reason to worry. The mentors were available to answer questions and offer feedback at almost anytime during the workday. At the end of the nine-week program, Deanna presented her work at the DBER REU symposium via Zoom, completing the research process by sharing what she had learned with others.
After her first year at RIT, Deanna can confidently say that communication skills are one of the most important things a transfer student needs. Reaching out to professors for assistance, advisors for guidance, and other faculty members for opportunities in STEM have been necessary for her success. Even if a transfer student doesn't know a faculty member, Deanna recommends emailing them and asking them questions. She has found that no question is a stupid question. Deanna also recommends that transfer students join clubs, organizations, or programs that interest them to meet people with similar interests.
RIT Transfer Admission
Learn more about what you need to transfer to RIT by visiting our Transfer Admission webpage.
---