VP of Research and Development in a Science-first Cannabis Company
September 15, 2022
Lauren Tamburro '04 (biochemistry)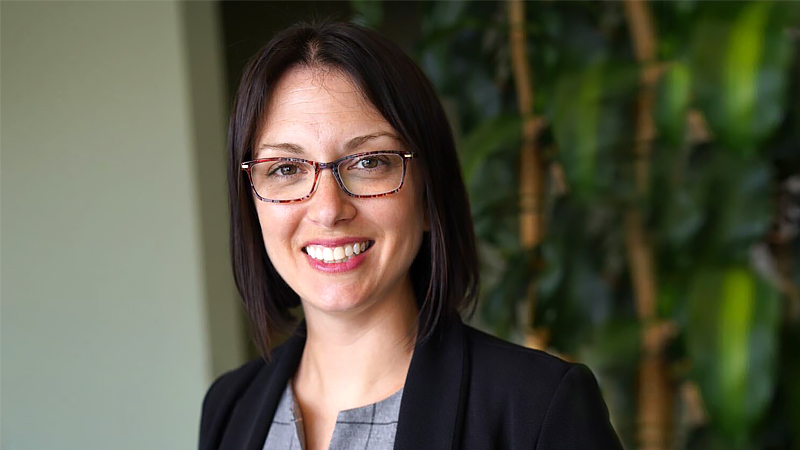 With a biochemistry degree from RIT on her resume, Lauren Tamburro '04 was acknowledged as a serious scholar, which is why she chose the university in the first place. Today, she is the VP of Research and Development at Vertosa, a science-first cannabis company that creates effective and reliable active ingredients for infused products.
"When introducing myself and name-dropping RIT, I've often noticed other scientists cocking their heads or raising an eyebrow in interest. A respectable school will help you get a job interview or establish you as someone to be listened to; both are valuable throughout your career."
Although Lauren enjoyed biochemistry at RIT, she didn't know what she wanted to do after graduation. She knew she wanted to stay in science and found herself in analytical chemistry at Cadbury (later Mondelez International). After developing analytical methods on numerous confections, she became curious about how to put them together and make them shelf-stable. Lauren obtained her master's in Business and Science with a concentration in Food Science from Rutgers, The State University of New Jersey. She was fortunate to have her employer pay for her degree under the condition that she maintain good grades and stay for two years after her degree was complete.
Lauren spent eleven years at Cadbury, going from senior lab technician to senior scientist. She transitioned to leading product development as the Senior Manager of R&D at ALOHA, a plant-based protein company. Then she discovered Vertosa and wanted to explore the budding industry of cannabis.
"One of the most intellectually stimulating things about this industry is how little we know. There are over a hundred cannabinoids in the cannabis plant, and we've barely scratched the surface of what they can do and how they work in our bodies." California became the first state to allow medicinal cannabis use when the Compassionate Use Act was passed in 1996. Today, cannabis is legal in California for medicinal and recreational use but is still not legal at the federal level. To enter this industry, Lauren recommends people must "be bold, stay curious, remain focused, and educate others."
Today, Lauren is the Vice President of Research and Development at Vertosa, Inc., an ingredient supplier for the food, beverage, and cosmetic industries based out of Oakland, CA. Working remotely out of Canandaigua, NY, Lauren ensures all new ingredients, such as emulsions and powders, have been through a proper evaluation process to ensure they deliver a safe, predictable, and reproducible experience every time a product infused by Vertosa is consumed. She is an expert in new product development, managing projects from concept to commercialization, plant scale-up, and the product development process. "This allows me to support our clients as they scale up their products. I work closely with our CSO and founder, Dr. Harold Han, to outline studies that will advance our understanding of the cannabis food and beverage industry."
Vertosa serves both the recreational and medical sides of the industry and supports various scientific research. Many new food and beverage products are coming to the market in approachable form factors. It's not all smoking and vaping. Lauren mentioned some big names in cannabis-infused beverages, such as Pabst Blue Ribbon High Seltzer and Lagunitas Hi-Fi Hops. Some of the other leading brands include Cann Social Tonics, Keef Cola, Hi5, and Wunder. On the edible side, she said gummies lead the category with STIIIZY and PLUS emerging with unique flavors and cannabinoid levels to meet different consumers' needs. For example, delta 9 tetrahydrocannabinol (THC) is offered in combination with cannabidiol (CBD) or cannabinol (CBN), which is thought to aid in sleep.
On the medical side, Lauren said that up until recently, there was limited funding for scientific studies of hemp or cannabis. "We know that CB1 and CB2 g protein-coupled receptors are part of the endocannabinoid system. Much work to date has been on delta 9 tetrahydrocannabinol and how it binds to the CB1 receptor, which can alter appetite, mood, motor coordination, and memory."
There is evidence that CBD may protect against neurodegenerative disorders, and its anti-inflammatory properties may help decrease inflammation. CBD's biggest success to date has been in treating rare forms of epilepsy such as Dravet syndrome and Lennox-Gaust syndrome. However, clinical research is not yet sufficient for the approval of these diseases.
When looking back at her RIT experience, Lauren said she owed many thanks to her Alpha Chi Sigma family - a professional fraternity specializing in the fields of the chemical sciences - and her Beta Sigma brothers, who spent innumerable hours tutoring her. She also credits Glenn Robinson, a former RIT chemical technician, who employed her and made chemistry fun. She also acknowledged Dr. Paul Craig, who spent countless hours advising and teaching her about biochemistry. The late Dr. Andreas Langer allowed Lauren to research under his expert guidance and even signed her up for her first external presentation opportunity. Ironically, the presentation took place on April 20th (Fondly known as 420 in the cannabis community).
"All of these were valuable lessons that I applied to my future. I've had a fortunate career, and no career is built by one person. I've never been one to learn something quickly. My strength has been tenacity - not giving up when I didn't understand something."
Lauren said attending RIT taught her to seek out other curious people and acknowledge the fact that others may know more than she does. "Leaning on peers, professors, and other mentors helped me grow as a student and scientist. I think about that in my professional life and understand how important it is to share my knowledge and time to mentor others as so many have done for me."
When asked what she likes about her career, she responded, "I LOVE MY JOB. As a scientist, I'm naturally attracted to others who share my passion for a detailed understanding of the world. I found that in Vertosa. Building trust in the infused food, beverage, and cosmetics industries while driving best practices learned at large consumer packaged goods companies to build a better industry is exactly how I want to spend my day. I get to design experiments with brilliant scientists and work for a company that is focused on people."
Lauren said that for students interested in a career in the cannabis industry, from an educational perspective, many different degrees will get them an interview with a cannabis company. "Some focus on growing the plant where horticulture, agriculture, or cannabis science degree will be of service. While others are looking for chemistry degrees for production technicians to perform extractions and take the plant from flower to oil. While brands will look for food scientists, sensory scientists, and business backgrounds."
Lauren said that along with the cannabis industry, Vertosa has been growing rapidly over the last two years and to keep up with the demand, they are currently hiring. Global cannabis sales for 2022 will reach just over $35 billion, a jump of approximately 22% over 2021 sales of $29 billion, according to BDSA's most recent five-year rolling market forecast update.
About Vertosa
Vertosa's core values are Trust, Leadership, Community, and Excellence. According to Lauren, "We represent approachable science. We are trustworthy humans. We believe that education and intelligence is cool and fun. We are energetic, respectful, and positive. We remain humble, happy, and relentlessly determined to make a difference with the utmost integrity." She encourages interested individuals to learn more about joining the Vertosa team.
---