Accomplishments from Saunders Students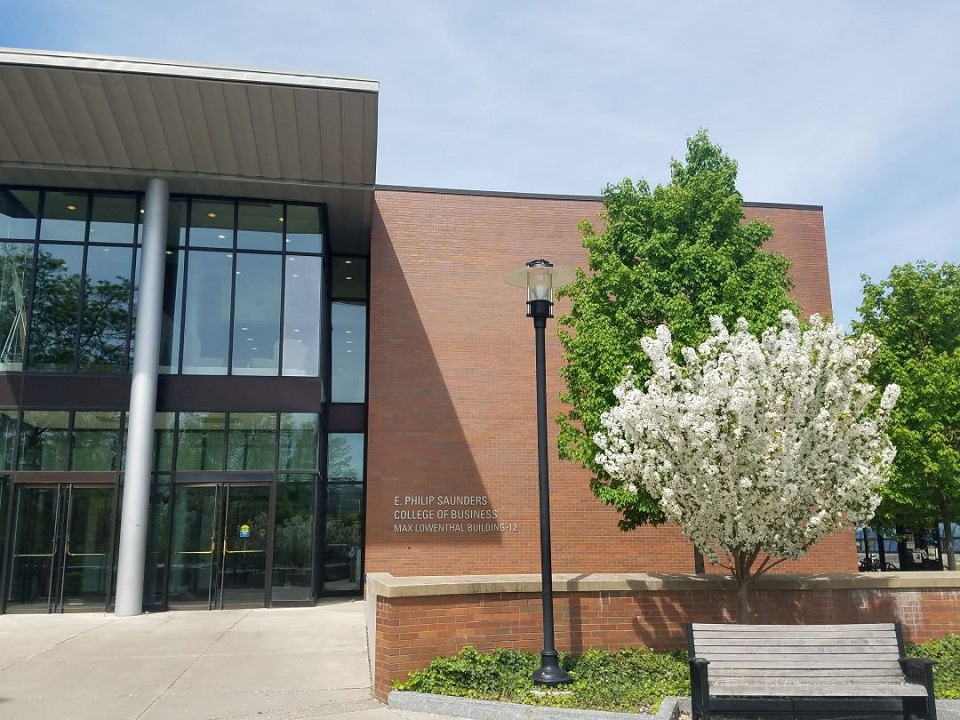 At Saunders College of Business, students are always on to something amazing, even before graduating! If you are a student at Saunders College and have exciting news to share, email communications@saunders.rit.edu.
June 2021
Hannah Schultz '21 (hospitality and tourism management) was awarded the Drew Montecuollo Memorial Award. Schultz was nominated for her creativity, high standards, and achievements in the hospitality field in addition to her service to the School of Hospitality and Service Management. Read more about her accomplishment in our Global Blog.
Brendan Green MS '22 (supply chain management) & Steven Carnovale, Ph.D., program director and assistant professor of supply chain management, are working with University of Rochester Medical Center (URMC) on managing their personal protection equipment (PPE) supply chain. Read about Green's supply chain challenges and Carnovale's teaching style on page 4 of the RIT University Magazine.
Students belonging to Eta Sigma Delta and RIT's two hospitality clubs, the American Hotel and Lodging Association (AHLA) and the Hospitality, Finance, and Technology Professionals (HFTP), used their recharge days to bake and deliver cookies for Rochester First Responders. Read how students productively used their recharge days on page 8 of the RIT University Magazine.
May 2021
Four Saunders students have received 2021 Student Life Awards:
Twelve Saunders students have ranked in the top 1% of participants in the 2020/2021 Capsim Capstone simulation. Read more about their achievement in our Global Blog:
Three RIT Croatia hospitality and tourism management students competed against 155 students in the 2021 ICHRIE Hotel Challenge, with all three finishing in the top 10. Angel Hristov '22, Tamara Radulović '22, and Filip Stanišić '22 are all members of Eta Sigma Delta and currently hold GPAs of 3.85 and above. Read more about the ICHRIE Hotel Challenge and see interviews with our high-ranking student participants in the RIT News.
Congratulations to Patrick Blackall '22 (finance) and Danny Keirsbilck '21 (finance) for being awarded Financial Executives International (FEI) scholarships for 2021 and 2020, respectively. These students have shown great character and high potential to be a future business leader through academic achievement in coursework and extra-curricular involvement.
Congratulations to Jada Jennings '24 (management information systems) and Justin McFadden '24 (business administration and management) from Professor McGowan's class as they created B Straws, an alternative to plastic and paper straws, for The Freshman Experience: Biz 1+2. Banana leaves are used instead for B Straws! The team did outstanding research on their sourcing and manufacturing processes and costs and even made a prototype. Learn more about B Straws.
Congratulations to Ayushi Patel '24 (marketing), Jessica Klein '24 (supply chain management), and Seth Russo '24 (business administration and management) from Professor Ward's class as they created EZ Waste for The Freshman Experience: Biz 1+2. The first product of PGD LLC committed to helping environmentally friendly consumers reduce waste with ease. EZ Waste is a collapsible container with refillable, biodegradable bags to store waste when you are on the go. Learn more about EZ Waste.
April 2021
12 Saunders students have been inducted into the Phi Kappa Phi National Honor Society. Phi Kappa Phi is an honor society for students from all areas of study that recognize and encourage superior scholarship:
Five Saunders students have been inducted into the Eta Sigma Delta International Hospitality Management Society. Eta Sigma Delta is a national honor society that recognizes exceptional students studying in the fields of hospitality, tourism, and the culinary arts:
Students from Saunders' MBA program assembled and delivered personal hygiene kits to the Willow Domestic Violence shelter. Emi Moriuchi, Ph.D., assistant professor of marketing, instructed her class to assemble and distribute 100 kits to market a product while promoting a social cause. Read more about the project on 13WHAM and see behind the scenes photos on RIT News.
March 2021
Jessie Li '22 (accounting), Hannah Springer '23 (accounting), and April Otucan '22 (MBA in accounting) brought home the gold in the 2021 Institute of Internal Auditors (IIA) trivia event. This marks the seventh time in a row that Saunders students have placed first in this event. Read more about their victory in the Saunders Global Blog.
Dominick Crisci '21 (management information systems) has been chosen as the 2020-21 Norman A. Miles Award recipient. Crisci chose Sean Hansen, Ph.D., department chair of management information systems, marketing and digital business, as his faculty pick for the award. This award is given to the senior with the highest grade point average across all majors. That student then selects the faculty member who contributed most to their success at RIT. The student gets a full scholarship towards their last year of tuition, while the faculty member gets funding for academic activities and supplies.
JayShaud Potter '21 (MS city sciences / MS business administration) has recently completed his second master's degree at Saunders. This comes after the completion of a BS in applied arts and Sciences and an MS in city sciences during his studies at RIT Dubai. Potter spoke of his experiences and future plans in entrepreneurship in a recent interview with RIT News.
Saunders students in RIT's hospitality and tourism management clubs baked 1,000 cookies for first responders at Rochester's Strong Memorial Hospital and Unity Hospital. This was done in place of their annual Valentine's Day fundraiser, which had to be canceled due to COVID-19 restrictions. You can read more about their act of kindness in feature stories produced by 13WHAM, WHEC, and HFTP News.
The Following Saunders students have been recognized as Outstanding Undergraduate Scholars for the 2020 / 2021 school year: 
February 2021
Sethunya "Sam" Masebe '21, a Fulbright Scholar from Botswana studying in Saunders' MBA program, has been selected as the Graduate Student Delegate for the 2021 Commencement Ceremony. Masebe earned her BA in project and logistics management from the University of Botswana and earned positions for Stanbic Bank and Brand Engage; both businesses located in Gaborone, Botswana.
Jolene Rose Alu '21 (management) has been selected as the Undergraduate Student Delegate for the 2021 Commencement Ceremony. Alu plans to remain at RIT to complete her MBA in finance.
Madeline Tremblay '21 (new media marketing), was crowned as Delta Sigma Pi's 2021 Northeastern Provincial Collegian of the Year. Tremblay had held internship positions with IBM, VanEck, and Dynarex Corp. and is currently working for Saunders as a marketing assistant.
January 2021
Kyle Tanzi (supply chain management), Peter Jarvis (supply chain management), Lukas Wiedemann (management information systems), and Lauryn Mattoon (marketing) worked with Clyde Hull, Ph.D. on the CAPSIM Capstone Business Simulation (MGMT-560) and finished in the Top 1%! Stephen Luxmore, Ph.D., and Zeke Leo, Ph.D., additionally lead these capstone classes.
December 2020
Will Calverley '22 (business administration and management) was recognized as the Atlantic Hockey Player of the Week.
November 2020
Saunders student, Nupur Dogra MS '20 (business analytics), won at the 2020 RIT Graduate Education Week Showcase for her presentation on "Integrated resort food image and its impact on visitors' revisit intention." Last summer, Nupur worked under the advisement of Dr. Jerrie Hsieh on this research as part of the Saunders Student-Faculty Summer Research grants.
October 2020
RIT's Delta Sigma PI's Epsilon Lambda Chapter received awards in the Niagara Region and the Northeastern Province. In the Niagara Region, the chapter won the regional award for the R. Nelson Mitchell Outstanding Collegiate Chapter Award. The recognition is for the best-representing aims and ideals of Delta Sigma Pi. Out of 78 chapters, RIT was the Northeastern Province winner of the Outstanding Alumni Relations Award. This award was for thoroughly integrating an aspect of alumni relations into the overall operations.
The Hospitality Financial and Technology Professionals (HFTP) Student Chapter at RIT received the HFTP Rising Chapter Award. This award recognizes an up-and-coming chapter that displayed enthusiasm and energy for HFTP programs, services and networking during their annual business meeting and awards ceremony (presented at 17:45). Take an inside look at the hospitality field from RIT students perspective.
September 2020
Saunders Beta Gamma Sigma (BGS) has earned recognition as an Honors Chapter from Global Headquarters. The Saunders chapter received this acknowledgment for its chapter officers who work diligently to enhance the stature of BGS on campus.
Daniel Keirsbilck '21 (finance) received the highest honor Rochester Chapter of Financial Executives International (FEI) scholarship.
Sam Oribamise '20 (finance), Namaqua Mills '20 (management information systems), and Adama Cisse '20 (management information systems) pitched their idea of Scentablez, an innovative air care product, to the RIT Student Accelerator in 2019. Shortly after, the three won the Concept award at the NY Statewide Business Model Competition and second place at RIT's Business Model Competition. The three launched a Kickstarter campaign to fund their first large production run, where customers can pre-order the product in desired quantities.
June 2020
Delta Sigma Pi Professional Business Fraternity recently recognized Epsilon Lambda Chapter for two awards; RIT's Justin Allen as the 2020 Niagara Regional Collegian of the Year (COY) and RIT's Chapter for the Niagara Region R. Nelson Mitchell Outstanding Collegiate Chapter Award (Regional Recipient). The COY program is the highest Fraternity honor bestowed upon a collegiate member in Delta Sigma Pi that best exemplifies the values and ideals of the Fraternity. The R. Nelson Mitchell Outstanding Collegiate Chapter award is presented to a chapter that best promotes the aims and ideals stated in the Purpose of the Fraternity through its actions and activities.
RIT's Herbert W. Vanden Brul Student Entrepreneurial Award recognizes three outstanding undergraduate or graduate students across all RIT Colleges, who have demonstrated the potential to become successful entrepreneurs. The 2020 Herbert W. Vanden Brul Student Entrepreneurial Award first-place winner is Hansel Leal '22 (computing and information technologies). Congratulations to Elise King '20 (mechanical engineering) and Andrea Gonzalez-Esteche MFA '20 (industrial design), our second and third place award winners.
The American Hotel and Lodging Association Foundation (AHLAF) helps people build their careers in the lodging industry through multi-faceted programs. Three students in our International Hospitality and Service Innovation Department received a scholarship to help with the fall and spring semester of the 2020-2021 academic year. Congratulations to Ndidi Chimah '23 (hotel/motel administration/management), Joseph Caggiano, and Amanda Sengdara '21 (hospitality and tourism management).
February 2020
The below students are the 2020 Outstanding Undergraduate Scholars from Saunders College! Each student has a minimum GPA of 3.85 as well as other extracurricular activities that complement their academic achievements.
Rochester Campus:
BJTU Campus:
Baisong Li (management information systems)
Fan Sun (management information systems)
Yuncong Wang (management information systems)
Zixiang Yin (management information systems)
Dubai Campus:
Croatia Campus:
Pamina Bencic (hospitality and tourism management)
Ivan Kolembus '19 (international business)
Nikola Saladic (international business)
Topics