President Munson: Omicron variant monitored daily
New Dubai campus, athletics, housing renovations also discussed on WITR show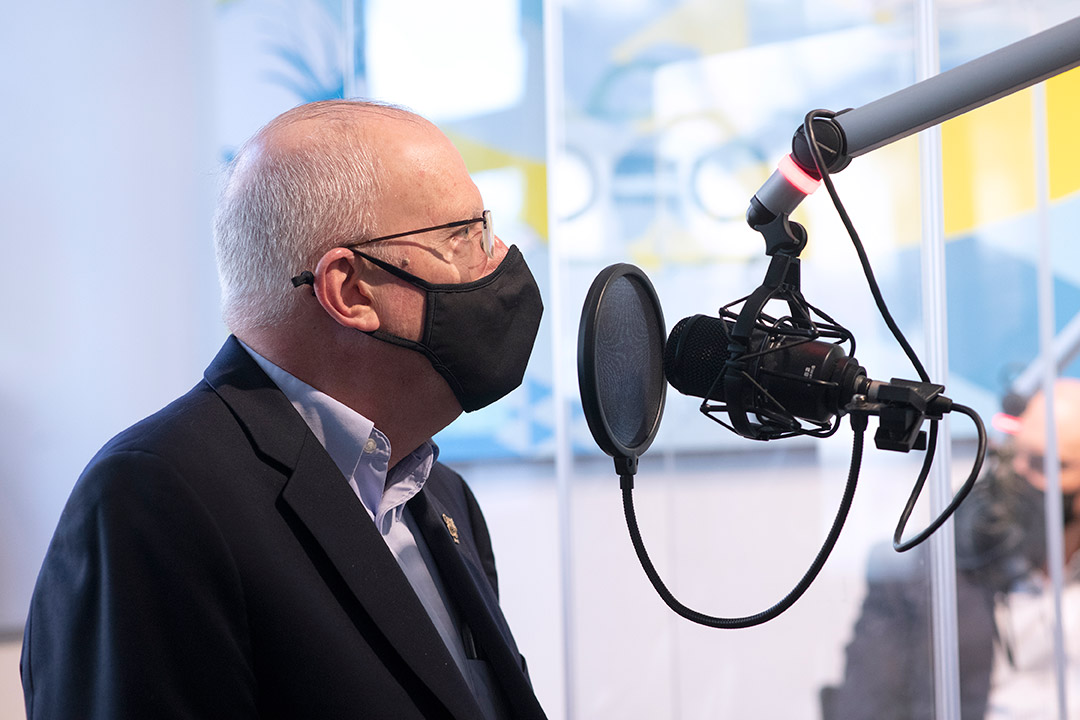 A. Sue Weisler
Rochester Institute of Technology President David Munson said the new COVID-19 omicron variant is being closely monitored. But for now, he doesn't foresee any imminent changes in the safety protocols currently followed on campus.
"We monitor everything very closely every day," Munson said during his latest "Ask Munson" question-and-answer interview Thursday on WITR (89.7) radio, hosted by station General Manager Mike Hodgkiss. "We are sticking with the tried-and-true at RIT. We have very high vaccination rates (approximately 95 percent). Of course we're still masking indoors, and all of that has proven to be very effective in the RIT community."
 "We still feel very safe," he added. "We'll be monitoring omicron, and if it turns out that it is somewhat more dangerous or spreads more easily, we'll find that out and we'll decide whether to adapt."
As much as he would like to see the need for indoor masking gone, Munson believes masking "is going to be with us for at least a while. We need the whole world to be vaccinated to defeat this thing."
The pandemic has caused "minor to modest" staff shortages in a number of areas throughout RIT, including RIT Dining, which has had to alter menus and close some locations earlier than normal.
"Dining Services will try to keep almost everything open and keep the hours as long as possible," Munson said. "One thing we have done is increased entry-level pay in a number of different staff positions in the university. That is helping us a little bit. I think over time, we'll see some improvement. But there's nothing we can do immediately that will put us back in that position we held before the pandemic. We're not unique, of course. Every university is facing the same thing."
Other topics Munson discussed:
RIT Dubai: "I just returned from Dubai a couple of days ago. The Dubai government has built us an entirely new campus. I had seen pictures of the architect's renderings, but the reality is even better than the pictures show. The new campus is magnificent." The first phase is built for up to 2,300 students which is about twice the number of students currently served there. A second phase will be built that will increase the capacity to 4,000 students. "The opening celebration of the campus was attended by the Crown Prince of Dubai. His father is the ruler of Dubai and he will be the future ruler of Dubai. It was great to have him there. He was extremely engaged and friendly with the students. It was a wonderful celebration."
Housing renovations: The Riverknoll townhouses on campus are popular with students due to their proximity and relatively inexpensive rent. "Multiple times we thought about demolishing that complex and perhaps use that site for academic and research purposes," Munson said. "But so far, we've avoided that because we know it's a student favorite. Modest renovations were done recently on just one or two parts of the complex … I would say the future whether or not to renovate Riverknoll really has not been decided. We need to add air conditioning in some of our large dorms, and we intend to do that in the next two to three years. We know that some improvements in some of those older dorms would be warranted on the east side of campus." He said building new facilities like The Student Hall for Exploration and Development (the SHED) can make existing buildings look a bit tired in comparison. "We know we're going to have a lot of renovation in our future."
Ovation: Previously known as the President's Performing Arts Challenge, "Ovation: The Performing Arts Showcase" is scheduled for Feb. 4 in Ingle Auditorium, as students and student groups compete for cash prizes. "Over time, I want to get away from the contest aspect, although this time around we still will award prizes," Munson said. "What I eventually want to see is almost like a monster cabaret show with a huge number of acts. In a couple years, these could all be in a brand-new theater. For right now, we're transitioning in that direction away from a contest. Over time, we're going to see a lot more acts. It will be more of a showcase."
Athletics: "Prior to the pandemic, we had a study underway to move all of our programs into Division I. Then the pandemic came and we put that study on hold," Munson said. Now, the NCAA is allowing student athletes to make money from their name, image, and likenesses. This past summer, the NCAA held a constitutional convention. They will vote on their new constitution in January and divisions will come up with new rules in the summer of 2022. "We can't yet make a whole lot of progress and think about the possibility of joining Division I, because we don't even know what the rules are going to be or what Division I itself is going to be. We are very plugged into the process, but it will be a little while before we know what is in our own best interest. We really want to have the ability to offer athletic scholarships to our Division I (men's and women's) hockey players. There are only two Division I hockey programs in the nation that are not allowed to give scholarships: RIT and Union College. And so, we are petitioning the NCAA for a change in their rules and that is going to be voted on at the NCAA convention in Indianapolis in January."
New athletic facilities: "From my office on the seventh floor of Eastman, the view I have is the view of the progress of those athletic facilities," Munson said. "The baseball field and softball field are pretty much completed. The AstroTurf is down. It looks gorgeous. The track is finished except for the final rubberized surface. The contractor didn't want to do that until the spring when the weather warms up. Those three projects are nearing completion." The next noticeable project, to start in the spring and possibly be finished next summer, will be adding artificial turf and lighting to the current athletic field next to the existing stadium. "The new field we install is going to be offset from the current stadium, but it will be in alignment with the new stadium. Fundraising continues for the new stadium. We want somebody's name on that stadium and receive a large donation for that."
Master Plan: A survey was sent to members of the RIT community last week to help guide RIT's next Master Plan. "It has to carry us out to something like 50 years, so it's very long range," Munson said. "It looks at big picture things like the physical campus, what parts ought to be preserved in the sense of nature, what might be future sites for new dormitories, what parts of parking lots might someday be converted into parking garages. And this campus needs to go carbon neutral. We've got to do a lot more thinking about how we are going to be heating our buildings." A committee has been formed to review input and work with a consulting firm.
 The next "Ask Munson" session on WITR will be held in the spring semester.