December 2, 2021
by Luke Auburn
RIT Dubai hosts Sheikh Hamdan for the grand opening of new campus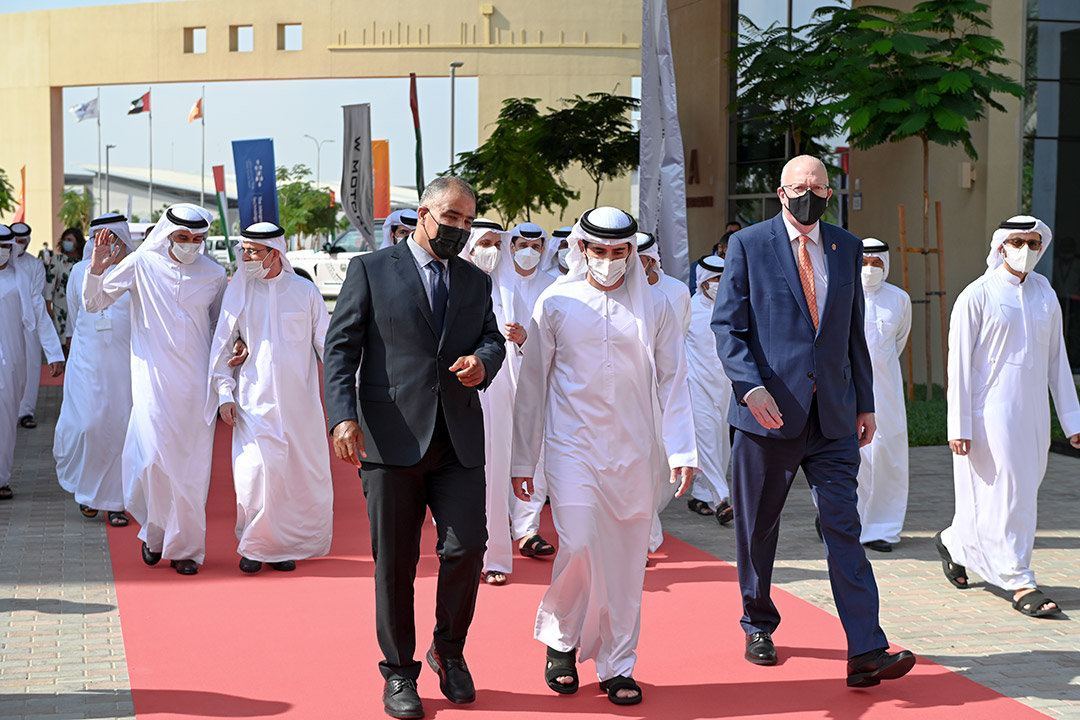 RIT Dubai held a grand opening ceremony to dedicate its state-of-the-art new campus in the Dubai Silicon Oasis on Nov. 28. Sheikh Hamdan bin Mohammed bin Rashid Al Maktoum, Crown Prince of Dubai and Chairman of The Executive Council of Dubai, toured the facilities and inaugurated RIT Dubai's new home designed for interactive learning along with RIT President David Munson, RIT Senior Vice President for Finance and Administration James Watters, and RIT Dubai President Yousef al Assaf.
RIT Dubai completed phase one of construction on its new campus in the Dubai Silicon Oasis in spring 2021. It spans 129,000 square meters with collaborative teaching and research spaces envisioned to be a positive and healthy environment to encourage independence, informal and creative meetings, socializing, and participation. The United Arab Emirates government funded the approximately $136 million project.
"Our campus in Dubai is absolutely magnificent," said President Munson. "The pictures, which look so stunning, don't do it justice. It's even better. It's an amazing place with top-notch, forward-looking programs."
At the heart of the new campus is a centralized courtyard with an innovation center as its focal point, overlooked by all other academic buildings. The campus includes a wide range of spaces designed to facilitate instruction, learning communities, research and innovation laboratories for experiential learning, collaborative meeting and events areas, and more. Students have access to extensive amenities including a fitness center, activity rooms, clinic, dining hall, a prayer room, communal lounges, and nearby public transportation.
RIT Dubai offers degree program disciplines such as engineering, computing, business, city science, and service leadership to support the need for personal and professional development, economic growth, and human capital development in Dubai and the entire Gulf region.
Phase two—which will add more classroom, research, and collaboration spaces as well as student housing—is expected to begin within the next five years. Once complete, the campus will be able to accommodate up to 4,000 students.
RIT Dubai campus at a glance
Two main axes connect the different functions of the campus with the Innovation Lab at their intersection resembling the core of a quantum microchip.
The HP Gaming Lounge located in the Business and Management Department will allow collaboration between the university and industry partners.
The campus features labs dedicated to smart energy, robotics, networking and security, thermo fluids, human factors, and many other research areas.
The buildings are connected through bridges and embed smart classroom technology and accessibility features. Exterior features include a green linear park at the main entrance and a series of small courtyard spaces with fountains and loggia to reduce solar heat.
RIT Dubai was established in 2009 and has grown student enrollment to more than 1,000 students.
Topics