May 20, 2021
by Luke Auburn
RIT Dubai's state-of-the-art new campus in the Dubai Silicon Oasis is now operational
Phase one of construction on the approximately $136 million campus is now complete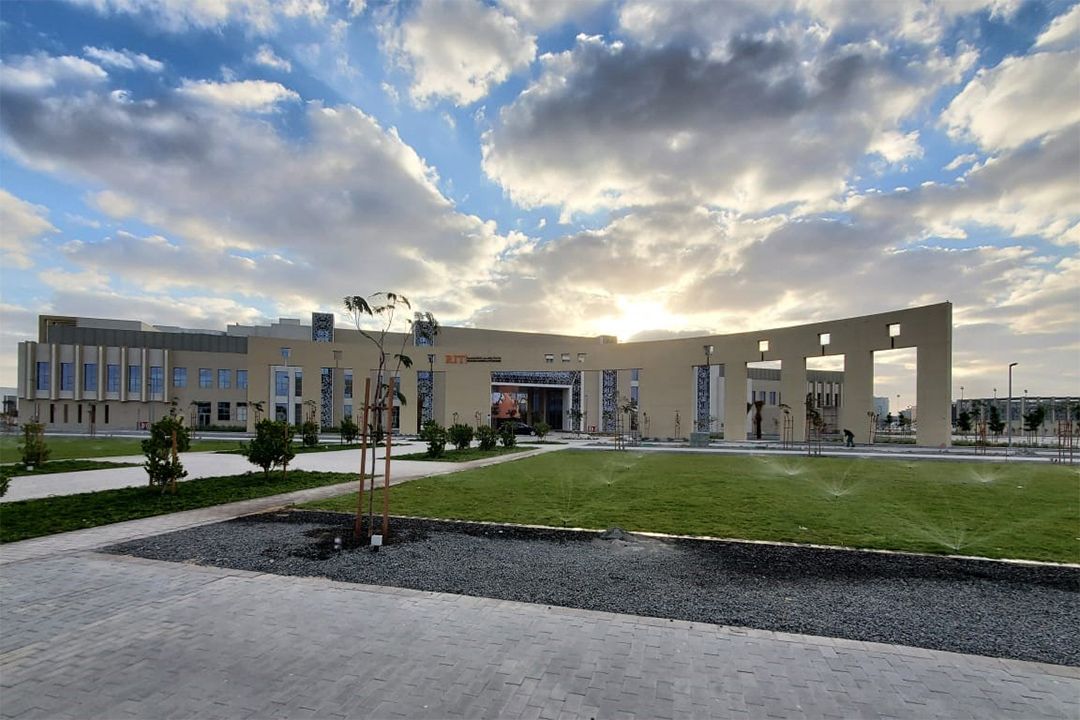 RIT Dubai completed phase one of construction on its state-of-the-art new campus and began officially operating out of the new location in the Dubai Silicon Oasis earlier this semester.
The new campus was built with an overarching theme of interactive learning and spans 129,000 square meters with collaborative teaching and research spaces designed to accommodate up to 4,000 students. Campus planners said it was envisioned to be a positive and healthy environment to encourage independence, informal and creative meetings, socializing, and participation.
"RIT's commitment toward distinctive education through its recognition as an innovative and creative university with a global reach is highly evident in the design of its new campus in Dubai," said RIT Dubai President Yousef Al Assaf. "Designing, building, and moving into such a facility achieves a huge milestone for us. It will provide students, faculty, and community members with uncharted opportunities where research, creativity, innovation, and entrepreneurship can flourish while in parallel strengthening and developing more partnerships with renowned regional and international corporations in order to achieve our ambitious goals."
At the heart of the new campus is a centralized courtyard with an innovation center as its focal point, overlooked by all other academic buildings. Two main axes connect the different functions of the campus with the Innovation Lab at their intersection resembling the core of a quantum microchip.
The campus includes a wide range of spaces designed to facilitate instruction, learning communities, research and innovation laboratories for experiential learning, collaborative meeting and events areas, and more. One highlight is the HP Gaming Lounge located in the Business and Management Department, which will allow collaboration between the university and industry partners. The campus features labs dedicated to smart energy, robotics, networking and security, thermo fluids, human factors, and many other research areas. Students will have access to extensive amenities including a fitness center, activity rooms, clinic, dining hall, a prayer room, communal lounges, and nearby public transportation.
The buildings are connected through bridges and embed smart classroom technology and accessibility features. Exterior features include a green linear park at the main entrance and a series of small courtyard spaces with fountains and loggia to reduce solar heat.
"This beautiful new campus would not exist without Dr. Al Assaf's vision, the exceptional work of his team, and the generous support of our partners in Dubai," said James Myers, associate provost for international education and global programs. "This new facility not only expands RIT's footprint in Dubai but also creates new research and international experience opportunities for students in the region and those studying at our main campus in Rochester."
Saleh Yammout, RIT Dubai's vice president of finance and administration, noted that building the campus was a collaborative effort and that the Finance and Administration team from RIT's Henrietta campus was heavily involved with the planning for the new Dubai location.
"The campus wouldn't have been designed with such standards without the guidance and support of Dr. Watters's team, who came to Dubai and worked closely with us and the consultants at early stages of the design all the way to the construction and handover period," said Yammout. "We can't thank enough Dr. Watters, John Moore, James Yarrington, Ross Koenig, Kevin Purdy, and Gregory Van Laeken."
Instruction at RIT Dubai currently remains mostly online due to governmental restrictions intended to prevent the spread of COVID-19, but campus officials said they look forward to fully utilizing the campus once it is safe to do so.
RIT Dubai was established in 2009 and has grown student enrollment to more than 900 students. Construction on phase one of the new campus began in 2019 and phase two is expected to begin within the next five years. The United Arab Emirates government is funding the approximately $136 million project.
Topics