President Munson reflects on the past year and looks ahead
Optimism for a more normal fall with more in-person classes, clubs, and sports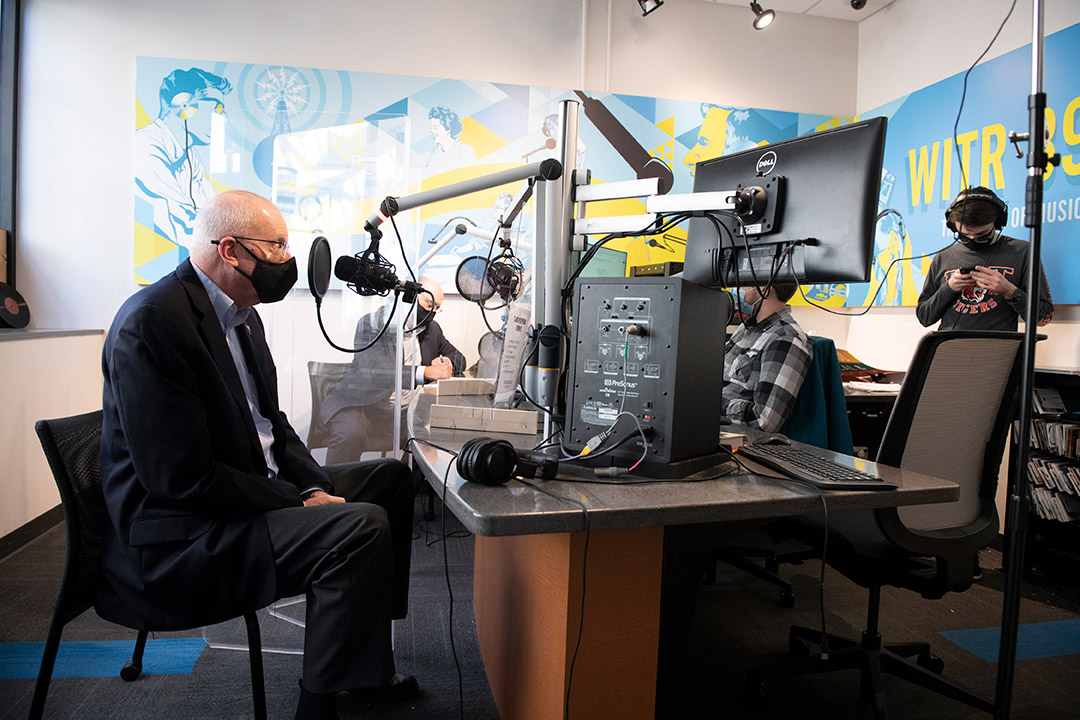 A. Sue Weisler
RIT President David Munson envisions "an awakening of our campus and a reconnection among our students" as the university turns its eye to the fall semester.
Munson reflected on the challenges of the past year of a campus living collectively through a global pandemic in his final "Ask Munson" question-and-answer show of the academic year on WITR (89.7) radio Wednesday.
He said it appears RIT will again complete the semester successfully, thanks to the vigilance of students, faculty, and staff to keep the campus as safe as possible. Students completed more than 125,000 COVID-19 tests this semester, with less than one per 1,000 testing positive for the virus during most of the semester.
"I feel nothing but pride in terms of how our students have responded, as well as our faculty and staff," Munson said. "It's not possible to name all of the key groups and constituencies at the university that have worked so hard on this. However, there are things that are visible, like the Tiger Testing Team that employed 80 students this semester. They've been fantastic. We have run one of the very safest campuses in the nation."
Munson predicted the fall semester will look "way more normal" than the past two semesters. "How close to normal we can get in the fall is going to depend on the rate of vaccination; it's going to depend on New York state guidelines," he said. "Student groups and clubs and activities will be way more normal, and we're very likely to have fall sports."
RIT is committing to having nearly 80 percent of undergraduate courses offered either entirely in person or with a blended format. If CDC and New York state regulations regarding classroom occupancy are relaxed, the university anticipates that the 80 percent will likely become fully in-person.
He said RIT is talking about whether to make a COVID-19 vaccine mandatory for students and employees, but conversations are continuing and that the university is not yet prepared to make an announcement.
"We very much are focused on what will it take to create a semester that is not only safe but will be as normal as possible," Munson said. "We feel we're going to have to achieve very high vaccination rates among students, faculty, and staff. That's our ticket out of this, no question."
On the show, Munson also addressed a wide variety of topics. He reflected on social justice issues and how recent events across the nation show there is still racism and racial injustice. That's one reason RIT has been working all year on a race and ethnicity action plan, now in its final draft. In terms of social justice, "There are things that have happened that are so disheartening," he said. "We don't live in a world where there is equality. We should be brave enough and smart enough to acknowledge that and work on it …  We should commit to being better as a community, city, state, and nation."
Other topics included:
Student Government impeachment: The president reiterated a recent decision made by a review panel related to protecting freedom of speech and expression. "I felt Student Government should follow their bylaws and their processes, which they did," Munson said. "I was approached by people both inside the university, students, faculty, and staff, and people from outside the university asking if our free speech policy had been violated. I decided to appoint a review panel with a number of Trustees and staff who have experience dealing with appeals and student issues. They came back very strongly saying (RIT's free speech policy) had been violated. I concluded the review panel was correct and I had no choice but to overrule that impeachment. I didn't make that decision based on popularity. I made that decision based on our policy."
Imagine RIT: After being canceled last year due to the pandemic, the popular Imagine RIT: Creativity and Innovation Festival goes virtual this year beginning at 10 a.m. Saturday, with more than 250 exhibits of student, faculty, and staff projects, many involving technology, art, design, computer science, and performing arts. From noon to 1:30 p.m., the Futurists Symposium, a free Zoom webinar, will feature RIT grads from across the country who are working at Disney, Oakley, and social media companies. "We have an esteemed panel of futurists, people who think about the future and are working on things that will become the future," Munson said.
Commencement: "Commencement is the most magnificent thing we do on campus for the entire year. Not being able to hold commencement in 2020 was just heartbreaking for everybody," Munson said. "This is the culmination. This is the launch point. It's going to feel great this year." More information on the Class of 2021 ceremony is available online; and the Class of 2020 ceremony information is also available.
The "Ask Munson" question-and-answer series will resume on WITR in the fall.
Topics