Three RIT community members named finalists for the ATHENA International Young Professional Award
The award will be presented by Greater Rochester Chamber of Commerce and its Women's Council Jan. 20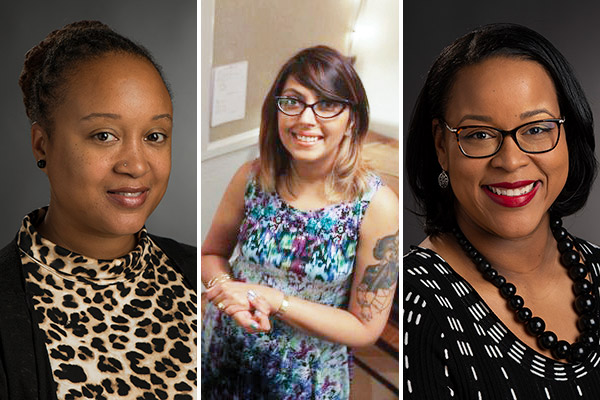 Greater Rochester Chamber of Commerce and its Women's Council have named three RIT community members as finalists for the 2022 ATHENA International Young Professional Award®. Greater Rochester Chamber and the Women's Council plan to present the internationally recognized awards, which honor and empower women in business, at the 36th annual ATHENA Awards in-person celebration on Thursday, Jan. 20.
The ATHENA International Young Professional Award recognizes emerging female leaders in the 30- to 45-year-old range who demonstrate excellence, creativity, and initiative in their business or profession and serve as a role model for young women both personally and professionally. The RIT-affiliated finalists include:
Alumna Tanvi Asher '10 MFA (industrial design), owner of Shop Peppermint
Making clothing that is stylish and reasonably priced helped motivate Asher to open her first store, Shop Peppermint, in April 2012. Her newest boutique, Salty, opened six years later in October 2018. Asher, from Mumbai, India, fell in love with Rochester when she moved to the city to complete her master's degree in 2006. After she graduated from RIT, Asher did contract work at Bausch & Lomb working with medical packaging. While working there, she began designing clothes during her free time and would sell them at different consignment shops, local markets, and art shows, and ultimately opened her own storefront.
Stephanie Paredes, assistant director of multicultural programs in RIT's Division of Diversity and Inclusion
In her role at RIT, Paredes leads the MOSAIC Center—RIT's inclusive community space for students, faculty, and staff—and spearheads many of RIT's signature events such as Expressions of King's Legacy, Let Freedom Ring, and RIT's cultural heritage month events. She is also a co-founder and advisor to the Women of Color, Honor and Ambition (WOCHA) program. Outside of RIT, she is the owner of Empanadas by Stephanie, co-owner of Beyond Boundaries Consulting, and co-founder of the Rochester Latino Theatre Company.
Tomicka Wagstaff, former assistant vice president for academic access and success in RIT's Division of Diversity and Inclusion
Wagstaff worked at RIT for more than 13 years, most recently as assistant vice president for student access and success in the Division of Diversity and Inclusion. She was responsible for a number of programs aimed at increasing student retention and graduation, including the Multicultural Center for Academic Success (MCAS), RIT's Ronald E. McNair Post-Baccalaureate Achievement Program, the Louis Stokes Alliance for Minority Participation (LSAMP) program, Upward Bound, Veterans Upward Bound, and WOCHA, of which she is a co-founder. This year, she left RIT to serve as vice provost for diversity, equity, and inclusion at the College of the Holy Cross.
For more information about the ATHENA International Young Professional Award, go to the Greater Rochester Chamber website.
Topics