Air Force ROTC cadet Peter Cinibulk honored as Distinguished Graduate in Northeast Region
Members of RIT Detachment 538 honor graduates and service achievements during virtual event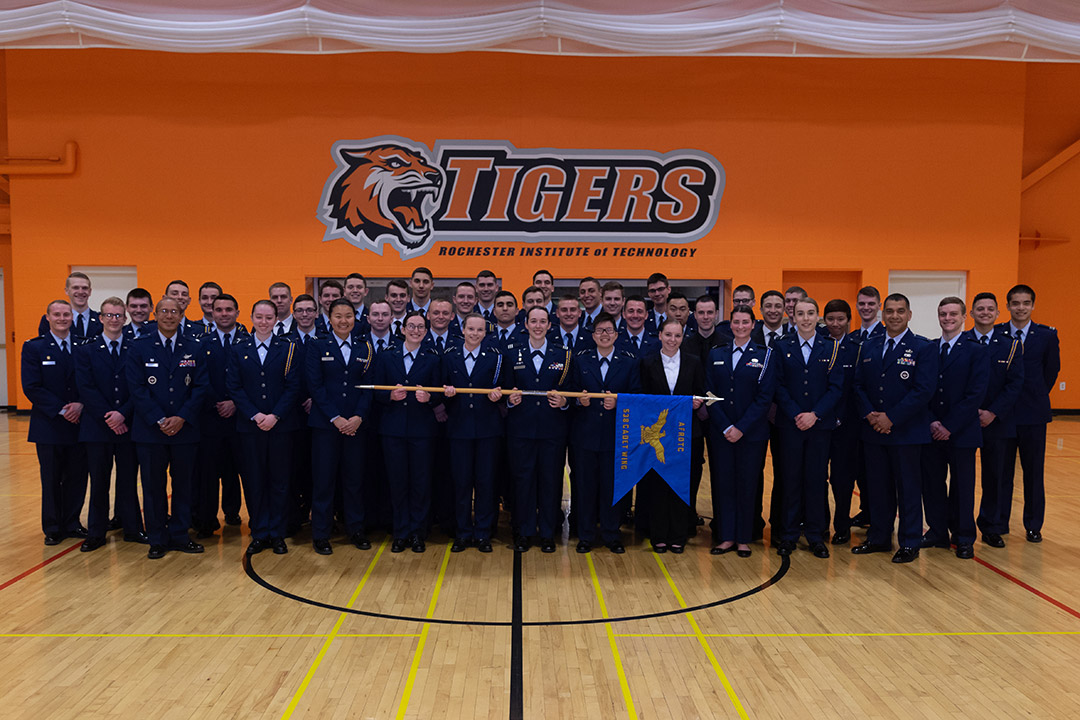 RIT Air Force ROTC
The Air Force ROTC Distinguished Graduate recognition follows that cadet into active duty and lets others know that this individual is someone to watch and emulate as an officer and as a leader, said Lt. Col. Jason Turner, commanding officer of RIT's Air Force ROTC Detachment 538.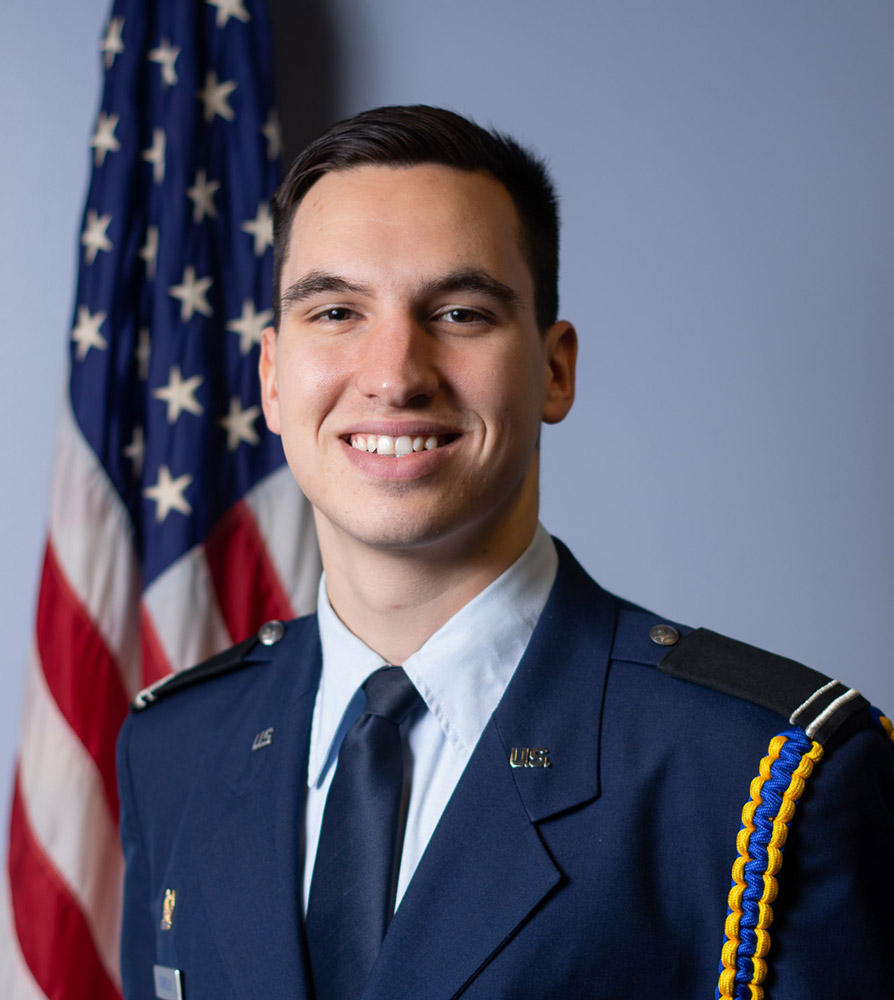 It is a lot to live up to, but Peter Cinibulk, a fifth-year RIT student and Air Force ROTC cadet, is up to the challenge.
Cinibulk was honored as the Air Force ROTC Distinguished Graduate, not only of the RIT detachment but in the Northeast region. He was praised by staff leadership for his combination of outstanding service to the program and his peers, his strong academic achievements and participation in, and contributions to, extracurricular activities both on and off campus.
"The designation of distinguished graduate is awarded to only the top 10 percent of cadets across the entire ROTC enterprise," said Turner. "Detachment 538 was honored with the designation of one distinguished graduate for contributions as the fall semester wing commander, to RIT athletics, contributions to the culture that this detachment has seen over the last four years, and continues to grow and develop."
Cinibulk is a computer science major in RIT's Golisano College of Computing and Information Sciences and member of the RIT men's soccer team where he was captain for two years. He served as Detachment 538 Cadet Wing Commander, overseeing cadet operations such as helping to coordinate leadership labs, physical training, morale events and other cadet-run activities.
"I was honored to be given the opportunity to lead and to see all of the cadets continually beat all expectations and rise to any challenge. I spent the majority of the semester in admiration of the work that they put in," said Cinibulk, who serves as the Joint Liaison Officer in charge of coordinating joint training and events with RIT's Army ROTC and the University of Rochester's Navy ROTC program. He'll begin service at Keesler Air Force Base (Biloxi, Miss.) and train further in its Undergraduate Cyber Training program to become a Cyberspace Operation Officer.
Participating in ROTC since his first year, Cinibulk had applied for an Air Force ROTC Scholarship while in high school after seeing what seemed like endless headlines on the threat of cyberattacks.
"The Air Force was always protecting our country from those threats. With ROTC, it's all about preparing you as a leader, and going into cyberspace operations, you are not just going to do technical work, you are also going to be leading people, right out of the gate, and you have to know what you are doing," said Cinibulk who has done research in the area of speech recognition and comparison of neural networks for analyzing data while an undergraduate. "My education at RIT has given me the tools to become a cyberspace operations officer. I hope to take what I have learned, especially in my graduate studies, to help keep the Air Force one step in front of all adversaries."
Students in ROTC programs take a combination of academic courses as well as classes in military science and leadership. Training also includes field work, pilot training and in specialty areas such as cyber security.
"There is a clear overlap on how all the skills and the training that I've done correlate. It is also the problem-solving that you learn, because there are some things that won't exactly connect to what I'll be doing on active duty, but computer science gives you a framework about how to approach technical problems," said Cinibulk, who is from Bellbrook, Ohio. "Everyone has their deep reasons for going into the Air Force. It almost always comes down to a love for our country. It's this sense of pride that you get every day, after finishing the training or work out, knowing that it is for an incredibly great and important mission.
Cinibulk was one of five seniors from RIT and the University of Rochester who participated in programming based at RIT, and who will graduate and be commissioned in May. Others are: Nathaniel Heitsch (computer science, Haymarket, Va.); Corey Koscielski (industrial engineering, Rochester, N.Y.); Hannah Tennis (biomedical engineering, New Holland, Pa.); and Matthew Woodarek, a University of Rochester student from Springville, N.Y.